Jan 29 2018 Monday, 8:00 am
Many many many yearssssssssssssss ago, in this blog (or maybe dalam my redmummy.blogspot.com ai did mentioned pasal issue poslaju. Overall about service the postmen. i remember masa tu quite an issue gak lah, coz lepas I blogkan, ada la my readers yang helped out to solve it, sampai ke atasan gak lah. But we know keje2 ni bukan atasan yang silap, yang bebawahnya pun.
So cut the story short…jadik lagik.
frankly speaking, my online shopping is a lot ye. bukan sebulan or seminggu sekali punya postmen datang. Ada one time tu pernah lebih 20-30 parcels per day sampai, More than 3,4 trips gak postmen yang datang dalam sehari tu (donno la napa rumah alamat yang sama tapi sampai 3,4 postmen yang berlainan), masa tu Mak Ajah sampai geng ngan postmen (she was sihat masa tu and during the day kan dia lepak rumah ai).
Jadi almost everyday ada je postmen yang datanglah. Kalau takde orang kat rumah pun, adalah my neighbours tolong amikkan, or ada gak cara lain lah untuk aku dapat parcels tuh. Jarang sekali laki aku pi ngamik kat station depa kat Taman Shamelin tuh.
But recently, 2 kes terjadi dalam less than a week for my 2 parcels.
dalam sistem (i was expecting a parcel from US), was posted out on Fri, so eta patut before Friday lah jugakkan, Donno la napa namanya postlaju tapi withitn Lembah Klang ni pun sampai seminggu gakkan aku nya estimation. haigh. Tup2 dalam system after a week tak sampai gak, kata 'attempted delivery' hallo??hari yang dia kata attempted delivery tu, rumah aku 24/7 ada orang.
Some more consignment note takdak left pun.  Dan kemudian on Sunday morning, 2 days after Friday yang konon kata attempted delivery tu, datang postman antau parcel tuh. Hah ok case close lah yeah.  Memula kata attempted delivery, tetiba ko datang antau on Sunday pagi buta, hish tak paham btol aku sistem postlaju skang nih. 2018 macam 2008 punya service.
Kemudian satu lagi parcel, sama gak postlaju service, Cik Epal antau parcel yang from London tuh. Dalam system kata 'attempted delivery'. Omeng, orang ada kat rumah kot….consignment note pun takde. Tak boleh jadi lah kan, the next day nya tepon customer hotline depa, 15min aku on hold tak dapat gak manusianya,  late petangnya laki aku took over call balik the CS depa. Hah, depa cakap consignment note takde coz maybe postman dah abis. Kan dah kena kepala hangguk. Banyak le cekadak nak menipu pun.
Thing is rumah aku ada cctv…kita tau la kalau nak kelentong ko datang ke tak pun kan. So depa said, they will deliver on the next day nya.
But the next day takde bayang, laki aku terus print (per below gambar) and hantar kedai pi laminate. Tampal kat pagar rumah.
Oh memang, dah beratus kali kes, postmen malas nak tekan doorbell rumah, main horn horn jer. Pastuh kalau ko tak dengo, diorg belah gitu jer, tinggalkan note. Dah tak pepasal ko kena pi amik jauh buta nun kat Taman Shamelin tu tau tak. Masa aku takde motor dulu, siksa dia nak parking pi ngamik parcels aku bagai. Aku memang tak pernah pergi pun sendiri ke Shamelin tu ngamik.
So back to the parcel yang nipu katanya antau yet tak antau tu,  sampai je depan pagar terus horn horn jer, pastu dia tinggalkan motor dia depan umah aku and dia bwk few parcels to the next doors buat delivery sana dulu. aku memang tengok je dia coz ai was at my office pun (via cctv), pastuh dia perasan ada note and baru dia baca and geti nak tekan doorbell yer.  Dah takde orang keluar baru dia tepon aku. Tak yah nak citer details bagailah (kat igstories dah sembang), so dapat le parcel tuh.
Pasnih, korang kalu kena nasib yang sama cam aku, buat note and laminate cam aku buat nih. Yang kita maghah ni coz depa tak tekan doorbell (even rumah aku yang condo VA tu dulu pun tak ditekannya gak), main panggil je, kot ko tengah tidur ke hapa (jenis maid aku yang tidur siang) memang tak sedor hapa lah.
Pastuh depa nak melaju jer, tau tak kita ni ngan baju tidur sexy ke hapa, nak capai caftan ke bagai ke, yang bertudung nak bersarung bagai. Kalau kitorg kat atas tu, siap jejerit dari atas ke tangga tu, jap jap ngah turun ni, jap postmannnnnnnnnnnnn. ha sampai camtu sekali. Tau depa tak leh tunggu lama but agak2 la kan.
Actually i tak cakap semua postmen camni, segelintir jer (mostly yang memuda kot?), ai ada gak postmen yang baik ngan ai, siap simpan number tu dalam hp aku. coz tiap kali depa tepon (Red, hari ni ada 40 parcels, ada orang kat rumah ye?), ha macam tu siap punya gang aku ngan abang2 postman gak. Ada yang leh sembang ngan Mak Ajah, Si Red ni meniaga online ke cik ajah, bukan main banyak parcels dia. Tak…dia bukan meniaga, dia membeli manjangnya. So mesra aku satu family ngan postman tu ketara. Ada yang siap cakap kat laki aku kat mak aku dulu, camna la rupanya si Red ni yek, hehari antau parcels dia tak penah nampak dia yang amik. ha…misteri sangat kan. Tapi yang kalau tak biasa ngan route rumah aku tu yang banyak hal……………
Like i said, awak ada KPI awak, so buat la kerja awak gak, benda ni biarlah bebetul ikhlas kerja jalannya. Janganlah main tibai jer, tak datang rumah tapi cakap datang, banyak selekoh temberangnya sangat. Sume parcels nak suh kita collect kat station ko, apa jadi ngan kes kita bayar service suh datang antau deliver to our house kan.
So tolonglah abang2 postmen sayang semua yek, kita tolong sesamalah yeah, janganlah kerna nak kerja ringkas, cepat, awak menyusahkan pihak yang satu lagi tu. Thanks Post Malaysia. Dah 2018 tau bang 🙂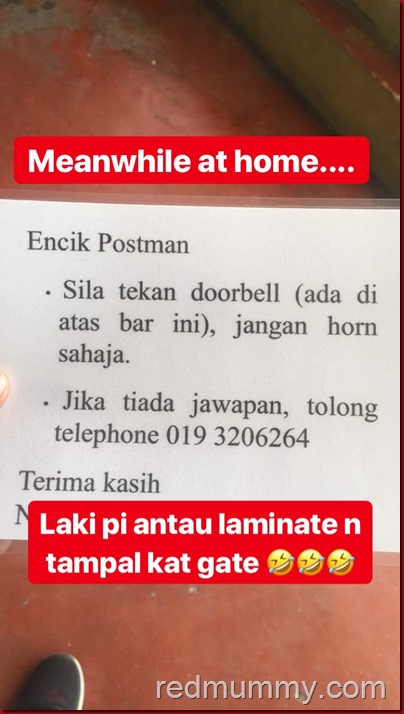 Comment:
13