Aug 6 2009 Thursday, 10:00 am
morning morningg
morning le sangat kan
entry ni kuor at 10am
so morning le tuh…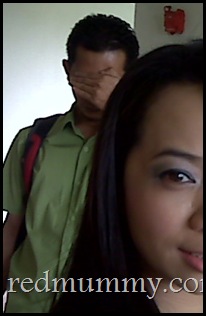 ngado tak nak kuor muka lam RM
he got fed up
muka dia asik kuor jer
he s a bit low profile
bertaun2 dah kuor blog, tetiba low profile
dia claim kadang2 dia pi makan tak senang aaa, ada readers aku nampak2 dia
ehceh
ater
nak wat gano
at least kalo ada yang menggatai
you girls know where to get me and Contact Red lah kan
baik letak muka aku
dah tentu tak yah nak memalu tutup2 muka kann
notice bout my chubby pipi? hikss
sengaja aku bela pipi aku bagi kelembung
selain dari aku berehat from SIY sekejap
aku jugak nak makan sepuas2 gitu
ater in 2 weeks time kita akan berRamadhan
talking bout Ramadhan, do not forget to Contact Red to get your Promo Puasa Raya
mana leh promote main free jer, korang meniaga kuih tu pun dah tentu nak dpt pulangan kan
aku pun meniaga lam RM nih gak
tp murahlah, under Promo Puasa Raya
kalo aku caj ikut Nuffnang nya harga, ada yang buat petisyen menentang RM wah gituuuuuuuuuuu!
dan percayakah kamu dalam mata tu, minus the eyeliner, ada 4 jenis kaler eyeshadow? shu, shiseido, pigments PAC, complete set…
baru aku pasan for 2 days in row gak aku dok pakai baju itammmmmmmmm jer
itam kusam baju ku itam. merah melambak ado but reserve for the event kot
duh! ai have 4 events on q. n aku nak ada 4 baju merah yang baru
oh yang semalam aku jadi santa clown gelak giler sorang2 hiks..adalah kerana AKU TIDAK PREGNANT LA DOL! laju je koranggg
tp aku dpt big bang boom. but aku hanya boleh pegang utk 5 minit sahaja
kerana ianya akan mengalir lajuuuuuuuuuuuuuuuuuuuuuuuu for my new investment (so nanti kuor lam protected entry)
hohooooo
huwaaaaaaaaaaaaaaaaaaaaaaaaa!
yang benornya nak nangis 🙁 tapi macam happy giler pun ada hikss
Comment:
12