Sep 25 2019 Wednesday, 5:00 pm
Sembang pasal cats lah yeah.
Im a Double C lovers  – Chess and Cats!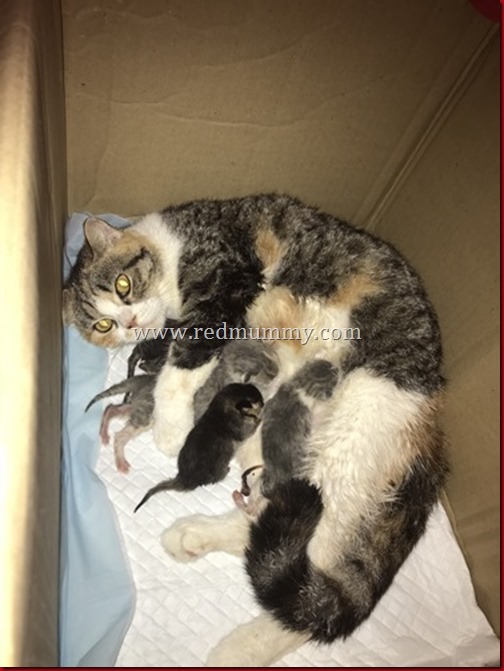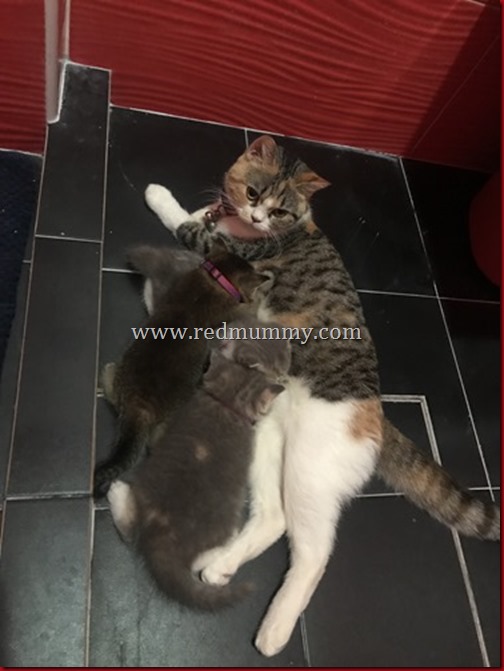 So last year, my girl Ferra, got pregnant; and dapat 6 kitties (3 died, and 3 survived). I named them, Anya, Bottega and Fendi. Fendi is a male, lagi 2 tu betinas. On top, I ada Bel (ni BSH my most magnet), beza Bel and the trio 2 months jer, so Bel memang kamcing rapat lah ngan bebudak trio tu. Chanel and LV pun masih ada lagi. I raised them well. I give them tip top high end food, dry and wet. I bagi pasir kucing mahal gak – Odourlock. I groomed them, once a month ada dedicated groomer datang to bath and bersihkan depa top to toe lah. Coz I love cats…pasainya. Jaga bebetullah, bukan main simpang siuor jaga.
Oh i pun ada bela stray cat, Gucci. She was at first my laki yang feed her, dia datang daily kat our porch. So after almost a month being fed, lam Ramadhan aritu i suh dia bwk masuk lah. Biar jaga dia properly. so sent Gucci to vacci bagai, just that, she cannot get along with the other 7 still. Lepas sebulan lebih pun dok serumah, still no way for them to get along. So my all 7 jadi stress. In the meantime; a week, 2 after Gucci was adopted dalam rumah, rupanya dia pregnant kau!! So mak merah ni lah yang menyambut her pregnancy. Cut story short, anak2 dia semua mati.  Pastuh dia resting bagai, but when my husband was away; my anak sulung pun dah dok Kedah, Kakak of cos lah kat hostel, just left me and Shan, so we both agreed to let Gucci out back.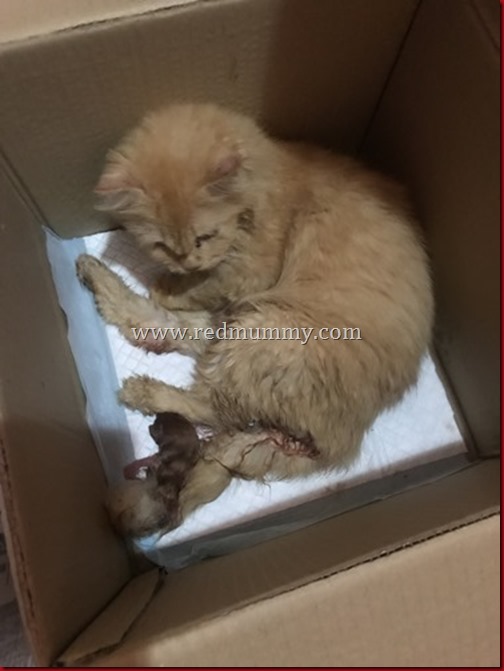 Gucci – 1st round of beranak
Kooo!!! bahagia dia dok luar, and my 7 pun tak stress dah, specially LV! Dia memang tak suka ngan new cats come to the house.
But we feed Gucci cam biasalah, ada katil ada food air bagai for her kat porch tu. Dia datang tidur bagai kat porch aku tuh, then….eh dia pregnant lagi (ni lam Sept ni gak). Pun tak realised, yelah dah stray cat kan, ramai la jantan kat luar tu yg senang nak tackle dia. So masa dia beranak tu, she beranak lam katil dia. kitorg tak pasan pun. Cuma Min (my helper) said; dia nampak bangkai tikus. Huk aloh, it s not bangkai tikus pun, itu anaknya!!!  So aku checked all, again anak2nya sume dah mati. she probably beranak a day beforenya. Hiaish Gucci, seminggu lepas beranak; aku nampak dia beromen depan pagar rumah aku lagik! huk aloh copeknya ko abis pantang!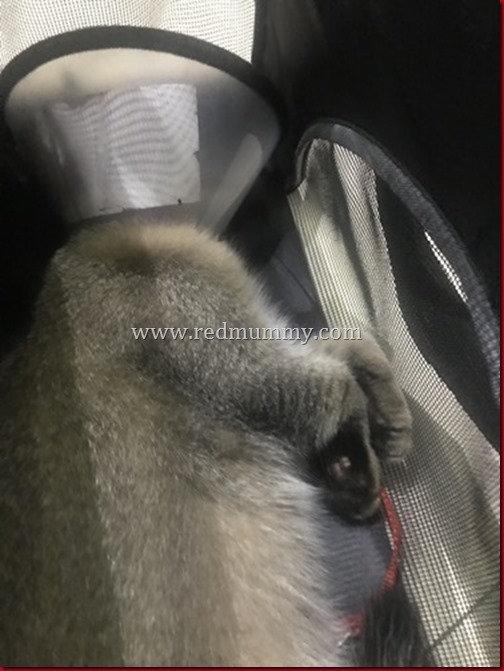 Fendi masa I sent him for sunat (he was on GA so blom sedar lagi masa ni)
Alright back to the rest of the cats; recently on 23rd Sept, Monday morning. one of the trios – Fendi yang jantan tu died. Sudden death. In my room. I realised it in the morning masa nak gi kerja, so meraung2 mak merah lagi sekali, asal kucing mati je camni la aku. Cam aku mentioned lam igs; dulu masa first time aku pregnant baru 1st ke 2nd trimester, i lost one of my cats gak. Meraung melalak sis dibuatnya; called laki yg  masa tu was based kat Spore; dia pun balik hari tu gak. Yelah, baru kawin lor. Bff aku ngan laki dia pun datang visit me, tengok aku camna, coz aku kan tinggal sorang. kucing mati mmg depa paham benaulah  my sadness. So masa tu laki aku tanam la kucing aku tuh. Kali ni bila aku tepon dia nangis2 yg Fendi died; ok nanti petang balik kerja I pi tanam dia. ha beza ko! dulu kat spore baru kawin, sanggup balik. ni dah nak 19 tahun kawin, jawab gitu jerrrrrrrrr!
Tu lah kisahnya…i lost one kid, Fendi. Now left 6 – Chanel, LV, Ferra, Bel, Anya and Bottega. Semua girls, except Bel. By this week jugak, Bel dah teruna (he s 1 year 1 month on Sept 2019) and dah mula matting with Anya.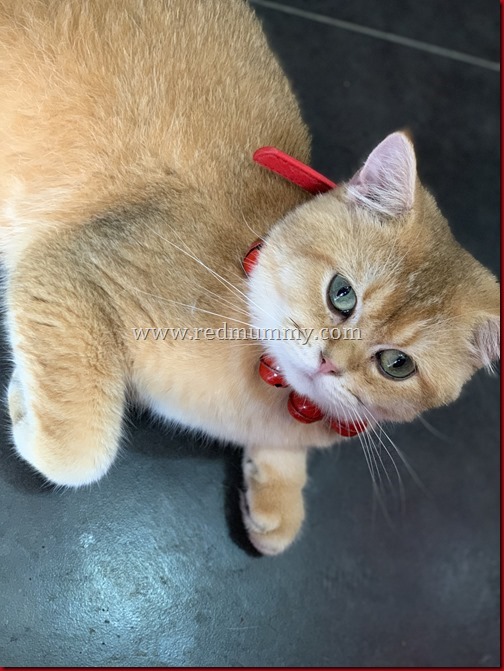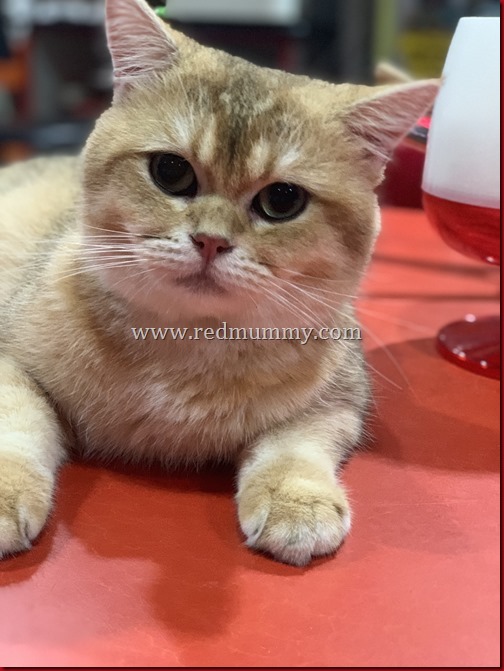 Balenciaga (Bel) the magnet!!
when i said magnet, seriously; nak carik mana aku, carik la dia. if nak carik dia, ha carikla aku. He will be around me 24/7.  kalau 5 ekor ada kat bawah, dia sekor je ada ngan aku kat atas. kalau 5 ekor tidur kat bawah, he s next to me, tidur memang kena sama ngan aku. coz for him, im his mak. yelah dulu masa dia baby sebulan 2 bulan lebih tu, dia dok dalam apron aku sambil aku masak ye…so macam tu lah dia nya magnet ngan aku till now.
Aku baru je beli 3 + 1 new litter box. Buang 2. sblm ni pakai 3 bijik. So memang plan nak pakai 4 bijik for all 7 ni lah. Cantik2 my new litter boxes tuh. But now dah Fendi left us, tinggal 6 ekor jer, so aku simpan 1 new litter box (i even cancelled 1 more litter box yang just ordered), maybe next time pakai 2 je kot for all 6. But see lah camna kalau Bel and Anya punya hasil nih, if beranak pinak bagai ke kan….
Farewell Fendi, mami loves you so much, all of us will miss you, specially mak ko ni lah (mak sebenar kau si Ferra tu buat bodoh je ko mati); aku letak bangkai mayat dia kat mak dia Ferra, mak dia buat dek jer. Asal Fendi, bapak dia BSH (bapak dia Anne Penmerah punya kucing, purposely kahwinkan depa to get half bsh half scottish fold. So depa trio mmg mix from there.
24 Oct 2018 – 23 Sept 2019
Fendi Ferragamo
Comment:
7