Aug 1 2016 Monday, 9:00 am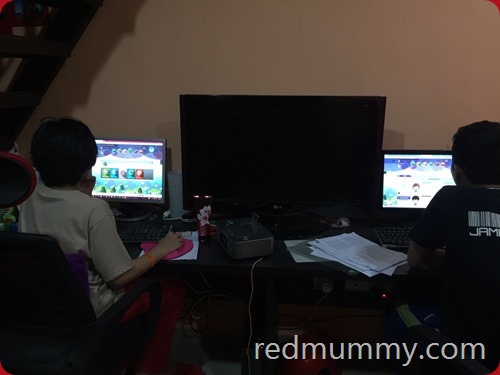 Tahun ni Abang dan Kakak masing-masing akan menduduki PT3 dan UPSR. Lagi sebulan jer pun nak UPSR dan lepas tu PT3 pulak. So memang masing-masing sekarang ni tengah buat pecutan ulangkaji sentiasa la. Boleh dikatakan tetiap malam mengadap buku buat latihan. Akak tak lah menaruh harapan tinggi sangat tapi apa yang Akak lebih tekankan usaha budak berdua ni. Usahakan tangga kejayaan. So memang nampaklah budak dua orang ni bersungguh-sungguh berusaha baca buku, buat soalan-soalan exam yang lepas-lepas dan macam-macam lagi. Siap mintak beli buku banyak-banyak lagi sebab buku latihan yang ada dah buat semua.
So bila diorang dah berusaha lebih, kita as ibubapa memang wajiblah memberi sokongan samada dari kewangan ataupun moral. Betul tak?
So Akak pun survey-survey la buku apa yang patut dibeli dan sebagainya, Tetiba Akak terfikir baik aku carik yang online punya. Lagi senang nak guna dan manage, and then lebih murah lagi pulak!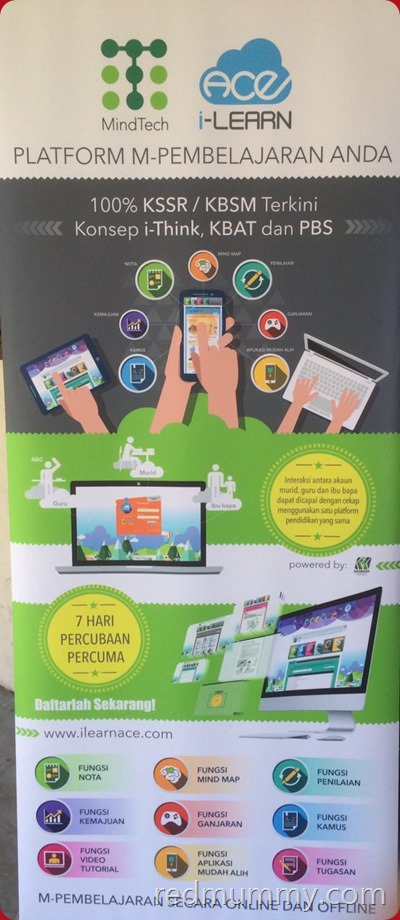 So after buat survey pasal online learning dan tanya pula pendapat member-member seangkatan yang lain, Akak pun memilih iLearnAce. Antara sebab utama kenapa Akak pilih iLearnAce ialah kerana ia boleh diinstall kedalam Hp ataupun Tab anak-anak kita dan yang paling memikat hati Akak ialah ianya boleh digunakan walaupun tanpa ada capaian internet. Maknanya tanpa data ataupun internet, Abang dan Kakak boleh guna iLearnAce untuk buat latihan. So bila keluar ke mana-mana dan bila-bila masa sesambil dalam kereta bolehlah diorang buat latihan dari iLearnAce. And once balik rumah, kita synchronize dan update results dan rekod latihan tadi tu. Senang gitu. Daripada depa main games kat Hp ataupun Tab, baik buat latihan dari iLearnAce ni 🙂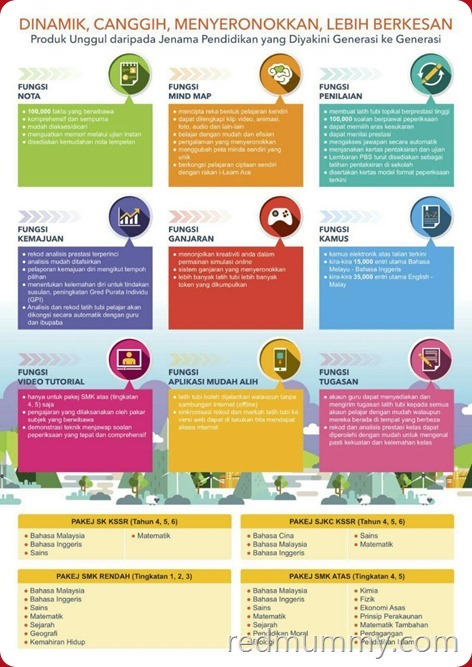 Anyway Abang dan Kakak pun selesa dan suka gunakan iLearnAce untuk buat ulangkaji, baca nota ataupun tutorial. Lagi senang dan mudah nak guna diorang cakap. Lagipun diorang cakap ada macam-macam dalam iLearnAce ni. Since diorang pun seronok guna iLearnAce, memang bagus sangat lah kan 🙂 Moga-moga hasil usaha diorang ni bebaloi, insyaallah.
FYI, iLearnAce merupakan satu-satunya instrumen mobile-learning di Malaysia yang komprehensif serta interaktif untuk para pelajar dari Tahun 4 hingga Tingkatan 5. So bukanlah specific untuk UPSR dan PT3 sahaja ya. Selain Akaun Pelajar, iLearnAce juga mempunyai Akaun Guru dan Akaun Ibubapa dan ini sekaligus menggabungkan komuniti pengajar dan pendidik berserta ibubapa dan pelajar dalam satu aplikasi yang membolehkan kita semua melibatkan diri dalam proses kemajuan pembelajaran anak-anak kita sendiri. Inilah yang dinamakan kerjasama yang menguntungkan semua pihak 🙂
Antara faedah-faedah menggunakan iLearnAce
1.       Menjimatkan masa pelajar dan guru
– Membantu mengenalpasti topik-topik pelajar yang lemah
– Tidak perlu menanda kertas jawapan.  Semua jawapan dan markah dikira secara automatic
– Notifikasi emel setelah pelajar selesai membuat latihan <- Ini memang Akak suka sebab Akak akan dapat email notification berserta dengan markah yang diorang dapat setelah diorang selesai membuat latihan/ujian
– Menghantar latihan dan bertukar-nota nota secara online
2.       Dapat belajar dan membuat latihan di mana-mana sahaja
3.       Tidak perlu membawa buku-buku rujukan.
4.       Bank soalan yang begitu banyak <- Melebihi 180,000 bank soalan untuk latihan (objektif dan penulisan beserta dengan jawapan)
5.       Interaksi antara guru dan rakan-rakan yang melanggan sama iLearnAce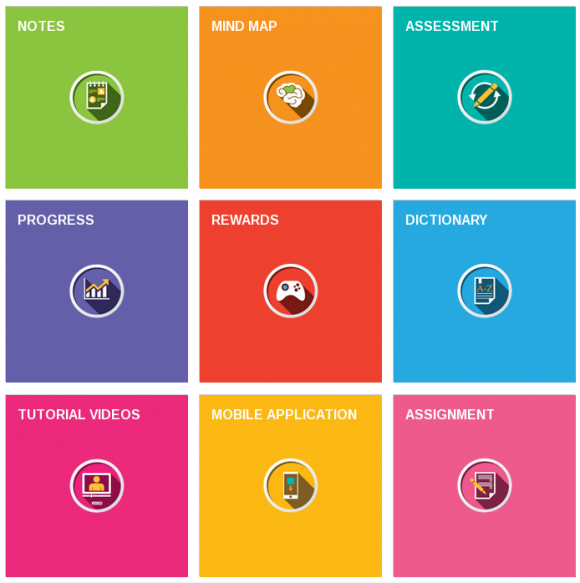 Abang dan Kakak seronok pakai iLearnAce ini sebab adanya bermacam-macam fungi seperti Nota, Peta Minda, Penilaian, Kemajuan, Ganjaran, Kamus, Video Tutorial, Aplikasi Mudah Alih dan Tugasan. So diorang boleh bertukar-tukar mengikut fungsi yang diorang suka. Lebih interaktif dan menyeronokkan.

Dan ini pula pakej yang disediakan untuk para pelajar mengikut tahun atau tingkatan masing-masing,
PORTAL SEK. KEB.(SK) (UPSR)
–  4 SUBJEK UNTUK DARJAH 4, 5 & 6
1. Bahasa Malaysia
2. Bahasa Inggeris
3. Sains
4. Matematik
Mengandungi 28,000 – 30,000 bank soalan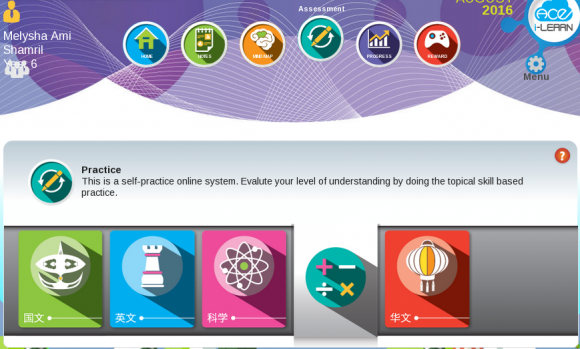 Macam Kakak kan sekolah Cina, pun iLearnAce ada menyediakan module dan subjek mengikut Sekolah Jenis Kebangsaan Cina 🙂
PORTAL SEK. JENIS KEB.CINA(SJKC) (UPSR)
–  5 SUBJEK UNTUK DARJAH 4, 5 & 6
1. Bahasa Malaysia
2. Bahasa Inggeris
3. Sains
4. Matematik
5. Bahasa Cina
Mengandungi 35,000 – 38,000 bank soalan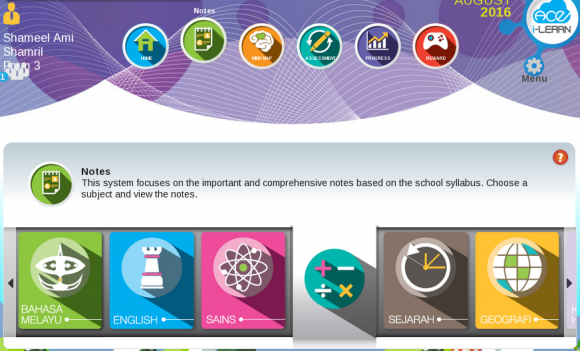 Untuk Abang tingkatan 3
PORTAL SEK. MEN. KEB.(SMK) (PT1-PT3)
– 7 SUBJEK UNTUK TINGKATAN 1, 2 & 3
1. Bahasa Malaysia
2. Bahasa Inggeris
3. Sains
4. Matematik
5. Sejarah
6. Geografi
7. Kemahiran Hidup
Mengandungi  70,000 bank soalan
PORTAL SEK. MEN. KEB.(SMK) (SPM)
–  14 SUBJEK UNTUK TINGKATAN 4 & 5
1. Bahasa Malaysia
2. Bahasa Inggeris
3. Fizik
4. Kimia
5. Biologi
6. Matematik Tambahan
7. Matematik
8. Sejarah
9. Sains
10. Prinsip Perakaunan
11. Pendidikan Islam
12. Ekonomi Asas
13. Perdagangan
14. Pendidikan Moral
Mengandungi  28,000 – 30,000 bank soalan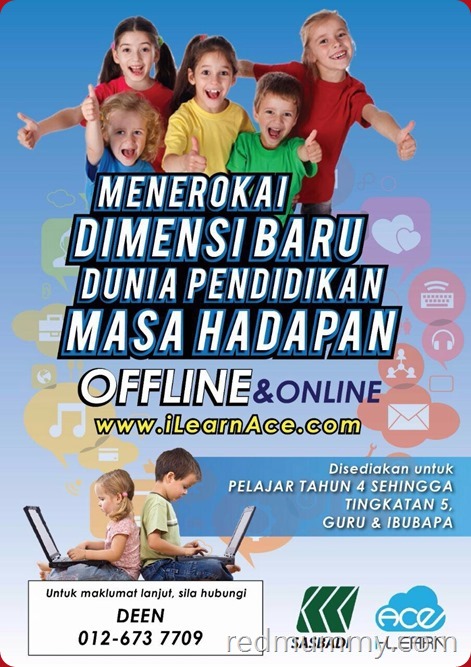 Good news nya, ada tempoh percubaan PERCUMA selama 7 hari kepada sesapa yang berminat. Kasi anak-anak cuba try test dulu 7 hari, dan kalau mereka suka dan minat bolehlah terus subscribe full package yang murah jer harganya serendah RM1 sehari sahaja!
LANGKAH-LANGKAH PENDAFTARAN iLearnAce
1. Pergi ke iLearnAce
2. Klik "DAFTAR" di penjuru kanan & pilih Akaun Pelajar
3. Isikan butiran yg dikehendaki
4. Masukkan Agent Code – MY39712522
*Jika memilih untuk subscribe pakej penuh*
5. Log in menggunakan "user id & password" Akaun Pelajar, kemudian klik MENU, selepas itu klik SUBSCRIPTION, diikuti click SUBSCRIBE NOW,  pada masa ini isikan Product Key yang akan diberi setelah pembayaran dibuat.
Selepas itu ulang langkah di atas dan pilih Akaun Ibubapa pula.
1. Isikan butiran dikehendaki.
2. Selesai, log in semula menggunakan "user id & password" Akaun Ibubapa
3. Klik MENU
4. Klik "Manage Child"
5. Klik "Add Child"
6. Masukkan User Akaun Pelajar & PRODUCT KEY *Jika memilih untuk subscribe pakej penuh*
7. Jika betul, klik "YES"
Atau boleh sahaja rujuk VIDEO TUTORIAL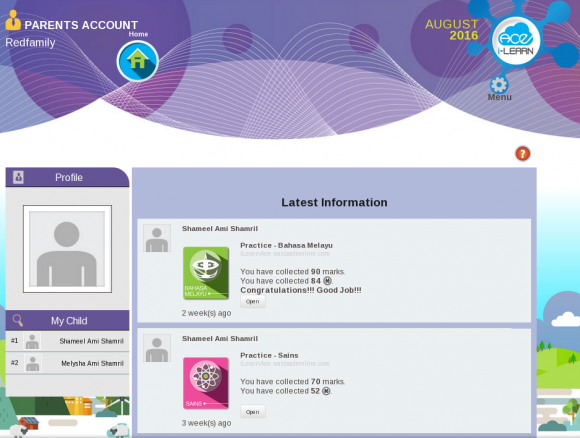 Our family iLearnAce account
So masih sempat lagi untuk anak-anak mencuba iLearnAce sebelum periksa nanti. Boleh daftar di http://www.ilearnace.com secara PERCUMA  dan automatik dapat 7 hari percubaan secara PERCUMA! Dan kalau rasa anak-anak suka dan membawa manfaat boleh hubunngi:
DEEN +6012-673 7709
HELMI ‪+6011-2628 5410‬
DR SAM +6012-510 1607
All in all, Akak personally rasa memang berbaloi subscribe iLearnAce untuk Abang dan Kakak dengan apa yang ditawarkan oleh iLearnAce ni. Dan lebih pentingnya Abang dan Kakak seronok dan suka bila menggunakan iLearnAce untuk ulangkaji pelajaran diorang. Lagipun proses pembelajaran diorang menjadi lebih menarik, mudah, ringkas dan lebih efektif dengan penggunaan iLearnAce ni. Worth for money!
Comment:
4