Feb 9 2009 Monday, 3:00 pm
the second class of sunday afternoon goes to gegirl, her first gymnastic class. aku terskip few sessions, ada miscommunication with cikgu gymnastic, so that s it, malas nak cite pepanjang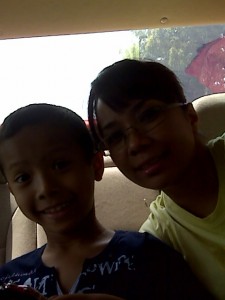 again for her first class, anak beranak sume kan pi sesama
yey!
the class ni untuk orang luor dari sekolah NK. starts for age 5 yrs old. 4 yrs pun boleh gak. ni kat sekolah abang mmg dibuka untuk budak2 luor yang nak masuk gymnastic lah. it s gegirl's first day so dia takdak uniform yet. mbe lepas 2,3 kelas baru dpt uniform.
abang sangatlah bosan, sib baik bawak psp, berbulu tol dia kena tunggu adik dia lastik2 lentik badan. ulang alik dia masuk dewan ngan sirman. aku je yang setia bertenggek dari a to z.
lastik2 badan yang aku cakap tu menda ni lah
ni budak yang dah senior sket, tengok depa nya lentik, wuiiiiiiiiii nak suh aku buat mau patah pinggang
frog style, lelain tu aku tak tau style apo
udah dibilang bapak nya bukan tengok sangat pun gegirl melastik lentik badan, sibuk ngan menatang psp tuh
ha kau memacam gaya, seronok gila gegirl…
class ni once a week, sebab gegirl orang luor bukan budak year 1 of NK, depa caj RM50 p/m, kalau student NK lagik murah n class pun a bit lama. this one sejam jer.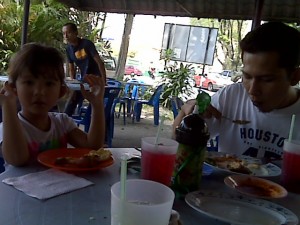 terus kami pi late lunch depan sekolah….gegirl adalah sangat gumbira dengan kelas gimnastiknya. so setiap minggu selain kindy she has 2 extra class, colouring and gymnastik. kelas mengaji toksah cakap lah kan tu memang wajib ari2 dia ada. gila dia memang minat menda nih. aku kalo  menda nih dia nak minat takpelah, coz sirman actually nak suh masukkan dia kelas violin. sebab ada study cakap violin class boleh buat budak nya pikiran lagi laju kembang apa tah.
but ai said no to music or seangkatan dengannya.
btw mlm nya dedua tidur penat gila, coz petang tuh daniel lepak umah kitorg kat 3 jam…memain tak hingat. mlm tu gegirl tidur pas midnite dia merengek2. tetiba temp naik. perkh kooooooooo! tekejut demam gamaknya.
sampai kol 4 pagi pun aku tak tidur lagik coz dia dok rengek2 last2 bg makan ubat pagi ni baru kebah. she probably terkejut ngan her first class of gymnastic ni, tak pun sebab panas bahang teruk sangat wpun pakai umbrella. dari kelas abang pagi tak panas, tp pulangnya memang panas coz keter x leh masuk dalam, so dari dewan ke keter luor wuihaii…
just that pagi tadi pas dah kebah dia cakap pasni daddy to send son to taekwando and mommy to send daughter for her gymnastic class. duh! suka le sirman x yah anto anak, aku kan agak malas nak kuor umah sabtu ahad kan, since gegirl dah cakap gitu….
yolahhh!
Comment:
52