Jul 28 2009 Tuesday, 1:00 pm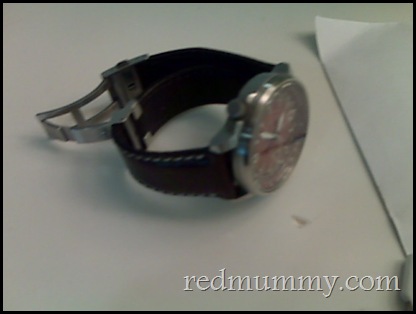 masa itu adalah emas
peribahasa berkurun
pada aku masa adalah emm….harga sebuah perhubungan. wah ayat motip nak berjiwang2 lg…
aku ni kaya idak tp nak beli jam gini mmg tak kuasa lah
asik ler gambo jam kan
kekdahnya aku menunggu bf cino aku tu ha, dia tertinggal jam dia ms event last sabtu, gegas sangat nak balik, tunggu dia pick up ke main heh lambatnya…
apek – ko utang aku ikan bakar KLCC kay!!
Eh sapa suka pakai barang MAC? ooo entry MAC ek, nanti ai kuorkan esok lusa. arini cam penuh entry make up jer weih!
hehehehe
tanya cam ada makna jer kan, aku nak jadi personal shopper korang….sesen aku tak amik untung. tang make up je laju je volunteer. Sasa pun aku offered gak, kena letak satu side bar lah kat tepi kalo dak korang sure gagau tak tau aku ni adalah rela menjadi personal shopper utk Sasa and MAC and emm….Shu Uemura, Clinique huiiiiiii!
apa saja lah kan…
but remember for Eclipse, aku offered my membership card, tp bukan aku pi turun bawah beli kan amik kasut ko plak.
so korang nak shopping apa?
senang jer, gini stepnya…
1. details kan apa yang ko nak beli via my Contact Red tuh….pastu aku jwb. ai hate telling you my email add openly kat sini coz aku benci dengan SPAM!!! alompak kat yahoo aku pun penuh ngan juta2 spam, asik aku menang lottery 8 billion, duitnya tak nampak gak. buduh nya spam!
2. pastuh aku pi ler turun bawah belikan, either way lah kalo ko tau harga barang tuh idak, nanti aku bg acct details. kang aku beli pastu korang buat bodoh tak nak bayo, wah wah wahhhhhhhh!!ingat aku cop duit? aku dah volunteer pi turun belikan pun dah kira beso bahagianya kat korang.
3. kalo nak suh post pun boleh, ha masukkan ler sekali duit postal, self collect ker hapa2 bagai lah. ikut pandai korang ler, nothing comes for free aaa!
but remember lah aku tak caj anything beyond yang korang beli. kalo ada sale 20%, sale 20% tu yang korang entitle ko dapat…
aku offered dah lama kan, tp korang je yang boliau tak perasan …
napa buang tebiat plak nak belikan barang make up?
sebab aku suka shopping barang make uppppppppppppppppppp! kalo x dpt, belikan utk orang pun best gakk!
nak? nak tak????
jawab aaaaaaaaaa NAK TAK???
wah tetiba aku giler lagik!
Comment:
32