Nov 13 2009 Friday, 12:00 pm
How to Use Chinese Pregnancy Calendar
Chinese lunar months from January to December are listed on the top row of the Chinese pregnancy calendar, and the mother's ages during the conception from 18 to 45 are listed on the left column of the pregnancy calendar.
First, find out the Chinese pregnancy Calendar in my website, then follow the steps below to get accurate results.
1. take note of the woman's age during the time of conception.
2. Add 1 to the woman's age.
3. Take note of the month when the baby was conceived and then exchange the month into the Lunar Month.
4. Then, locate the month on the top portion of the Chart and the age on the left side of the chart.
5. Lastly, follow these two coordinates to the spot where they meet and intersect, and look for the corresponding box labeled "B" for boy, or "G" for girl.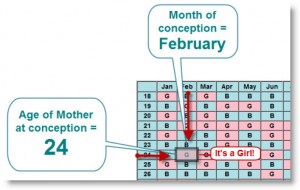 ni sumpah aku tak ingat aku google dari mana, tp aku tempek kat sini lam draft folder dah lama, kat setaun gak lah. aku ada hard copy version, dari situ lg senang aku nak ajar korang tp dari sini aku cuba lah yer….
aku antara penguna Chinese Pregnancy Calendar, for Gegirl's born.
it s believed the Chinese calendar nih boleh ko caya lam 99%, insyallah menjadi. ada jugak petua orang melayu, petua islam jugak. tp menjurus soal pemakanan and cara kita berjimak/bersetubuh ehem2 gitu. but memandangkan aku ni pemalas nak pakai cara2 gitu, nak jaga pemakanan pun malas utk mendapatkan anak perempuan, so aku pakai cara Chinese Calendar.
how it works?
i m talking bout myself lah senang yer, kalau pakai contoh orang lain kang buat hapa, dah tentu aku user.
sejarah bermula bila aku mengandungkan abang, very the bunting pelamin. so mak2 kami, mak aku and mak sirman cakap sah kami ni subur, kalo tak pandai jaga, mau tetiap taun abang akan beradik 8. hahahaha….! so aku jaga ler, stand by apa2 yang patut kalau ada konsep terlajak perahu berkayuh.
hoi susah tol nak citer hal2 seks keperluan hidup ni tau.
but pastuh, bila abang dah 3 taun gitu, sirman mokak2 nak tambah anak lagi. ingat boleh le mak merah rehat lagi 4,5 taun, tp dia nak cepat, before i turn 30years old. so sebab kita tau kita adalah subur, n pastinya aku n sirman nakkan pulak anak pompuan, aku pun study chinese calendar nih. masa tu tahun 2004, utk mendapatkan anak perempuan that time for my age, ialah bulan Sept and October.
so kena lah conceive 9-10 months before that lah kan.
makanya, setelah tekad berjuang dibulatkan, berpusing2 sepusat….
1 December perang pun dilancarkan
ahhahahahahhaha hoiiiiiiiiiiii lotih aa nak citer detaily
31st December, 2003, aku nya pregnancy test confirmed positive. Yey!
9 bulan 9 hari kemudian, Gegirl pun keluar. betul2 dalam bulan Sept tuh lah the budget anak pompuan gitu kan.
ha kisahnya
tapi korang tak tau lah, ada member aku cuba gak but silap kira tarikh bagai, tak ikut year tahun cina, so dia dapat lagi anak lelaki yang ke empat. tak tau lah apa jadi skang, dia ckp dia takkan berenti beranak selagi dia tak dpt anak pompuan.
selingan, dulu ada sorang makcik ni masuk paper, anak dia sumerrrrrrrrrrrrr perempuan. dia bersalin sebelah ngan katil bersalin GH mak aku le dulu. so dia ada 9 anak perempuan. laki dia suh beranak sampai dapat anak lelaki. anak yang ke 10 lahir pun perempuan jugak. tapi dia cakap dia akan usaha lagi till dpt anak lelaki. ok abih iklan hikss…
so jadi korang berusalah apa cara sekalipun, yang menetapkan sesuatu perkara tetap Allah swt, kita cuma gunakan pelbagai jalan yang ada. untuk yang masih sedang berusaha untuk mendapatkan anak, insyallah…satu hari yang indah, Tuhan mudahkan perjalanan kamu juga. mungkin ada hikmah atas kelewatan bayi di rahim mu. bersabar yer.
btw korang tak yah lagi dah bagi komen2 pasal nak suh aku beranak lagi ke hapa, sume orang dah boring lah. itu isu basi. if aku ngandung lagi, aku announce, but at the moment untuk tahun2 terdekat ini, aku masih lom ada nampak jalan tanda untuk wear the maternity dress.
n gang…those yang nak cuba pakai the Chinese Calendar, good luck.
bolehlah get the consultation from me, if i were to get pregnant again for the 3rd or 4th child, aku tak pakai dah kot the chinese calendar nih, aku ngan sirman sure main 'taburrrrrrrrrrrrr' jer ler. we already have the 1 pair mar….
🙂
Comment:
24