Sep 29 2016 Thursday, 2:30 pm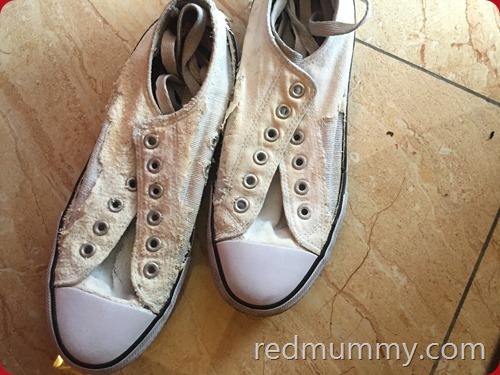 if you, nak pakai lagi tak?
sure  a big no ler kan. Kekdahnya anak dara aku pakai this kasut for like straight 9 months, sepasang ni je lah. She asked for a new pair, bapaknya jawab alah lagi sebulan je kot sekolah. Kakak pun datang kat aku, showed the kasut to me, and yes, of cos le aku suh bapaknya belikan gak new pair. Kesian ler heh, ni bukan zaman aku dulu, and ni sekolah ada lagi dekat 2 bulan kot. So sebelum sekolah bermula haritu, dapatlah a new pair, itupun orang kedai dah tarik sliding nak tutup, last minute purchase.
Sebab that was her first time pakai kasut bertali, for 9 months and her new pair langsung takda tali2 bagai. Now she tau dahlah hazab bertali2 bagai nih hiks…lunyai betul kasut dalam gambar nih, bila ko tenung lelama muahahaa….
Good luck for your UPSRA kakak, in 2 weeks time.
Comment:
10