Dec 27 2016 Tuesday, 8:00 am
Heharaplah ini bukan entry terakhir for this year. Coz aku memang ada hajat niat to put this as the last final post for 2016 (but i have few other advertorials yang nak kena publish kat sini gak), so tu tak kira ler, im talking about my usual daily entry.
Orang ngah cuti2 gitu kan, aku pun walaupun tak bercuti but mood dah kedaung sama hah.
My family semua melenjan, coz my husband is around. So tu nanti aku dedicatekan satu entry on the 'kembara 4 beranak' sepanjang the school holidays, insyallah.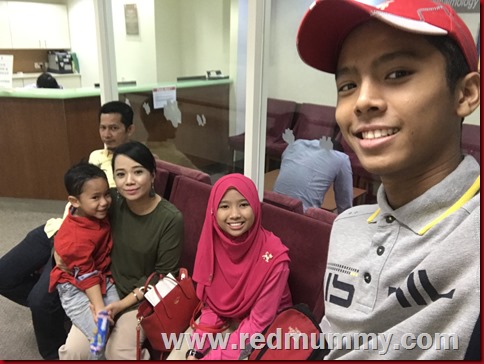 Aku dah kat sebulan buat appointment for Abang, dia dah macam ada sinus2 gitu lah. gang2 resdung gak. Appointment pagi, of cos laki aku bawak semua askar. Aku kerja, so pagi tu aku pi kerja dulu. Depa kuor kemudian and aku joined depa sejam jer, coz back work ler. Aku pun amik slot gak jumpa the same doctor (he s the one yang look after me for my sinuplasty bagailah), since Aug lepas memang ler dah baik but pastuh datangggggggggggggg balik sinus aku nih. siksa!
tu yang aku pun menyelit sama gak jumpa doctor.
Both of us dapat nasal spray, but advanced for me. One of the sprays yang doctor tu  bagi, tak pernah lagi aku pakai sebelum ni so hasilnya sangat menakjubkanlah. Tak yah citer details sangat kot hahahha…maleh. but tu lah kena follow up balik jumpa doctor bulan Jan nih, ngan abang pun sama.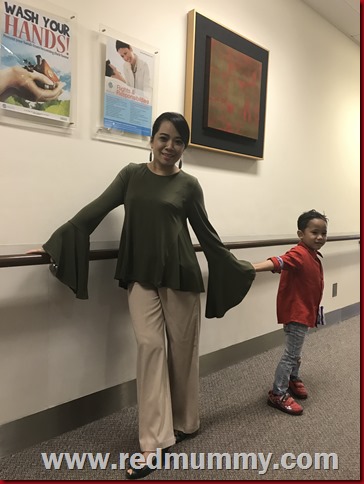 Budak ni, ada kes kat spital masa nih. I did IG kan cerita dia. Boleh masa kita ngah lelepak, dia memang ler ngah main ngan anak arab sorang nih. but waktu aku turned back, tetiba aku nampak dia ngah simbah air botol suam dia kat pala budak tu. Budak tu pun ngekek2 bagai, yelah budak mana paham benda tu elok ke tak.
Melompat la hakak merah ko! Terus aku tarik dia, sound dia. sorry2 kat bapak arab tu tapi mata apaknya amboi, marah jeling kat hakak hikss…
Jadi dia diam ler berminit2.
Tak lama tu dia datang kat aku, so aku pujuk dia, nak dia bermanners sikit untuk pi mintak maaf kat the anak and pak arab tu. Pun tak nak. So kena ler aku sama diheret dalam kes nih untuk fix kan balik. Bolehlah korang pi tengok kat IG akak the vid (lelaju laki aku amik vid bila tengok mak nak pi buat drama hahahaha). bukan drama pun, aku nak dia berminta maaf kat depa jer, supaya dia tau yang dah buat salah, kena say sorry.
Wpun memang tak ikhlas sorrynya (again, gotta see the vid dalam IG), but we made it.
Habis ngan doctor, aku terus blah, but depa stayed la coz nak amik docking ler, nak amik tunggu ubat segala, tak kuasa hakak nak melepak ler kan.
but lunch hour, depa mai KLCC so kami dapat le lunch sesama. Thing is when in KLCC depa suka benau ngan food court level 2 KLCC tuh, sebab memasing ada food idaman ler. Lain le aku dah muak, coming to my 13 years 🙂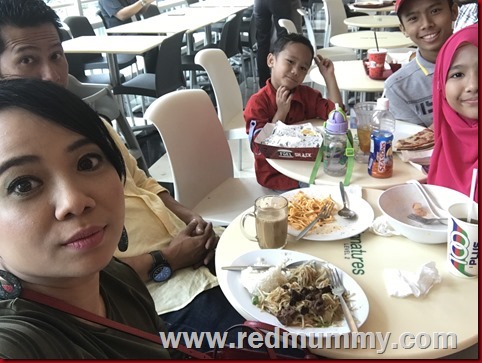 Habis makan, pun depa halau aku. Sambung balik kerja le but lunch break pun tak abis lagi coz depa nak merendek dalam Petrosains. Petrosains tu memang depa punya yearly project. Balik habis kerja, aku make up beria ler ingat nak join depa sekali laki aku cakap you balik dulu lah, kitorang nak lelama lagi dalam nih. Ler tak sudah2 lagi kooooooooooooo, memang diorang suka benau explore dalam tuh. Yelah setiap tahun ada je bebenda baru yang Petrosains provide. Harga tix for family package is RM40.
Lepas maghrib baru depa kuor dari KLCC, hamik hang…RM35 parking depa kena bayar hahahaha (aku seasoned parking).  Itu dalam 7, 8 hours gak.
Dah tu sambung pulak makan steak, depa ajak aku join but hish idok koser la haku dah ngan baju2 tidur dok sedap main chess online kat hp hah 🙂 .
All in all, semoga 2016 ni untuk korang banyak yang manis dari yang pahit masam segala.  Doakan for 2017, insyallah lebih baik dari sebelumnya, baik dalam kehidupan, pekerjaan/study, apa sahaja. Doa bebaik je lah.
Comment:
4