Dec 22 2016 Thursday, 8:00 am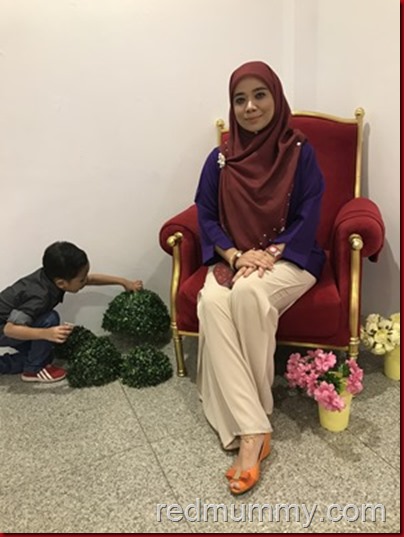 Korang tak salah page, ini memang Kak Red. Dan budak sebelah kecik tu, dok mengexplore kedai orang, penuh bahagia. Musykil dia ngan pokok renek tu….I love this chair, ada merah2 maroon, secocok pulak ngan tudung baru akak.
Hari ini adalah cerita untuk Kak Red dan Aidijuma 🙂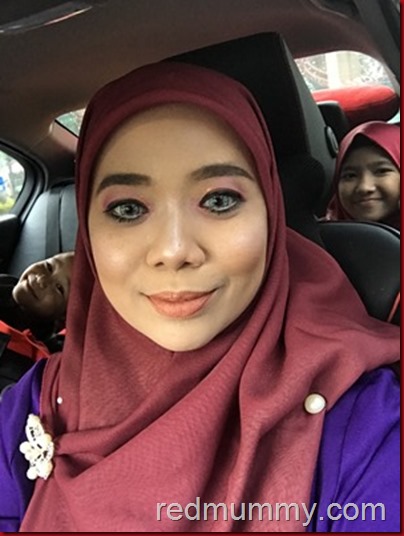 Antara hari yang akak bertudung litup, satu dalam sejarah.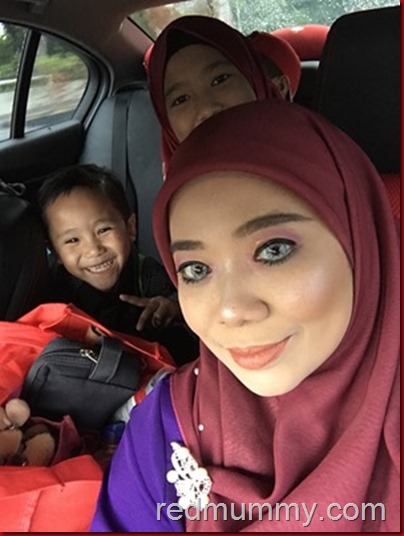 Tak cukup satu pose, kita tambah lagi satu hah, lighting cantik, dengan tudung baru ai 🙂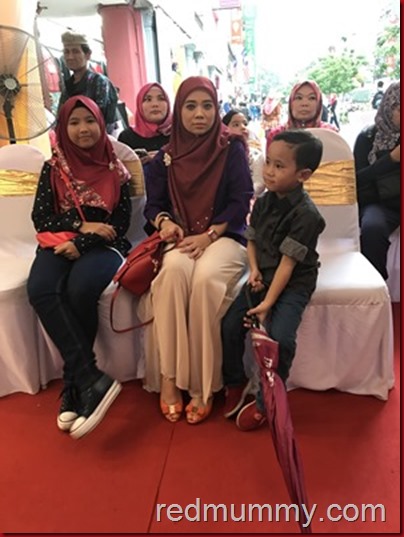 So hari tu, dalam rebas renyai hujan rahmat, akak buat pertama kalinya ke AidiJuma Flagship Store di Jalan Tunku Abdul Rahman. Sangat mudah pun jumpa boutique nih, akak parking kat just belakang of the store, tetiba ler…udah sampai. Hari itu adalah bersempena dengan 5th Anniversary of Aidijuma. Lama ye, sebaya Zeeshan 🙂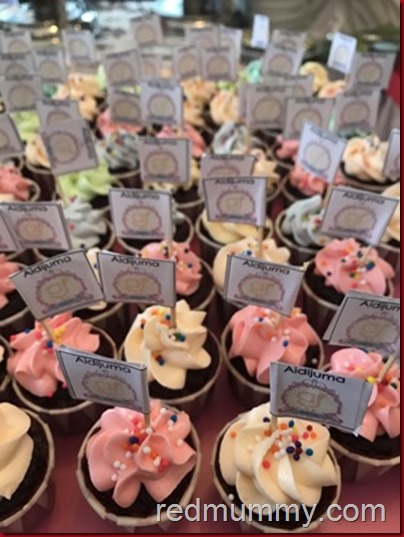 Kalau you rasa cupcakes ni banyak, for public tau, you should see in person. Food on that day was so mewahhhhhhhhh, memang cater for public. Ada lagi, the lucky draws etcs tu sume. Ada giant kek, 5 tingkat, sesuai dengan 5 tahun anniversary. Crowd adalah sangattttttttttttttttttt ramai. Akak kau ni dahlah kecik molek je kan, jadi terpaksa berlari naik atas untuk lebih selesa. Coz kat bawah tu memang ramai dok kerumun the store.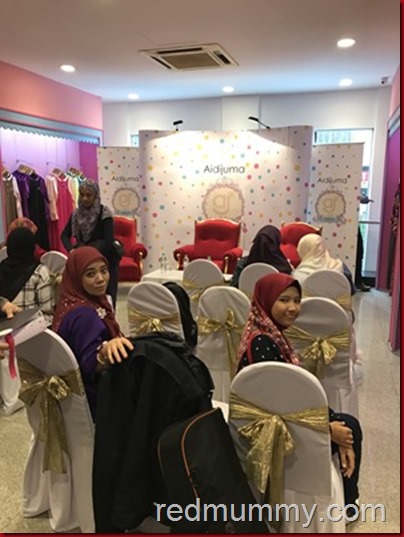 Jadi kat atas ni, kita melepak for a while lah. Kami dilayan dengan begitu baik oleh pihak tuan rumah. Selesa sikitlah coz ai bawak anak2 sama, coz cadang lebih habis event ni nak pergi berjalan merata gitu kan, so tu yang Zeeshan suka benau lah hai explore store nih.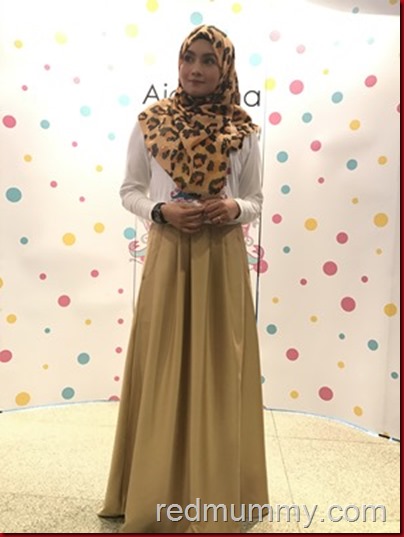 This is the beautiful owner of Aidijuma, Datin Norjuma Habib Mohamed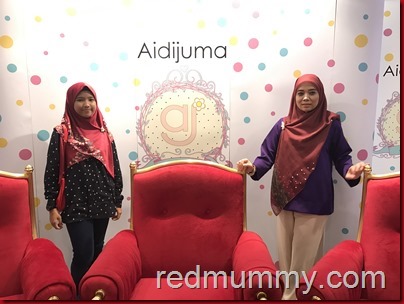 My daughter, Kakak pun pakai Aidijuma 🙂  Silapnya dia pakai dengan baju bercorak, if dia pakai dengan baju plain, lagi outstanding the satin of Aidijuma tuh. Biasa ler, aku dah suh pakai baju plain plain, bila turun bawah tengok dalam kereta dia pakai baju ni ler pulak. Haih…anak2 oh anak…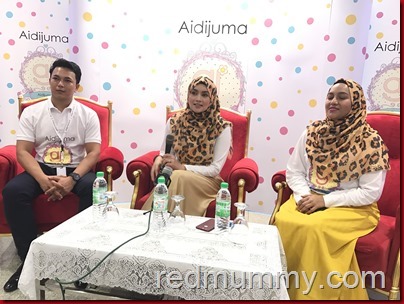 Berpeluang untuk mendengar cerita Datin Norjuma untuk kisah Aidijuma, dari salur galur kecil perniagaan hingga mempunyai concept stores tersendiri.
Both kiri kanan Datin tuh, are orang kuat orang kanan orang kiri Datin Juma gitu lah.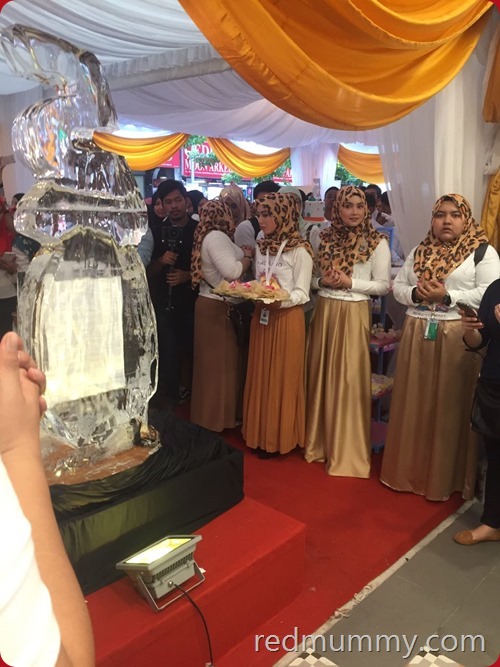 One of the sessions ialah pecah big ice number 5 nih…waktu ni toksah cakaplah, Jalan TAR dah sesak coz selain nak mengintai si manis Datin Norjuma, juga untuk melihat peluang yang ada (sama ada free food mahupun free stuff, seriously, so many free items!)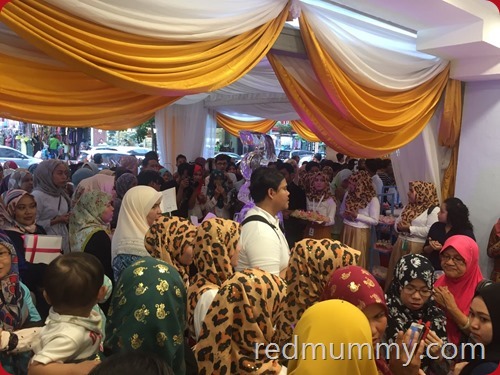 Ini serba sedikit suasana di Aidijuma Jalan TAR, memang manusia berpusu2 sangat, tapi yang very noticeable adalah the leopard tudung Aidijuma yang dipakai oleh sama rata level of management and staff of Aidijuma. Berkonsepkan gold and white, depa sedondon dengan warna emas ini.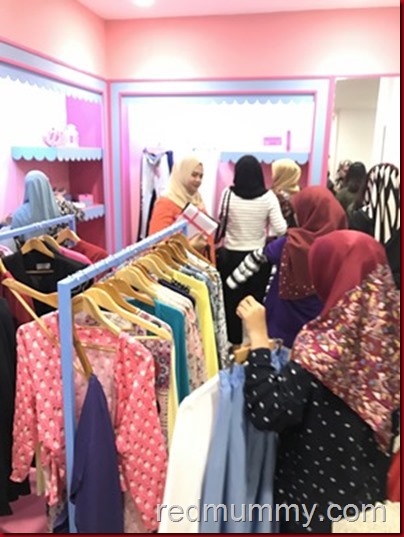 So apalah ertinya di Aidijuma kalau tak menyopping, not just public, orang ramai berpusu2 mendapatkan jubah, baju, jackets, not to mention thousands of Aidijuma's scaft. Di level atas adalah koleksi pakaian dari Aidijuma iaitu dikenali sebagai Aidijuma RTW,  the jubah2 kain baju semualah, so since kami di atas, kami borong most of the kain baju situ. Seriously sangat murah. Jubah dress lawa tu, of coslah Aidijuma's brand hanya RM100 for 3 pcs!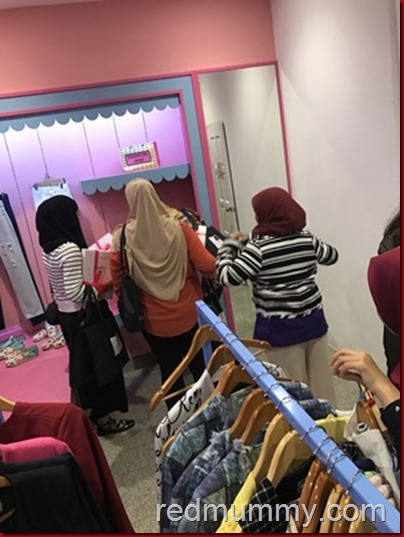 Working jacket yang akak tried tu pun, kalau tak silap hanyalah RM25 sahaja! So much worth it. Gila tak gila pasalnya the sale tu memang ngah on going, semuanya bersempena dengan 5th Anniversary of Aidijuma.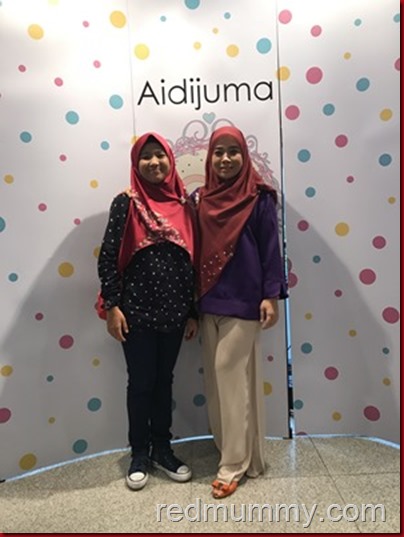 Kakak is wearing the Satin Scarf from Aidijuma collection Lioness. Kak Red pulak pakai Bawal Studded Printed jugak dari collection Lioness.
.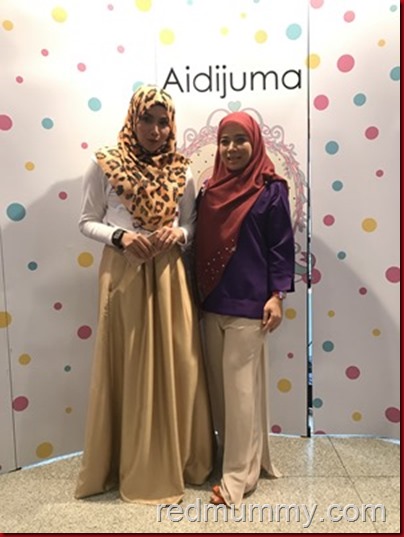 Let me tell you a story about me and Datin Norjuma. One thing for sure, alhamdulillah, she still remember me and recognized me. Kami pernah bertemu di McDonalds, bersama husband memasing, this was like yearsssssssssssssss ago. To be exact, 6 tahun lepas, on 2010.
So from there kami ada bergambar, ai ada blogkan jugak about meeting her.
Istimewanya ialah, kami jumpa tu, di McD London 🙂 , sesame beli makan fries hahahah….so begitulah, kat KL payah nak jumpa, kat London bertemu mata.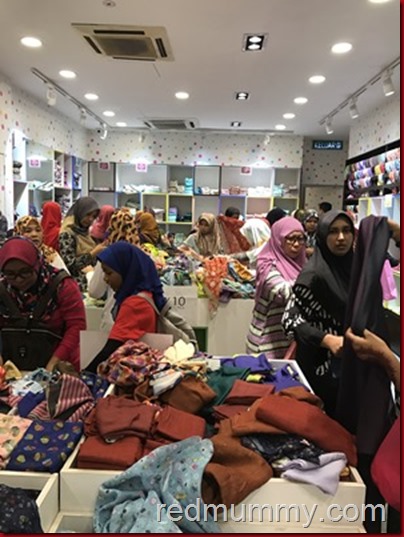 Jadi jadi,back to shopping tadi,lepas dah melenjan about RM300 gak kat atas, kita sambung pulak tudung di bawah. Omanghaik, sini lagi hebat. Of cos lah tudung Aidijuma terkenal dengan harganya yang sangat murahhhhhhhhhhhhhhhhh, paling mahal pun RM49. Jadi kalau paling murah pulak is only RM7 sahaja.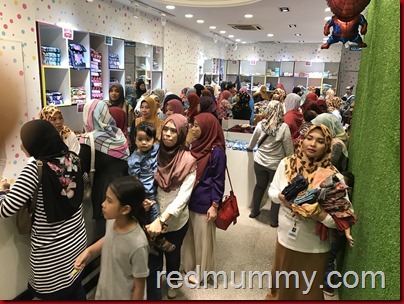 So kat sini, kami spent dalam RM200 pulak, all tudungs. Kakak yang pilih. Memandangkan aku masih lagi belum berhijab, but like ai said, I believe by engaging me untuk Aidijuma, Datin Norjuma sebenarnya membuat dakwah kecilnya, not just to me, but also to you out there.
I memanglah belum bertutup lagik, but who knows, dengan pendekatan macam nih, soft touch dari Datin sendiri, I mungkin lebih berlitup than everyone else.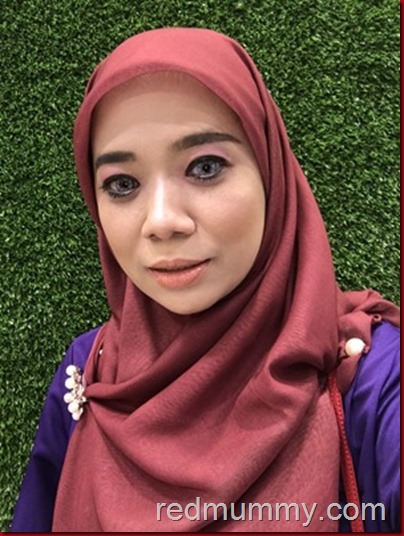 Mungkin you would say, kak ko pakai labuh betullah kak, hah tu lah hang tak tau,kan tutup dada tu ikut syarat weii…….slowlylah, ai bukannya expert pun, Janji manis jugak ada 🙂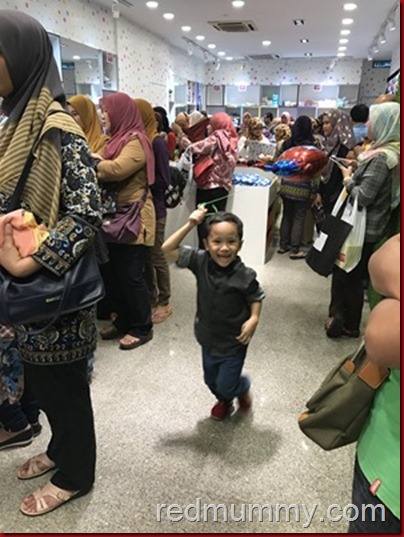 Happy Zeeshan meronda dalam tuh, dia mana kira orang ramai ke tidakkan, asal dapat berlari pusing dengan balloon Spiderman dia.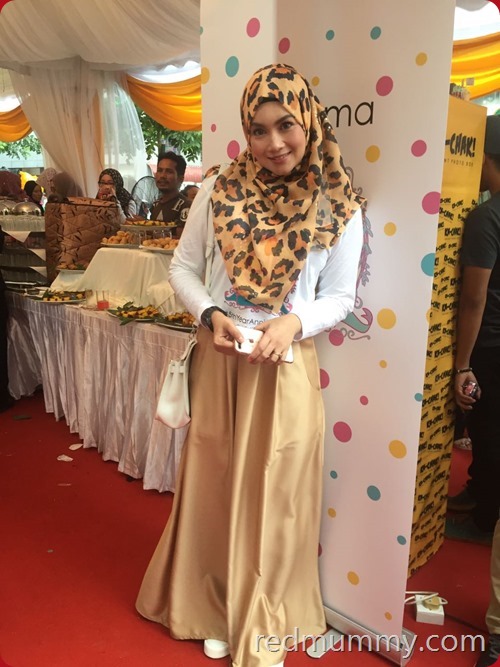 Tudung-tudung Aidijuma boleh dipakai dengan pelbagai styles, of cos the concept is fun and colourful dan rasa fresh! Untuk 5th years Anniversary Collection, it comes dengan Lioness, Songket/Tribal and Abstract yang sesuai untuk pelbagai acara dan semasa. Dia ada 2 different borders untuk alternatives of styles bila kita memakainyalah kan.
Bak kata Datin Norjuma, tiada machine credit cards di store Aidijuma coz setiap pembeli adalah digalakkan menggunakan cash sahaja, yelah boleh control budget gak bila menyopping, paling utamanya, harga Aidijuma sangat murah tanpa compromising the quality of their scarf.
Bersempena dengan 5th Anniversary celebration, you may get and entitle for 'Anniversary Price', this will end this month on 28 December 2016.  Jadi reramai serbu this Aidijuma Flagship Store at Jalan Tuanku Abdul Rahman (TAR) coz bukan je harga runtuh untuk setiap tudung, Aidijuma juga bermurah  hati untuk give away the Limited Edition pieces capture AJ's fun spirit with adorable cupcake design, dalam warna hitam, pink dan purple. Tak perlu beli ni tau, randomly will be given away to the customers.
Tak kira ler if you beli via online, or you beli di Online Store (www.aidijuma.com), Concept Store Nationwide, Concept Store Brunei, Mobile Store mahupun Scarf Machine anda berpeluang tinggi untuk mendapatkan the Limited Edition FOC.
By the way, kenapa Aidijuma Flagship Store terletak di Jalan TAR, you should know di Jalan TAR adalah lubuk segala pembeli dari local ke international. Di situ juga tempatnya 'fake tudungs' berjualan. Dah kalau kedai maknya di Jalan TAR, dengan harga murah, takkanlah the fake one nak buat jugak, kompem ler orang lari ke original and authentic of Aidijuma. Some more, it s Jalan TAR, everyone knows 🙂
Aidijuma ada 20 unit Concept Store di seluruh Malaysia dan satu unit di The Mall Gadong Brunei. So untuk senang lagik, let s hook up and please Follow this:
This is Aidijuma. Sale masih on going, harga runtuh sangat, jadi, moh shopping di Aidijuma sampai 28 Dec 2016!!!
Comment:
6