Dec 19 2016 Monday, 8:00 am
Biasa bila the heavy entry, nak closing ni ler yang siksa nak mengabiskan. Coz among my Beijing's journey, inilah sesatunya hiccups yang bikin aku panassssssss darah betul. Dengan sesejuk tu pun aku boleh berpeluh, semuanya kerna bukan sahaja communications issue, tapi jugak depa sendiri tak paham the VAT tu sangat (except yang di balik tabir pintu kastam tu lah).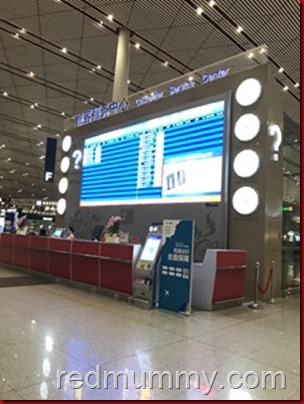 Ini counter information, to confirm kat mana aku nak check VAT, dia suh pi kat the next counter, arah kanan, about 50meters bapak jauhnya.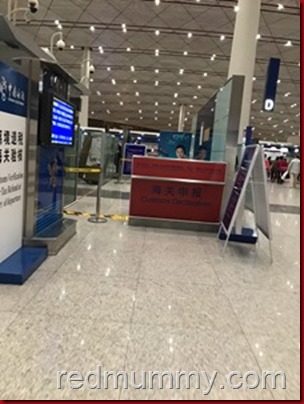 ini kastamlah, kat sini ada sorang amoi nih assist, dalam english yang very basic, dengan confident level tingginya, dia suh aku pi check in dulu. Sebelum tu dah memang nampak dia menggelupur ler nak handle case VAT nih, but cos dia tanya colleague dia yang dok ajar dia gak, entah betul entah tidak ler kan.
Even she dok cakap kat aku banyak kali, luggage ijau aku tu leh check in, but luggage merah (the hand carry luggage) jangan check in. Sebab nanti depa nak check ler kan items yang nak di VAT kan. So aku pun pi le beratur, ada lagi 3 jam actually but the q dah panjang melengkar (obviously full of orang2 depa ler). Orang kampung aku ada ler sekerat mana pun. Selepas satu jam, aku settled ngan checked in semua. The flight pulak, delayed by 30min. So about 130am lah kot gamaknya.
So dengan luggage merah aku, datang balik kat si Amoi Kastam tuh. Bila aku dah datang nih, hah mulalah dramanya. Ini penceritaan aku ni based on bahasa Melayu, kalau dengar omputih dia sounded macam nih 'YOU COME BACK WITH THE RED LUGGAGE' – ayat ni jer berpuluh kali dia bagi. So bila dah sampai kat muka dia, dia boleh cakap 'you check in the red luggage' hah ini yang aku buat rasa nak gigit je muka amoi nih. tadi ko tak bagi check in, ni ko suh check in plak. Ko dah kenapa. aku sejam lebih beratur untuk check in bag aku nih.  So untuk drama ni jer, lebih kurang 15-20min. Masa ni pulak bff aku ngah tidur, tertidur actually. Yet i really need her to speak ngan amoi tuh, coz if not camne nak memasing paham bahasa.
So moh ler pendekkan cerita, tak yah ler layan amoi tuh, dia bagi aku map airport Beijing tuh, dia suh aku pi ke kastam lepas Security Check. at E10. Ikut yellow line. Ni dia dah beria kompem ngan supervisors dia, siap dia tulis lam kertas in mandarin but pastu aku sound, ko tulis ler lam omputih, ko ingat aku paham ker cino ko tu.
So aku pun ikut direction dia, yellow line. Yellow line tu domestic tau tak, bukan international, but aku tabah je lah pasrah, memoga betullah kan. kena naik train bagai yek, so baru jumpa Imegrisen.  Masa ni aku dah  kecut gak, janganlah ni pi Domestic jer, must be international gak. Coz dari asalnya si Amoi tu patutnya cakaplah yang ikut international line macam biasa gak.
Nasib baik ler masa aku dalam train tuh, aku dok perati muka2 cino ni yang memang satu lane asal ngan aku waktu nak check in. So kami surely in the same flightlah, jadi aku tak salah haluan.
So 2 hazabnya ialah di Imegrisen dan jugak di Security Check depa. Oh huk aloh…..untuk 2 benda ni lebih sejam kau. Dahlah tadi aku sejam lebih untuk beratur check in kan. Ni nasib baiklah flight delayed. Ada pompuan tu aku dah tolong dia, boleh dia cut q aku. hish….tu orang negara depa la tuh. Buruk btol pangai.
Habis jer security check, memang betul depannya ada lagi satu Kastam counter. Kecik jer, tak macam Europe nya pun. Adalah macam satu meja bar tuh, and kosi, sorang officer dalam tuh. Terusterang, dia tak tau speaking, takde orang pun yang q kat situ, aku sorang je pun. So dia roger boss dia kat dalam, and boss dia finallyyyyyyyyyyyyyyyyyyyyyyyyy, very fluent in English. Beliau adalah memang expected aku pun, coz earlier kan, 2 jam awal sebelum tu si amoi yang kat depan dah bilang kat diaorang nih. So depa check2 my luggage lah, for the barang2 yang nak kena VAT kan.
Sini dalam 15min gak, pastuh dia anjak aku ke depan sikit, just bebetul dengan duty free shop.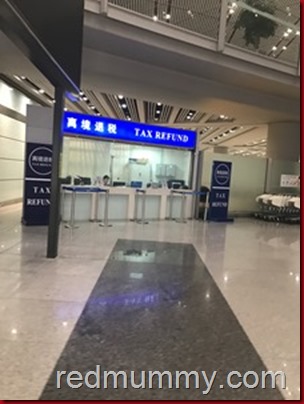 The TAX Refund Counter!!!
Pas amik dox from the abang kastam cino tu, aku terus ke sini, and once again, aku sorang je yang ado kat sini hah. Like I said, China ni tak ramai yang tau leh buat VAT (for Malaysians) or maybe depa tak shopping sangat gamaknya. Kalau tak silaplah, kena spend at least 500 or 300 yuen, in single receipt. So kat sini, aku amik masa 15-20min gak lah.
Aku dah gigil nih, ado gak aku tertinggal flight ni kang, dahlah aku tak dan nak shopping duty free. Mau taknya, all in semua masa aku dah spent 2 jam lebih dari depan ke dalam! Ini nasib baiklah flight delayed setengah  jam.
So akhirnya, aku clear gak hal TAX Refund nih. Lagi 2 bulan dapat refundnya (coz aku shopping kat Tianjin), depa ni Beijing, if spent kat Beijing shops akan dapat cashlah. Coz they are 2 different cities, so hanya dapat lagi 2 bulan. IF aku gayakan cara dia explain, huh boleh nangis.
itupun form hapa bagai, satu chop or even letterhead takdak, betul plain kosong dia bagi aku. Coz depa macam tak expect kot orang nak buat VAT sangat sampai papers pun gitu2 jer.
It s a new thing in China for VAT nih, rasanya tak sampai setahun, or launchingnya was last year.  So legalah, as of this entry is up, aku masih lagi belum dapat refundnya. Belum 2 bulan, eh kot.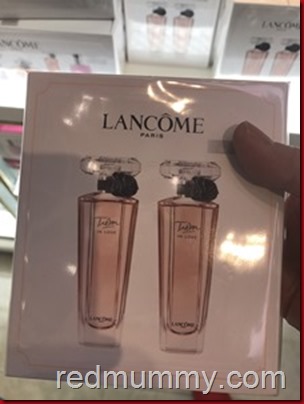 habis settled tax tuh, aku lari masuk duty free. dapat tengok perfumes ni jer, then blah. coz ada q about 5,6 orang so aku tak tau bape jauh gate aku, and i have like less than 40min or 30min je camtuh.
kalau ler banyak lagi drama VAT nih, if lagi 30min baru nak pi gate, aku tinggalkan jer vat nih, lantaklah. tak sanggup aku nak dok lama lagi kat airport tuh…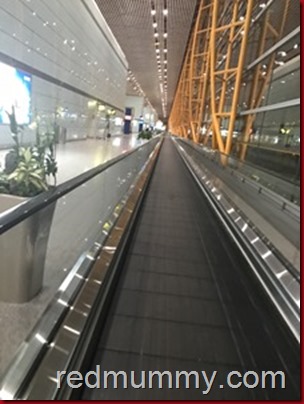 Nasib baiklahhhhhhhhhhhh aku pikir panjang tak menyopping kat duty free tu, coz bapak jauh ler aku punya gate!! Aku punya jalan sikit laju coz really, takut gate tutup.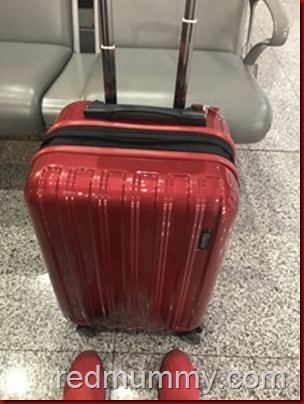 Sampai kat gate, ler delayed lagi flight hakak. lagi 15-20 min kot, tu lah takde rezeki gak nak nyopping kat duty free tuh. So no buah tangan.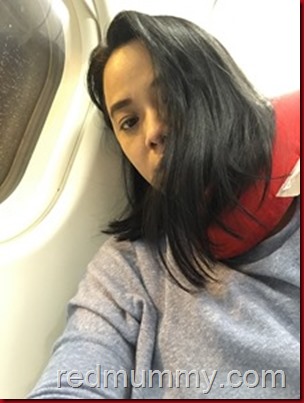 aku pulun tidur dalam flight, sebelah aku ada orang kampung depa. hoih, aku terpaksa tidur pakai earphone (high volume) pasal dia punya berdengkurrrrrrrrrrrrrrrr. Termasuklah orang sebelah2 dia, pun sama berdengkur kuatnya. lagipun aku letih ler ngan melayan Kastam, Imegrisen, Security tu semua. Even Imegreisen tu pun rajin pulak nak menanya memacam….hish. Ko chop je lah passport aku tuh.
Lagi satu, hah sepanjang kat Beijing nih, semua orang cakap cino ngan aku. kawan aku ckp, muka aku dah sama macam cino ngan depa. tapi bila aku speaking balik, ko stop le ngan mandarin ko kan, dia cakap lagi gak mandarin ngan aku. Eii…aku tak paham le dol.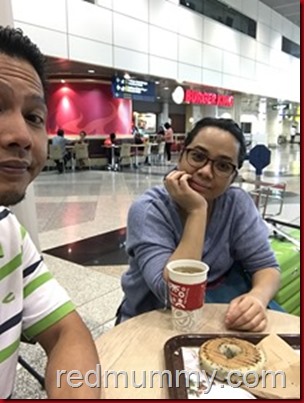 walaupun flight delayed, tetap sampai on time gak, minus plus lah. Pagi Isnin aku ingat lagi, laki aku jemput kat KLIA, singgah breakfast lu and aku punya mendengus2 pasal one thing ialah the tax refund issue di Beijing. My bff yang pagi tu baru sedar, felt so guilty coz dia tertidur. Sebab if not aku bolehlah gak cakap yang aku nak tu nak ni cakap camne kan dengan cino kastam yang kelentong aku pi check in lah, pi yellow lane lah, kalau suh KC cakap pulak, lagi KC pening coz orang pompuan je yang terer hal tax refund nih hahahaha….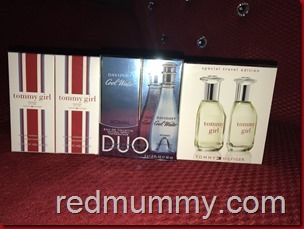 but kat duty free KLIA, aku pulun beli 3 sets ni (6 bijik). semua yuen aku habiskan, coz duit tu patutnya spend kat duty free Beijing's airport, but dah terlampau banyak sangat drama tax aku, so tak dapatlah nak berbelanja.
But apapun, aku kena tendang kiri kanan dek amoi kastam tu, memang bikin panas betullah. Jap ko cakap gini, jap ko cakap gitu. Dia pun tak tau process tax refund nih. Tu sib baik aku sampai airport awal gak coz aku tau aku kena handle hal nih sesorang kan.
so korang, pasnih if sopping menggila kat China tu, remember to:
1. Terus check in, tak yah ko pi kastam ke info counter ke hapa bagai. Jangan ko pi susahkan diri tanya amoi kastam tuh. Wasting time jer.
2. Bembarang yang nak vat tuh, tak yahlah check in, but if like banyak sangat and tak muat hand carry tu, so boleh jer lah check in gak. Coz my case, semua aku dah sumbat lam handcarry lugggage but yelah setelah menjalani pelbagai onak ranjau duri, masa dia tanya mana lagi satu item, coz takde dalam bag, aku blur giler. Pala otak lost betul tak tau mana barangnya. So aku jawab jer, dah checked in. Lagipun dia nampak my bag tu dah mampat semua barang2 tax sumbat situ kan.
Ok hok nih, dah sampai ke gate kot baru aku teringat yang barang tu ialah that merah hand carry luggage! hahahaha…sumpah lupa betul, memang aku beli kat Tianjin pun.
3. Jadi pas check in, lenggang kangkung tengoklah airport depa dengan bahagianya, sampai ke Imegrisen (huh beratur lama giler kat sini), also melalui pulak Security Check depa (ini lagiiiiiiiiiiiiiiii ler sama beratur lama), sumpah bosan. Then terus ke kaunter bar kastam yang aku cakap tuh. Senang sangat.
4. Once done ngan kastam tuh, dia akan chop2 bagai, check segala barang ko lah, terus ko pi tax refund counter! The End. Either dapat cash or cc, kemudian nanti orang tu kabau. Different cities je tak leh bagi cash, padahal depa satu negara pun.
5. Oh tax refund dapat lam 9%. kot. bih kurang ler, not more than 11%.
Apapun, thanks Beijing for the lovely memories. Kalau tak kerana kawan aku dok situ, memang tak hingin ler aku nak datang, ini pun bertaun baru terasa nak pergi, coz aku pun pernah pergi sana sebelum nih jadi aku tau sengsara drama melodinya depa ni. Mana ngan pengotornya, yang biadapnya, even taxi driver yang buang kahak ke luar waktu kita dalam taxi dia. Tangan aku penuh kiri kanan, beli Prada kau, ko jaga pintu buat hapa if tak nak tolong bukakkan, eii tak gentleman betul.
Well manis pahit Beijing. Kemuncaknya ialah bila kena tiau ngan kastam Beijing, yang knowledge on VAT adalah sangat nipis, dan communiation barriers lagik, kena bawak anak2 aku yang 2 orang tud jadi interpreter lah pasnih.  Sejuk Beijing, one of the things yang aku maleh gak nak melayan. Potong stim betul sejuk2 winter dia heh.
Thanks Beijing, thanks Ima for your great hospitality.
Comment:
1