Feb 5 2018 Monday, 12:00 pm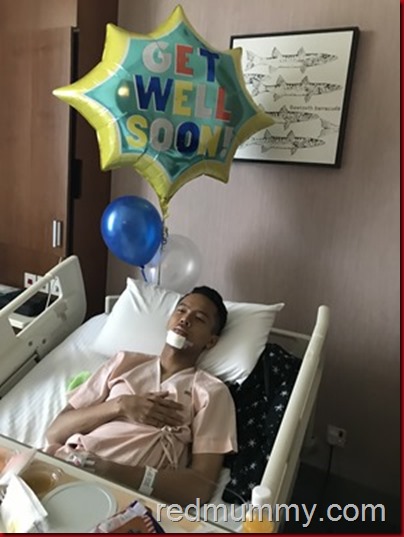 Abang, this yearis  going to be 17 years old. Our eldest son, korang pun sayang dia coz u see him membesar depan mata korang gak lam blog nih.
Saturday petang 3rd February 2018, abang was a victim of hit and run accident (we believelah). It was happened near by of our house. Once or twice a week dia akan cycling kat near by rumah, or kat tasik (even basikal lama dia pun kena curik kat tasik permaisuri gak), so waktu dia nak balik rumah tu lah dia kena hit and found on the ground by sorang aunty kat taman perumahan tu. The father and Zeeshan (at that time i was kat rumah atas tak tau apa pun), rushed dulu pi tengok amik dia terus to emergency HUKM. Aku datang minutes later and after having discussion itu ini ngan doctor, kita agreed to transfer him to another hospital, jam2 tu gak.
RD and Zeeshan ikut sama naik ambulance with abang, while aku rushed balik rumah to pack up some stuff. earlier memang aku dah packed but coz kita nak pindah hospital, kena lah tambah lagi kenbaju for bapaknya too. Bila ai sampai hospital semula, abang ngah CT scan, and hours later depa admitkan dia. RD stayed overnite there while aku ngan Zeeshan balik.
The next day, aku jemput kakak from the hostel (she dah melalak2 nangis masa over the phone cakap dengan abangnya earlier that nite), and bertangga la aku jaga teman abang pulak siangnya. Pastuh switch balik duty jaga abang dengan laki aku, dia pulak take over malamnya. Aku balik masak bagai for Zeeshan nanti or soknya if laki aku balik nak makan.
Soknya kerja pun aku bergantian lah datang pi jenguk abang kat hospital.
First day dia kena, 1000 of questions from him, coz dia tak ingat apa, dia tengah trauma and shock, dok meracau2 malamnya.
Esoknya baru dia a bit calm.
Apa yang teruk? muka tangan bersagat. Ada tanda ke nanti mami, yes bang, scar will remain there but nanti kita makeup2 kasik ilang insyallah.
the worst part yang buat dia nangis sangat selain  muka dah bersagat, gigi hilang 2 1/2 batang. Gigi tu, sebatang dapat dijumpai, habis root semua gigi tu tercabut. Punya kuat impact dia kena. Tapi takpe, sume gigi tu kita boleh pasang balik yang baru, dont worry abang, this is 2018.
Bersyukurlah tiada yang major. kena few times gak buat xray and ctscan kot hari2 lain ada pulak ternampaknya kan. Badan sesakit of course. Camna dia leh kena accident tu, noone knows. Dia sendiri tak ingat apa, slowly la baru nanti ingatan tu datang balik. Skang masa untuk berehat, rileks dulu kasi tenang. La ni dia ngah short term memory loss, like 1-2 weeks nya incidents dia tak ingat langsung, dia cuma ingat yang months or years nya memory.
Insyallah, sesama kita pulihkan balik semangat and trauma yang Abang sedang lalui.
For those wishes abang, tq sangat2. Ada masa lain i sambung lagi more details about abang's accident ni. Untuk yang betullah ada yang melanggar anak aku ni, and run after dah hit, tidur malam awak pun bukan selalu boleh melena, so tak hari ni, mungkin hari lain pulak awak yang kena or family awak. Sian anak aku dibuat gitu.
Doakan abang please, thanks all.
Comment:
20