May 20 2016 Friday, 1:30 pm
.
Hai, saya la Red dalam Angry Birds The Movie tu hiks 😛
Jemput makan semua 🙂
Kami actually tengah bersarapan di TGV, One Utama Shopping Mall sementara menunggu untuk menonton Angry Birds The Movie bersama-sama tetamu istimewa yang di bawa khas oleh RMHC (Ronald McDonald House Charities)
Ronald yang sangatlah peramah dan kelakar 
Ok back to main agenda kami di sini, untuk pengetahuan semua tetamu istimewa untuk screening Angry Birds The Movie ni ialah anak-anak yatim yang dibawa khas oleh RMHC dari 10 rumah kebajikan sekitar Lembah Klang ni.
Yang ditunggu-tunggu pun dah tiba. Akhirnya muncul la the main characters of the movie. Bomb, Red dan Chuck. Cutenya depa ni alahaiiii…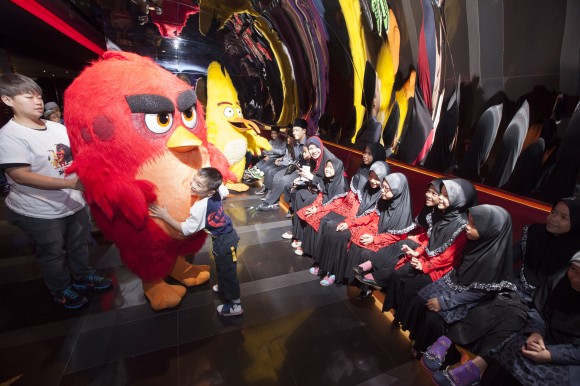 Apalagi suka betul anak-anak rumah kebajikan bila nampak mascot Angry Birds ni. Terpancar perasaan riang gembira di muka masing-masing. Meleret senyuman masing-masing dapat bermain dengan Angry Birds ni.
Kecoh masing-masing nak bermain dengan Red dan Chuck. Akak pun suka tengok si comel 2 ekor ni, apatah lagi anak-anak kecil ni. Lagilah melompat suka diorang. Sedikit sebanyak dapat membawa kegembiraan dihati mereka semua. Usaha yang baik dan patut dicontohi dari RMHC ni.
Zeeshan takut dengan Bomb hiks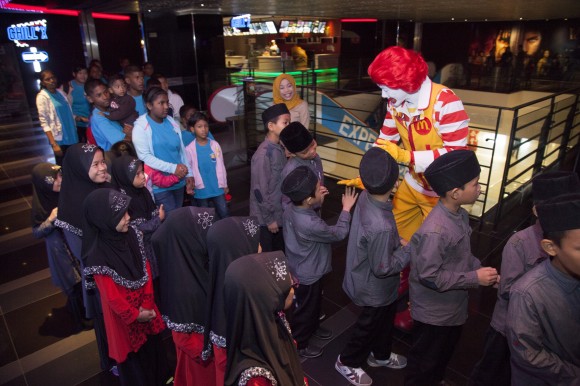 Ok movie pun dah nak start, jom masuk panggung. Budak-budak ni pun dah tak sabar nak menonton kelincahan Angry Birds ni.
By the way, RMHC telah membooking the whole 2 cinemas especially for this screening.
As I said earlier, Ronald ni memang peramah. Habis satu panggung dia berborak bercerita menyapa all these kids 🙂
Tapi the highlight of this event ialah di mana RMHC telah memberi sumbangan tunai sebanyak RM5000 untuk setiap rumah kebajikan. Generous sungguh RMHC ni 🙂
Terima kasih banyak-banyak kepada RMHC di atas sumbangan ikhlas kepada rumah-rumah kebajikan ini. Sedikit sebanyak dapat membantu dalam pengurusan anak-anak yatim ini. Terharu pulak Akak…
Antara rumah kebajikan yang hadir dan menerima sumbangan ini:
1. Rumah Amal Limpahan Kasih
2. Persatuan Kebajikan Rumah Anak-Anak Yatim Damai Kuang
3. Pusat Jagaan Anak Yatim Nur Ikhlas
4. Teratak Nur Barakah
5. Pertubuhan Kebajikan & Bimbingan At-Taqwa
6. Rumah Joy ( House of Joy )
7. Persatuan Rumah Kebajikan Rita
8. Lotus Charity Care Centre
9. Sanctuary Care Centre
10. Rumah Nur Syaheera KL
Dan untuk pengetahuan semua, RMHC telah ditubuhkan pada tahun 1990, a non-profit organization. Misi RMHC adalah to create, identify and to support programs yang dapat memperbaiki lagi the well-being of children yang memerlukan bantuan dalam 3 main areas ini iaitu Health, Education dan Welfare. Untuk lebih lanjut boleh layari website diorang di http://www.rmhc.org.my/
So time to layan Angry Birds The Movie. Best sangat cerita ni dan sangatlah kelakar. Satu panggung pecah perut ketawa terbahak-bahak melihat kelincahan team Angry Birds ni. These kids enjoy it so much. Akak pun sama terhibur dengan cerita ni espcecially si Chuck yang sangat cheeky. Si Red tu quite serious but dialah mastermind penyelamat dunia Angry Birds. Bomb pula ala-ala bersahaja tapi dapat menggeletek hati kita dengan karenah dia.
Korang wajib bawak anak-anak korang layan citer ni. Seronok sangat. Ada satu scene tu memang gelak guling-guling kitorang 😀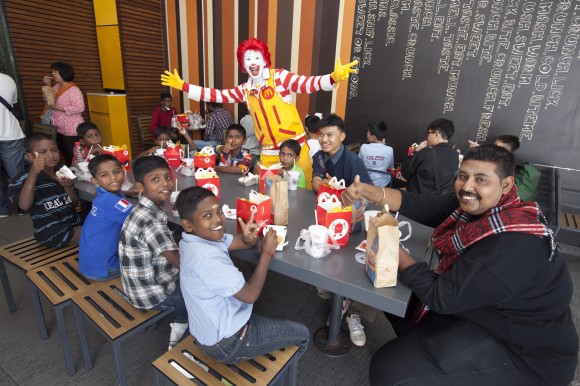 Movie pun dah habis, perut pun rasa lapar. Apalagi kita serbu la McDonald's
McDonald's Angry Birds Happy Meal disediakan untuk semua tetamu istimewa tadi. Suka hati sungguh mereka semua. Sekali lagi terima kasih kepada McDonald's & RMHC yang sudi menaja keseluruhan event ni. Dan yang paling penting membawa kegembiraan dan keriangan kepada mereka yang kurang bernasib baik seperti anak-anak ini.
Kita pun kalau boleh berilah mereka sedikit sokongan, sedikit sumbangan ataupun tenaga kita salurkan via RMHC kerana sedikit sebanyak akan dapat memberi lebih banyak senyuman buat mereka 🙂
So jangan lupa dapatkan McDonald's Angry Bird Happy Meal untuk anak-anak kita kerana senyuman anak-anak adalah penawar segala-galanya kepada kita ibubapa!
Comment:
5