Jan 29 2009 Thursday, 5:00 pm
ai met the big shot 🙂
saya cerita ringkas, tidak boleh banyak2
pasal banyak sangat mulut puaka yang dengkikan aku pi jaja suh depa tunggu aku kat gang mr team arituh.
yang pasti
kalau kita benar, kita benar
tapi kalau kamu yang buat planned pada hari kepulangan kami the other day, tunggu sahaja hadiah kamu.
jangan jadikan dendam alasan untuk kamu mencaras aku!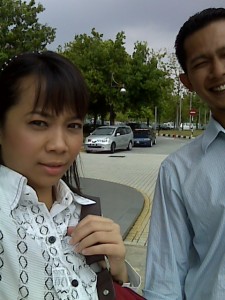 Saya mahu kamu tahu aku enggak main2, saya juga  ingin berterima kasih pada hotmama yang bertanggungjawab mengenalkan saya pada sipolan. he is very nice man, wpun aku naik ketar2 nak jumpa. yelah kita ni siapa, sipolan pulak very the BIG SHOT!
Boleh ke akak letak link ko nih? kang ada orang sana serang2 ko pulak personally
Berani diaorang nak taji saya kak?
So, sekali lagi, saya berterima kasih coz ramai pembaca redmummy.com yang sudi membantu saya waktu saya perlukan bantuan. baru aritu saya tanya ada tak orang nak tolong saya, alhamdulillah, sudah ada jalannya.
Selebihnya dari sorotan entry nih, saya terpaksa privatekan entry satu lagi. Kamu mahu access, maaf, hanya yang kukenali sahaja bisa memperolehinya. Tolongggggggggggggglah jangan mintak permission, coz kamu tahu sejauh mana hubungan kita. mana bisa aku mahu beri access kalau ada petualang dalam blog aku sendiri. So tolong ye, jangan mintak kalau kamu tahu kamu tidak akan mendapatnya.
apapun, hubungan saya dan mereka officially sudah jernih. tidak ada dendam antara kami lagi. tapi yang sipolan2 tuh, yang menjadi dalang tu saya tak nak elaborate, itu 'orang atas' punya cerita. Saya juga sudah openly mohon maaf sekiranya satu waktu dulu saya telah menyebabkan kontroversi di kalangan mereka. itu antara saya dan mereka. sudah habis. zero. yilek. no more ungkit2.
ai dont want to get any special attention from that team anymore. dan jangan cuba2 menyelidik ke mana hala travel aku selepas ini!
moh layan balik citer jakarta trip aku kay….
ada sket lagik nak abih 🙂
Comment:
36