Feb 1 2009 Sunday, 1:00 pm
Pajak Anda Membangun Jakarta
waktu pertama kali aku nampak billboard nih, Pak Host enggak ada sama kami malam pertama itu di dalam kijang, so aku tanya Pak Sulis, apakemendanya Pajak tuh, explanation nya sungguh memeningkan pala aku, mungkin kerana dia bercakap dalam slang Indon dan meaning cakap dia tu masih jugak tak sampai ke benak aku.
rasanya…EPF.
tol ke?
sebagai pencinta chess, aku berkenan jugak dengan chess board nya, tapi harganya overrrrr mahal. sangat2 mahal rasa macam tak berbaloi dengan kualiti yang aku tengok. lgpun chess gini sesuai utk deco, bukan utk main. aku mana boleh main ngan replika2 gitu, kompem king jadi queen aku buat.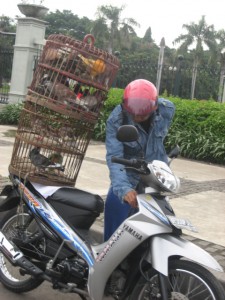 entry ni sebenarnya adalah penutup untuk semua cerita jakarta. aku mampu larat letak gambo2 ni je lah, cukuplah kat seminggu aku dok cerita hal jakarta kan. orang ni jual burung gamaknya. perlu diingat yang jakarta adalah antara negara yang kemiskinannya amat ketara. yang kaya melampoooooooooo kaya dan yang miskinnya alahai sian sangat.
Pak Azuan @ Pak Host pernah cerita swaktu dia di dalam taksi, ada kanak2 yang mengetuk cermin keter beso nih mungkin untuk berjualan (perkara biasa di Jkt) tapi kalaupun ko tak nak beli, ko bagi lah 10 ke 20 ribu rupiah, bukan banyak mana pun lam 3,4 inggit duit kita jer. alahai…
ni jangankan ngulur, nak bukak tingkap pun x hingin.
mereka yang susah jarang mintak sedekah, tak tau lah aku tak nampak yang jenis2 mintak sedekah nih, yang aku nampak mereka akan usaha buat apa sahaja kerja, kalo gambo atas nih mereka berjualan dari keter ke keter. we did bought something through our tingkap kijang jugak. memang harga yang diletak sesangat mahal, tp kita boleh tawar. kami beli replika Globe. 50 ribu rupiah.
Pak Host dan Pak Sulis yang tolong 'bicarakan' dengan penjual.
yang ini emm di ITC Kuningan….mereka yang berpayung itu menunggu orang2 yang cam kami ni lah, yang baru pas shopping, tp sebab ujan, nak pergi kat kereta, so mereka akan bagi payung or payungkan kita sampai ke kereta. kalau mereka bagi kita pegang payung, bebudak nih akan ikut belakang kita berhujan. sedih kan? sebak tol bila aku ngigatkan. depa akan buat apa saja yang bisa mendatangkan duit, so up to us lah nak bagi bape bayaran ke tips ke for that.
masa ni kami menunggu Pak Sulis menjemput kami, tu pasal aku wonder gak napa banyak bonar yang pegang payung. tahukah ko, gaji personal driver kat sana ialah RM300 per month. lam sejuta rupiah. gaji maid pulak 500 ribu rupiah per month. no wonder la ada member aku yang dok kat jakarta sampai 2,3 orang maid dia, labour is very cheap kat sana. itupun mereka berjimat sesangat.
aku tutuplah entry ni dengan gambo budak kecik nih with her dolly, background Monas, Jakarta. sweet suci je muka dia ngan gambo bapaknya amik.
Insyallah, kami akan datang lagi, semoga rezeki bertambah. amin.
Comment:
17