Feb 13 2009 Friday, 4:00 pm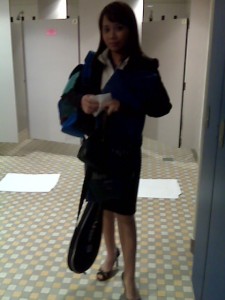 when was the lastttttttttttttttttt time aku turun main squash? no one can answer that, aku pung sama. ai cant remember lah bila aku turun gym for my training. sungguh tak masuk dek akal bila tak pi gym. gian giler..
sblm korang nak lenguh2kan tangan, kita buat warm up dulu lah yer…aku suka cycling, sebab malas nak berdiri…sambil tengok2 tv, duduk, kaki leh cycle…agak2 court yang aku tempah dah open for me, barulah mula menyental dinding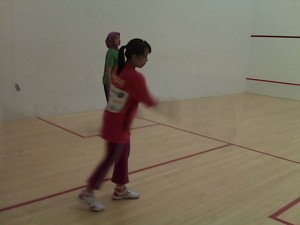 sepatutnya main berempat, tukar2 ganti coz court penuh, yang lagi 2 dah ilang ke mana…
ai cant play well, coz a fren needs to be coached, dia pun baru 2 kali nak main so kenalah aku ngajar dia dulu sblm leh main sesedap. not saying that ai m good player, but ai have the basic a little bit. kalo korang ingat Seman, gigih almost everyday kami turun pukul dinding.
waktu aku buat entry nihkan, tangan kanan aku dah mula lelenguh. just finished the training. itulah padahnya bila dah lama bonar tak turun gym, sampaikan main light2 pun boleh sakit tangan. so
my coach yang patutnya masuk court tp pemalas nak tuko baju, sanggup dia duduk tepi court amik gambo kasut dia heheheheh…he said 'ko kan suka letak gambo kasut lam blog ko'
mengingatkan yang dah lama tol aku tak letak gambo kasut2 orang manusia lam blog merah ni kan…tahler banyak benda lam pala lah, tu pasal macam banyaknya benda nak kena buat.
sirman, boleh tak you sorang je pi jadik runner anto barang2? boleh tak you tak yah bawak mem you nih? ai tired lah 🙁
ai promised my fren that we shud hv our squash training once or twice a week. tp tu ler…nak turun gym pun malas bukannya kena naik turun bas. so aku rasa, bestnya kalo ujan lah. ujan mesti jem terus yang gila hazab kan. bolehlah turun gym and pukul dinding, provided ada court kosong lah yer. kalo takde, main jerr lari2 anak kat gym tuh……if aku rajin. sokmonya tak rajin.
pasla baju sume takde hal, baju sukan aku melambak aku  letak kat opis, so anytime jer boleeh turun gendang kepalu just that motivation takdak. kalo ada sedaplah sikit menghayun ye dak…
happy weekend to all of you yeah, ai m gonna have a very bz bee sabtu ahad, seriously. no dating tonite coz we need to be with kids for some little project, malam ni tak dating kompem depa tanya 'kenapa malam ni tak dating, biasanya fri nite kan mom dad pi dating'
aku pi dating korang bising
tak dating pun korang potpet
ada ubi ada batas ye anak-anak
huhuuuuu….
Comment:
23