May 28 2009 Thursday, 12:00 pm
bawah mata kiri ada macam lebam kan…hemm, eyeshadow brown aku drops 🙂
bukan ajer drop tp mata aku memang tak cukup tidur. ye saya tak pernah cukup tidurrrrrrrrrrrrrrr!
ok dah touch up a bit, bolehlah nih….
aku hanya pakai satu tone jer, brown, pastu lam keter while driving aku blend tenyeh2 ngan jari, not bad gak pakai jari pun sodap! the brown eyeshadow is from palette PAC MT.
you dont like this colour tapi saya suka, mata yang tak cukup tidur boleh nampak macam ala segar, padahal……
cahaya flash terang sangat…ni dari palette PAC MT yer, look at the blending, tu  pakai brush
tak dak flash, masih jugak ngan blending pakai brush
the top photo gambar dah bape2 jam tah tp aku managed blending lam keter with finger, senang gila kau! ai think aku tempek eyeshadow with brushes jer lah, tp blending aku akan pakai jari gak, lagi senang and more easier to blend.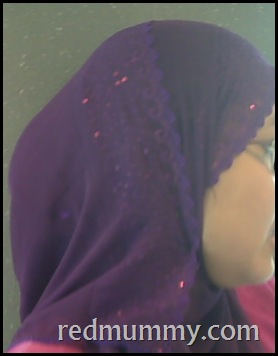 ai like her tudung, a new tudung. RM15 harganya. Ms Lemb terbalikkan pakai coz dia x sanggup dengan kelap kelip bling2 tudung tuh…
when u are in hurry, dah lambat, nak iron rambut tak sempat, sanggul is a must to do, so leh nampak neat.sbb rambut aku skang dah pendekkan, first u need to do is ikat lipat ke dalam. and click ngan sanggul yang gina manan kasik…yey! udah siap. aku buat nih dari pagi kuor umah tp lam keter aku godam2 balik.
n pakai lah with black suit, takdelah nampak sangat kepenipuan bergetah tuh…ai m supposed to wear black getah, tp mana tah gegirl dok sorok2 getah2 kaler itam aku. tinggal pink merah putih jer yang ado…
so itulah yer, citer arini utk make up, sanggul etcs.
kalau mata aku sembab over sangat memang aku cuba pakai heavy eyeshadow, tp orang boleh perasan gak kita ni macam lesu…
so kalo dah lesu lebam, silalah carik supplement, not me, korang. aku susah sket nak bersupplement, SIY jer aku nya cinta la nih. lain2 tolak tepi luh!
Comment:
4