Jun 3 2009 Wednesday, 12:00 pm
Iklan sket:
Hai semua!
RedGlow sedang mencari model untuk photoshoot dan produk. Bayaran adalah bergantung pada pihak yang mengadakan photoshoot atau anda mungkin dapat saguhati. Kepada yang berminat sila emelkan gambar penuh dan close up beserta resume ringkas spt:
Nama,tarikh lahir,no telefon,emel dan alamat.  Semua maklumat adalah rahsia.

Sila emelkan kepada arlinarosli@yahoo.com
********************
aisay korang!
aku lupa tol ngan entry mata purple nih…
padahal ni dari jemaat lepas.
aku kan pakai purple, blouse dari jakarta yang korang berkenan cinta sangat tuh….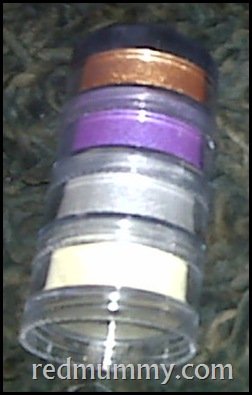 ni pigment stack PAC Martha Tilaar yer…tu ha sedongkol purple…
konsepnya sama jer, aku amik pigment PAC tuh tepekkan. pastu for ujung mata aku pakai purple gak yang from Guerlain, n mix with black palette PAC MT jugak…
blending with fingers, ai m quite happy buat blending ngan fingers, pakai brush macam bercapuk lah, tak pandai nak agak2….
pakai mascara, tp sbb ni dah bape ari, aku lupa which mascara yang aku pakai, loreal kot.
eyes with flash
eyes without flash
blushers, eyeshadows mainly, lipstick all are from PAC Martha Tilaar
the open eyes….
happy dah sumer? aku dah bayo utang buat mata purple nih…
nak mata kaler apa lagik?
banyak pigment colourful PAC MT aku tak godam lagik…
just request lah, aku cuba main kaler2 tuh…
ai m still a junior in make up, as long as ai can make up myself, aku dah rasa ckp bahagia. saya kan dah bilang, saya tak berapa pandai coreng2 muka, aku pi kelas Redglow pun bukan boleh terus pandai, pelan2 lah yang oi, janganlah kata Redglow gagal memandaikan aku…ai m sure korang nampak ada development sket dari dulu before aku pi class and to this stage.
Kang aku dah pandai sangat pulak, redglow kena tutup class plak seiii….
pastuh, aku kena pi mengandam orang
pastuh kang, blog pun kedaung
pastuh…ha padan muka korang 😛
Comment:
13