Jul 3 2009 Friday, 2:00 pm
sessi satu, bukan ngumpat tp marilah soping rayaaaaaaaa! jj dah mula jual baju melayu dak lelaki kayyy! hebatttt!
wah baju raya anak2 aku, rasanya tak yah beli lg dah..kot. for the time being lah. hikss
sessi umpatan kedua
tu nampak ada abang gelap belakang tuh dok tengok je anak aku main…lama tau gegirl main nih, leka dia tengok sama. ok tengok takper
tp emm
aku mulalah bila orang2 yang bukan aku kenal, yang macam ala2 nih bila tengok budak2 kecik, tak kira dak pompuan dak lelaki, ha suspicious jadiknya aku…
maklumlah kan banyak nau orang gila takde perasaan yang buat onar kat budak2 kecik, eiii kasihan mereka
satu lagi pantang aku bila pi mamak, ada je bangla2 ni yang nak cuit2 pipi gegirl, and yes aku ajar gegirl menjerit kuat2 kasi shout satu mamak dengo
DONT TOUCHHHHHHHHHHHHHHHHHHHH ME!!!
ko nak dengo dia menjerit malukan kau, ha buat.
kalo x cukup ngan anak, meh mak nya pulak jerit cokdiang kat korang plak..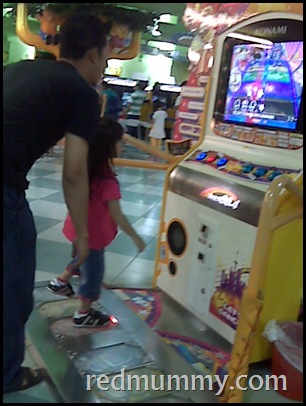 citer ketiga plak…ada sorang mak nih, anak pompuan dia 3 orang. she looks younger than me lah. laki dia pun ada sama…
waktu aku duduk tengok anak2 dia main apa tah…tangan si mak ni laju pantassssssssssss giler! laju pasal apa tau. laju dok ketuk pala anak dia. jap2 dia toing2 hayun pala anak dia. eii
nak je aku pi kat mak budak2 nih, hayunkan balik pala dia
ko kenapa? main pala pulak. mmg ler anak ko, anak2 ko anak2 aku, tp tu kan kepala….
wpun budak2 anak2 dia tu kecik, depa lam 4 yrs and below je tetiga tuh,tp agak2 lah tangan tuh……sket2 nak tunjal2 pala anak2 ko. yang bapaknya tengokkkkkkkk jer. eii!
kuasa mak memang kuasa mak ye dah tentu
but stilllllllllllllll!  kepala tu weii!!
meh aku tunjal pala korang, agak2 sentap tak?
Comment:
8