Jul 15 2009 Wednesday, 9:00 am
ai came in to office on monday after the 2 days leave, ada ole2 di atas meja
ai think ai know what s inside already hikss
coz waktu aku shopping di Salabianca, ai wanted to take it, but aku lebih berat hati amik yang satu lagi….so kawan2 mengumpul dana membelikan aku this one. actually takde le kumpul dana weii, bunyik je ala2…but among us yang close frens nih, lam 5,6 orang kitorg nih, akan beri something to each other….
the gift tuh, in one entry yang aku compile sekali arung lah yer…
my honeybossy showed me this Zimbabwe's dollar…manghaik
Fifty Trillion Dollars
kalo kat kolumpo leh beli SATU KOLUMPO rasanya!
tp sebab ni duit zimbabwe, heheheheheheh korang agak2 leh beli hapo??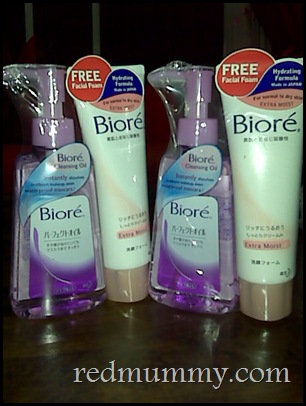 biore second batch sudah sold out!
actually saje aku tak announce, the last 2 yang order entitle to get the free set tu hah…
the last 2 persons yang ordered tuh pun tak tau yang depa dapat nih…so now the last 2 girls dah tau lah kan kan kan….
so for those yang nak order Biore nih lagi, sebotol RM60 pi contact me sendiri coz the new batch sudah ada di tangan….. 
nice shoes ….
katanya dari vinci
kalo bukan buyer dr vincci, tak tau pun itu brand vincci sebab cantikk….the 2 girls met me on Monday, to take their order, the Biore Cleansing Oil
sudahkah anda menjalankan tugas dengan membeli sendiri ini Biore, jangan bising pastuh takleh nak cabut mascara lah bagai yer….
ai think by now, entries aku dah back on track semula…n keep on refreshing lah, 2  + 2 days je aku cam lupa ingatan sket penat penatttttttttt….mengqada segala bagai…
Ahah, my client wants me to put this…NAK BIORE CARI REDMUMMY 🙂
Comment:
7