Jul 17 2009 Friday, 3:00 pm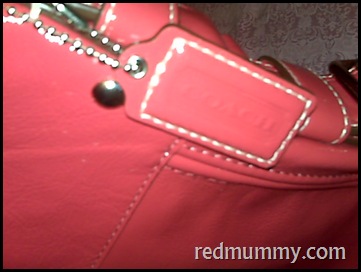 Not the latest season, Coach Zoe
Metallic leather with leather trim
– Inside zip pocket
– Cellphone/multifunction pockets
– Ring to clip an accessory or keyfob
– Zip-top closure
– Fabric lining
– Size: 12 1/4″ x 10 1/4″ x 4″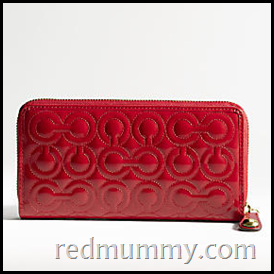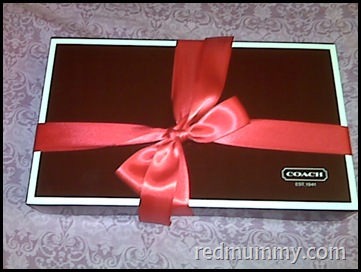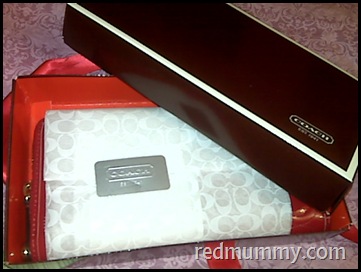 New GRAMERCY EMBOSSED ACCORDIAN ZIP-AROUND WALLET
style:42960
# Op Art pattern quilted patent leather
# Credit card pockets and multifunction pockets
# Full-length bill compartment
# Coin pocket with zip closure
# Fabric lining
# Zip-around closure
# 7 3/4 (L) x 4 (H)
Coach's Link: http://www.coach.com/online/handbags/-walletswristlets_newarrivals-10551-10051-5000000000000013514-en?t1Id=5000000000000013510&t2Id=5000000000000013514&tier=2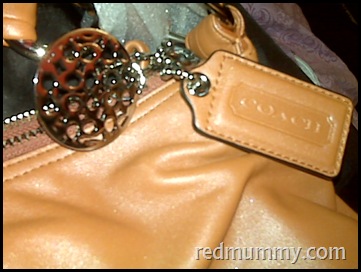 ALI LARGE HOBO
# Pebbled leather:  white and mahogany
# Pearlized leather: tangerine
# Metallic leather:  gold
# Cutout charm and hangtag details
# Inside zip pocket
# Cellphone/multifunction pockets
# Ring to clip an accessory or keyfob
# Fabric lining
# Zip-top closure
# 46 1/2″ strap for shoulder or crossbody wear
# 19" handle with 6 1/2" drop
# 16 (L) x 13 1/2 (H) x 5 1/2 (W)
Coach's link: http://www.coach.com/online/handbags/-handbags_features_ali_1-10551-10051-5000000000000015026-en?t1Id=62&t2Id=5000000000000015026&tier=2
alhamdulillah
sudah berada di tangan,  baru sampai minggu nih.
yes saya beli terus dari New York, bukan di Malaysia. for ali large hobo and red purse tu saya beli terus dari coach boutique but for Coach Zoe tu saya beli dari factory outlet coz that s quite an old season.
The colour yang saya beli tu sumer tidak ada di Malaysia, the model and design ye  memang ada di msia  tp kaler yang saya nak tak ado kak bang oi, tu pasal saya beli dr New York lgpun i have vshub yang leh ship kan for me…
n seriously:
1. buying online lebih tenang and aman, ko tak sakit hati ngan SA yang cam hangjeng melayan aku. awak tak tau, bape kali saya kena dapat layanan 'low class' from SA coach di butik KLCC and Pavillion. yes, spread this news to the management of both branches. yang aku blogkan lain, yang aku tak blogkan, lagi aku simpan dalam jerrr
2. for both red purse and ali large hobo, aku dapat harga giler murah kauu! cuba lah korang beli terus sendiri dari US, dari sakit ati bayau beli kat kl yang mahal kedaung! why pay more, kalao service cam hangsuir and dah tentu leh beli murah cheaper dr US terus and shipment pun covered.
nak tau harga detaily, ha pi lah korang coach klcc ke pavillion yang punya SA yang sombong tuh! macam aku tak mampu sangat!!
terima kasih to vshub kerana menjadi my shipping client 🙂 .
kepantangan aku tollah kalo ko mintak password, pastu ko buat bodoh jer ngan entry nih. kepoh nak tau then tak nak bagi komen, abih tuh esok2 for the next protected entry, aku ban ko kang, ko meraung! aku ni nak detect bape orang yang dpt pw utk entry nih…!
**AS OF JUNE 2010, I HAVE SOLD ALL THESE BABIES, KERNA SAYA SUDAH MEMBELI BABIES2 YANG LEBIH HEBAT :)**
This entry was protected for a year, aku bagi bukak lah coz dah setaun kan…
Comment:
29