Jul 20 2009 Monday, 12:00 pm
ai have a story about Redglow Bangi, but aku lompat lah dulu utk citer Sid GBM yer..tau ramai nak tengok aku review on RedGlow Bangi…sabau2 yor..
aku ada 3 advertorial on q tak siap2 lg ni seiiii!!!
On Sunday afternoon, saya ada lunch appointment with Sid, venunya simple..Q Bistro depan umah aku!
tp kita tak makan apa yang QB jual hehehehhe, kita order air je
yang makan pun hanyalah gegirl and abang for their maggi, n Sid's sis…
the most delicious nasi goreng and udang daun kari!
wahaiiiiiiiiiii sodapnya udang tuh
boleh buat nih….
kompem nak buat…
dedua hasil tangan masakah Sid, she is still available wink winkkkkk!
Sid was not able to join the RedGlow Bangi, so kami berduaan lepak kat QB tp biasa le kan namanya pun Sunday satu gerabak lah kena bawak…
lgpun the 3 joined aku kejap jer, pastu depa pi sekolah gegirl for gymnastic
Sid came down to QB pun pasal nak amik stock Biore Cleansing Oil dia mar….
stock Biore aku ada lagi, tp yang the last 2 bottles hok percuma facial wash tu dah abih ek…!
sedaplah sid punya ns goreng n udang daun kari tuu
saya makan bertambah2
sirman sekali tambah jer lah aku bg hahahaha, aku kedekut!
anak sapo ni?
bang ko tau tak bang
ko buat gini kan
orang cakap 'astaga, anak redmummy'
bang oo bang
insaplah bang oiiii!
sanggup ko pi kaunter QB
nak nereban plastik nih, buat leletup
sekali letup aku pandang tak jalan
2 kali letup aku jegil, baru jalan
kalo 3 kali ko pi letupkan plastik tu bang
ko pi keje ngan QB nih…
emm sorang lagi
nak buat maggi tarik…
they cant eat maggi lah, sebulan sekali tu boleh lah, tp ni sebab bapaknya dok bagi semangat…
so sedap lah diorg makan maggi, itupun semangkuk share sesama…
aku makan maggi takper, tp jangan anak2…
lu apa pandang2 uncle?
nak kena belasah ke?
tengok badan aku, takut tak?
abang, ko pun pandang2 aku napa?
nampak badan aku? ko tu dah lah cekeding je bang
wuiii, anak buah Sid, kusss semangat. cute tol
mamak2 QB keje nak menarik pipi Haziq jer…
the girl in black tudung is Sid's 3rd sister, Cik Ayu.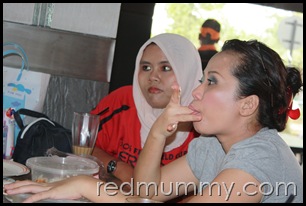 menjilatttttttttttttttttttttttt jari
sedapnyaa!
nak resepi, pi tanya sid, aku dekut, tak leh share ngan korang
aku nak buat sendiri huhuuuuuu
bestt!
thanks Sid, nanti akak dah pandai, akak pulak bg ko makan udang daun kari tu yek…
nama udang tu ada lain, tp aku tak tau
so since aku pencipta sesuka hati gak,aku namakan udang tu sebagai Udang Daun Kari 🙂
oh…terselit gambo abang mengendap adiknya n team gymnastic buat practice atas stage
la ni depa dah tak buat exercise kat bawah, coz panas aaa, kan ada team badminton main sama, kipas xleh pasang, ekon pulak wkend mmg tak leh bukak..
so depa main kat atas stage lagi senang, tutup curtain, baru la sejuk sket…
tapi lepas makan nasi goreng tetengah hari
n udang daun kari
aku termengantukkkkkkkkkkk!
Comment:
14