Aug 12 2009 Wednesday, 1:00 pm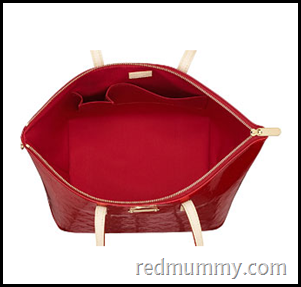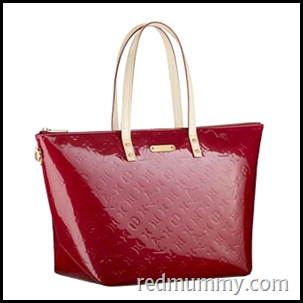 you all ingat this entry? i dream of you…
it was actually a teaser, ai have already bought the LV, to be specific the name is:
Monogram Vernis Bellevue GM, colour Pomme D'Amour
– Monogram Vernis leather embossed with Monogram items of the House, natural cowhide leather, textile lining
– Golden brass pieces
– Zippered closure
– Internal patch pocket and cell phone compartment
– Metal plate engraved with the handwritten Louis Vuitton signature
– Carried on the shoulder
– External D-ring (for attaching a purse, key holder or charm)
PRODUCT ID: M93587
the price in Malaysia is RM4100. but they dont have a stock in KLCC n Star Hill, ada pun tp hok display. of course aku tak nak amik yang display. So my lovely sis, Kak Ann and Pearl went to LV Spore, to buy on behalf of me.
Yey!
That is why last week, there was an entry pasal Kak Ann and girls pi LV,  in fact what she wrote in her entry was about buying my LV.
Ok kak ann, now you can remove the pussycatdoll 🙂
Monogram Vernis  Bellevue GM  is officially mine!!
It was handed to me via our frens, yang always up and down spore kul…so ai dont have to worry bout the bulky of the box.
So that s the hidden story of my first LV, saya spt biasa trying to keep it low lah, tak nak lah aku tunjuk in public sangat that ai bought an LV, tu pasal korang dapat access to read this entry yer. Entry ni totally protected.(I DECIDED TO MAKE THIS PUBLIC ON JUNE 2010)
terus terang, saya beli LV ni selepas the 3 coach, jarak waktunya agak dekat, tak sampai sebulan pun tp sebab my nuffnang payment, duit dr hasil blogging memang alhamdulillah, at least setiap bulan my cheque is 5,6 ribu ada dalam tangan syukur. kadang2 dapat 10ribu.  so dari situ lah aku dptkan my LV.
compartment dalam
tu pasal project Santa Clown was launched by Sirman, shopping ku dicantas habisan coz dalam masa tak sampai 2 months, ai got 4 branded items, 3 coach and 1 LV tak masuk ngan soping2 hbag makeup lain.
Happy idok saya?
mesti lerrrrrrrr. To Kak Ann, thanks for being my principal of LV, n pi turun naik belikan n pass through our mutual frens. hiks….
pakai camera berry so gambar tak bape cantik, kalo pakai camera godang sirman mesti lagiiiiiiiii chantek!
Ha tu aku ada letak receipt sekali, paid in Sin Dollars 1650.jangan ada propah kata tipu pulak. tp korang nak kata tipu pun tak leh, dah tentulah Kak Ann and Pearl yang pi bolikan wuiiiiiiii!
the style design memang macam Long Champ tp memandangkan Rosewood is too small for me, and Brentwood is wayyyyyyy too expensive plak, brentwood nih jer RM6200! so aku dahulukan with Bellevue GM. insyallah, bulan2 akan datang, saya amik hok lain pulak.
but of course, my main target always a red handbag, i m aiming for Brentwood, Alma and Rosewood jugak tp tu lah….Sirman cantas aku gegiler. wpun saya ada hak tp dia tak nak aku taksub sangat beli LV sampai tetiap bulan. so man man lah, momantai.
yey!
Ini adalah reward untuk diri saya sendiri yang tak cukup2 tidur setiap hari, attended blogging event ke sana sini, buat advertorial assignments bertubi2 setiap malam. FYI, my wkdays and weekend skang sudah penuh till bulan puasa  for advertorial job, cover event kulu kilir, semua event tu berbayar.
N another teaser for u jugak, sebenarnya saya jugak sudah diikat secara rasmi oleh Nuffnang, with 1 year legal contract, only us the top 7 bloggers yang terpilih and saya satu2nya blogger melayu yang mendapat peluang itu.
One more thing, another big impact to my blog and to me sendiri, sebab musabab kami signed the contract with Nuffnang pun sebab we are the 7 bloggers yang terpilih untuk  program Bloggers Reality Show Season One!
yes u read me, my shooting will be on next week, n to be featured in saluran Astro on Sept/Oct. N for that, lagi bertambah2 penuh my jadual utk attend the press conference and promo road tour for this Bloggers Reality Show, but nama rancangan tu aku rahsiakan dulu till we finished our shooting yeah.
Thanks for reading my first LV's entry 🙂
Comment:
31