Aug 17 2009 Monday, 11:00 am
merah purple ni dah macam konsep baju Yoyooh aku kauu….
tp ni bughuk kan, lawa lagi kain Salabianca aku….
camno nak pakai nih, ngan legging. iskk legging2 nih dah old fashion kan. aku nak pakai legging sokmo tp laki hai lah teman idok berkenan. dia bagi pakai tp make sure baju mesti labuh ala2 yoyooh tu jugak.
nampak bag merah atas langit tuh
ada kasut
flat
harganyaaaaaaaaaaaaaaaaaaaaaa!!
ehehehehehe, tak tertanya coz flat shoes
ingatkan heels.
jual jual juallllllllll murah!
itu kasut merah kan
memang idaman kalbu aku betullah, macamlahhhhhhh takde kasut merah lain. merah ada byk merah u, tp ni hok tapak tajam panjang tinggi dia tuh, sangat seksi.
apatah lagi seksa utk dipakai. ahhh tak kisah, bukan aku tak biasa.
emm sooo soo
biasa je nih kan
cantik memangla cantik
tp ni aku nak bawak pakai pi kerojer
gehentikan  ler….
bwk pi cucuk langit? langit mana nak aku cucukkan…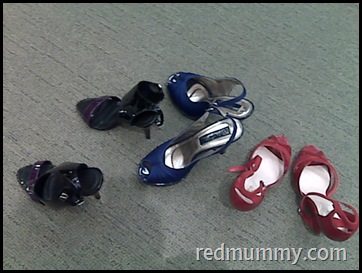 these 3 cantik kan…
tu sume 5 inci yer…
except the red is wedges….
depannya tu kaler purple, heelnya pun kaler purple, merah dah abih. sayang melayang..
nasib le kan…
should ai take?
should ai?
hehehehehe…..
dan kemalangan kecil berlaku di Parkson
disuruhnya aku pergi beli dress merah for my event, tp aku terbeli kain baju sang suami utk assist me for the future event. sekali package ngan baju rayalah yer. sampai aku entitle lah the Parkson VIP card! tak gi  ngamik lagi….nan ado maso. tp molek gak, bertambah cambah lagi koleksi membership card aku.
tapi kan, compare Isetan, JJ, Parkson and Metrojaya…aku lagi berkenan soping kat Parkson lah, diorg nya SA sangat2 ikhlas, macam welcome ko sesangat. ai m talking bout skang nya Parkson lah, dulu nya Parkson, harga memurah jer, la ni ke main mahal barang2 dalam dia……..
but kalau baju tu sama harga ngan jual kat Isetan ke JJ, baik pi beli kat Parkson, ko leh dok guling2 lam fitting room dia tidur barang sejam 2 ehehhehehehe…besau kau!
Comment:
11