Aug 18 2009 Tuesday, 9:00 pm
kehkehkeh….
hasil dari main2 facebook sirman. tetiba aku pun terjebak sama. so silalah add saya, tp sabau la ye aku bukan terer pun FB nih…FB aku tu pun sirman yang godamkan,
sirman, ai letak status ai In a relationship tau
perkhhh! tak sampai seminit
aku dpt FB nya email – Sirman said on FB that you two are married. We  need to confirm that you are, in fact married to Sirman
ciss…..laju je sirman nih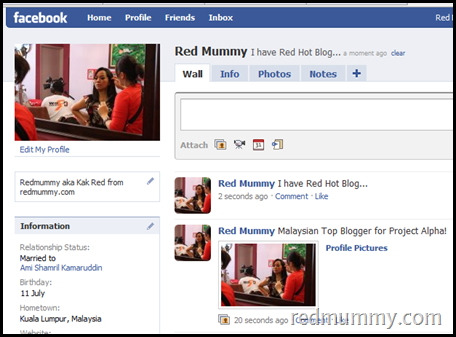 so korang apa2 sila le add, nanti sirman add kan korang FB ahkak merah tu yer…ai jaga RM jer, nanti sirman jagakan FB ai kay…. tapi jangan le arap over2 update lam FB tuh, dah tentulah my anak sulong is redmummy.com nih.
kan kan kan…
oh gambar profile utk di FB adalah lebih advanced dari di RM, buat masa ni lah….lain ari kalo kedaung tu pasal aku busy bee….macamlah skang tak busy, tp tak kira lah, janji bila ada advertorial aku leh pakai FB aku sendiri, tak de lah nak pakai Sirman punya FB.
ha tau dah kan sebab musabab aku kena ada FB…
sebab aku carik makan dari blog mar………….so some of my advertorials job memang perlu ada FB access 🙂
Comment:
30