Aug 18 2009 Tuesday, 3:00 pm
Hellu
i know all of you are excited bout Project Alpha, tapi let s take one at a step, Project Alpha's shooting sudah pun kulalui sehari suntuk semalam, tapi today, saya nak kongsi cerita bout RedGlow…
ramai sudah kenal RedGlow via Redmummy, ramai tahu saya punya hubungan baik with RedGlow dan ramai juga tau mungkin kami berkongsi semangat merah, makanya we have good relationship.
kalau saya maju setapak bertapak ke Project Alpha Bloggers, RedGlow juga setapak lagi membuka cawangan Akademi RedGlow di Shah Alam. serasa saya, inilah akademi RedGlow yang paling besar isi dalamannya….
Untuk lebih mudah, RedGlow Academy is located berhadapan dengan Plaza Massalam:
Redglow Academy ,
No 17-B, 2nd Floor,
Jalan Tengku Ampuan Zabedah E9 / 9,
Seksyen 9 , 40000
Shah Alam Selangor Darul Ehsan
Contact Number: +012 358 8999

tak tau kenapa, wpun dinding kaler bercat hitam, tp sebab keluasan Akademi ni sangat besar, kita lebih selesa untuk berlama2 di sini. I hv spent my petang Sunday selama lebih than 3 jam….
Entry ini tidak lengkap, saya beri bunga2 bahasa sehingga semua gambar cukup diupload by Sirman, he was not able to join me ke sini, so slowly saya akan letak gambar2 yang saya tahu kamu tunggu keluar di RM yer.
to my lovely 5 GBM girls, yang sangat2 saya sayangi, tak mungkin saya boleh mudah langkahnya tanpa mereka berlima…. Kerana mereka selalunya menjadi yang pertama mengetahui akan Project Alpha Bloggers…
apatah lagi Redmummy to RedGlow…
Saya dilayan sangat baik oleh puteri2 RedGlow, baik dari orang atasannya mahupun si puteri puteri merah…ai really feel Redmummy to RedGlow…
jadi sudahkah kalian join saya untuk menjadi student RedGlow….dari make up asas ke make up professional, dari sedikit pandai menjadi paling mahir?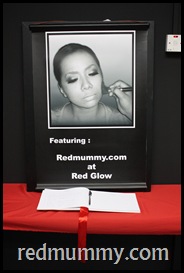 let s the photos speak for the entry….
saya akan sambung entry ini di hari lain, kerana yang pendek ini lebih manis.
Redmummy to RedGlow 🙂
Comment:
18