Aug 19 2009 Wednesday, 12:30 pm
this is redmummy if korang tak kenal lah kan…
itu make up sendiri, from the RedGlow's scroll yang aku dapat hehehehehehhe
sendiri make up
sendiri pakai fake eyelashes
eyelashes ni jugak aku pakai utk Project Alpha
Cik Puan Besar RedGlow
Najwa on my left, Ina is on my right
thank you RedGlow for the trust…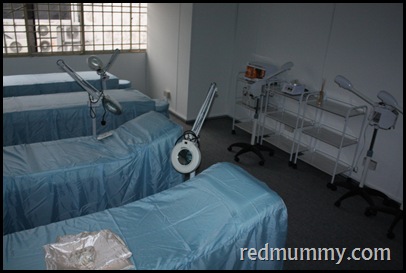 ini satu menda yang aku tak sabar nak attend, bukan aku nak belajar, tp aku nak menyibuk tengok korang belajar di Akademi RedGlow…
eh bley tak nak anto sirman kat sini korang taramkan idung dia?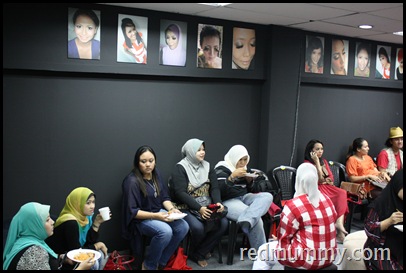 actually ramai giler2 orang yang datang
tapi nak letak sumer gambar hah…cariklah sendiri kat mereka2 yang ada blog yer..
oh ini jugak mata saya sendiri..make up sume dari set PAC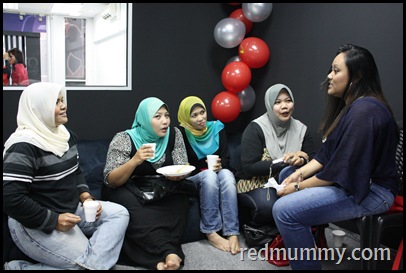 em……gossip panas ek?
Alang yang muda tapi tangannya penuh pengalaman, letak je muka depan dia, sebagaimana kakak, begitulah adik. eh branch RedGlow kat Dungun tu, she s one of the boss yer…
hai boss 🙂
u miss yan? she updates her blog at least once a month lah, aternyer…dia kat johor num keje shift pagi pastu shift malam kol 9 dah tutup lampu. apapun throughout the launching of RedGlow, yan yang bertanggungjwb mengamik gambo saya, thanks ye YANOK…2 assistants dia yang back up her pulak adalah ayuthesun and rose.
berpass2 camera sirman kat tangan korang ek…
kak, pinjam rantai bley? Dila suker aaa
bleyyyyyyyyyyyyyyy blah 😛
Sue is Dila's bestfren…susah tol aku nak dengo suara dia bercakap, bp juta diamonds ko sue?
saya tumpang Rose untuk pergi dan balik, coz kami satu jalan sehaluan….thanks ye Rose, sedapnya naik keter orang kaya, mahal tol keternya…
ini kompem gambar baru sampai, coz macam sopan2 je semua orang….
padahal pastuh, bersepah2 manusia, nak duduk pun mencuri2 kerusi…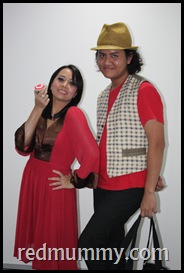 Nik nih kan…
ko berdiri depan dia, dia leh zass zasss zass kan je ukur badan ko kay.
tergamam eden…tapi takper
cuba ko bagi aku blog, meh aku yang zasss zass plakkk…
kerana Nik mahir menjahit, aku perlukan khidmatnya 🙂
definitely bukan kasut saya
ini puan besar punya kasut yer…
Acik, the male photographer
gilor ko mahal kasut putih ni, kena kat lecak, camne ko nak basuh?
Red Group….
diorg ni pusing2, adik beradik jugakkkkkkkkkkkk
Iza rerupanya adalah jiran tetanggakuuu…anak dia kuculik and pass2 kat bebudak GBM…semua kena amik berkattttttttttttttttt….
gembiranya mereka kan…
meninggalkan aku sendirian mengheret2 mulut 🙂
kak red nak amik gambar ngan akak nya mock up nih
nak wat apa?
nak letak kat beautifulnara.com
jangan buat gossip yerrr!
fyi korang…- Beautifulnara dan Redmummy sahaja 2 bloggers melayu yang terpilih utk Project Alpha 🙂

engko dok gossip pasal artis satu dunia…pastu ko tak hingat yang aku leh gossipkan ko gak kay!
Eh kak janganlah kak…
Orang tak tau kan yang Beautifulnara tu engkau kan??
ehehehhehe
ha..sapa nak gossipkan the owner the blogger of beautifulnara.com , itu lelaki muda orangnya… 🙂 dan disebelahnya adalah puteri di hati. Next year nak kawin kan? mentang2lah buat iklan RedGlow….sompek gak ko menjejak kasih plak yerrr!
amboi amboiiii……..dari mata turun ke hati nampak
kalau dah tak sabau nau, tempah je lah make up pengantin ngan RedGlow…
ewah korang, kemain menjadi yerrr
oh biasalah, orang kalau bercinta, tak hingat dunia keliling
gambo2 ni patut masuk forum nih…aternye dok gosip kan orang, biar orang gossipkan ko pulakkk…
napa le aku suka nau muka budak 2 orang nih, suciiiiiiiii je gitu. cam ai masa anak dara lah, suciiii bersih je kulit kan…iskk. apakah rahsia korang
kami kan keturunan RedGlow kak red, sapa2 belajar ngan RedGlow, akan tau hasilnya…
oooo, meh lah korang join RedGlow, leh lah aku menebeng muka sama…
my photographers of the day, memula jatuh ke tangan ayu the sun, kemudian to Yan and terus langsung pada Rose…aternyaaa, aku terpaksa usung camera gabak sirman, dek suamiku yang ada job urgent on Sunday.
bagaimana hendak membalasnya budi
kalau budi sudah bergalas?
aku biarkan pantun itu biar bergantungan yer….
mana ke Dila masa ni weihhhhhhhh! ayu the sun yang semakin lama smakin jauh dari kami. skang nih dia dok base kat The Sun  Atap Rumbia lah kooo..tu pasalnya susah nak bercinta via email. seseunyiiiii alam. berkat nama yang kuberikan, dari sejarah RM, nama ayuthesun akhirnya secara rasmi dipakai di url baru nya.
amboiiii….
nak dulang nak dulang nak dulangggggggggggggggggg!
Sid, jam baru yek? macam mahal gilerrrrrrrrrrr je nih, mesti baru beli kan
sah yan lah jadi photographer nih, aku godam jam orang pun ko snap kan yan kannnnnnnnnnnnnn!
si cantik2 manis RedGlow….dayang2 yang tangan2 depa sangat rajin bekerja untuk RedGlow… aku bila nak ada Redmummy Academy? wahhhhhhhh, berangan!
ha jangan lupa, selain belajar make up, kelas sanggul pengantin pun ada sama yor! so takdelah ko belajar make up pastu tak geti menyanggul orang. dah orang tu kena pi saloon pulak buat rambut. sian kan…kelas buat rambut pun aku akan attend jugok!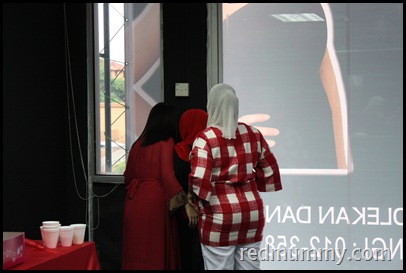 hoi buat menda korang 3 orang tuh!
ngendap abang hensem mana lah tuh!
1 Malaysia
di pintu merdeka…
**tetiba…
eh eh…cantikkan? semua memerah
dah tentulah yang 2 bijik merah tu bukan ai punya…
tapi yang satu ini adalah untuk saya..
eii Red Ruby yang sangatttttttttttt cantik!
ahah! ni aku mintak izin bley blog idak, dedua barang tuh…baik the Red Ruby mahupun the cheque 🙂
boleh kak, asal jangan letak jumlah harga cheque tuh
yey!
leh get one more LV! huhuuuuuuuuuuuuuuuuuuuuuuuuuuuu
lawo koooooooooo!
sungguh lawa sesangattt, bukan msia mari, jauh nya negara jugak mari. tq tq RedGlow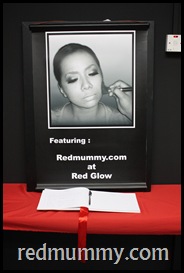 Redmummy to RedGlow is officially announced on 16th August 2009
sehari kemudian Project Alpha Bloggers dilancarkan…
2 hari berturut2 yang sangat comel 🙂
Comment:
19