Aug 24 2009 Monday, 3:00 pm
helluuuu, salam ramadhan semua..amacam puasa few days ni? biasa jer aku, puasa tak puasa tetap gak kulu kilir cuma melayan kerenah anak2 lebih skett lah coz depa banyak songeh tol bulan2 puasa ni specially after 2,3 pm tu memang asik lah
mummy lapar
mummy dahaga
saya pi MV dianto sirman anak beranak jer, depa tak ikut, sebab tak nak bagi depa mereseh lagipun ngah2 H1N1 kan, maknya pi nak berkerja better budak2 dok umah lah. some more diorg penat ngan pagi nya pi taekwando n gymnastic class.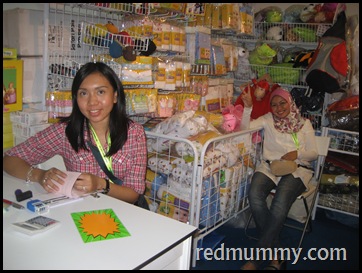 anw, ari ahad arituh saya clocked in to Thelilcaliph's booth at 4pm, awal aku sampai, tengok boss ngah rileks ke ngah capek muka dah takdak mood dah tp demi business sapa2 masuk senyum panjang jer dia…boss nya yang baju putih ye yang oi
yang depan baju kotak2 tuh Tasya, ibu muda yang bantu Molina jadi cashier.
duit riban2 dia pegang tuh…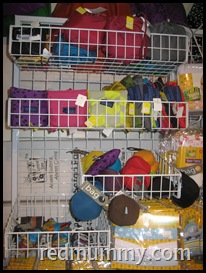 inilah antara shopping bag yang famous dijual, setiap readers aku datang pulang beli ngan shopping bag nih at least satu pc tu dah kompem. ada yang amik 2,3 pcs gak sekali arung coz susah lah nak dpt nanti kaler2 yang memasing mau….
it comes in small (purple/green tuh, merah aku dah rembat), medium size ada 2 jenis pun banyak dah abihs, and large size
hok ai pegang nih kaler pink, satu2 nya yang tinggal for medium size, mbe Thelilcaliph akan restock semula soon…
hok biru itu pun medium size and yang purple pulak small size
towel/blanket merah menyala nih  comes ngan pelbagai jenis haiwan ternakan. cantikkkkkkkkkkkkkkk tp aku tak beli, aku reserve utk korang beli lah. since booth dah abih, once a year kan so korang kalau mau boleh beli online kat Thelilcaliph gak. the one yang Molina pegang itu kaler pink and belakang kepalanya tu penuh gobok ngan blanket towel tuh yer.
so anak2 kecik yang liat nak mandi nak tidur, pujuk2 beli ni laju lah depa masuk bilik ayo mahupun panjat katil.
some of the items yang dijual
masa ni semua harga dpt 30% discounts, kalau online tak tau lah korang dpt idak the big discounts nih…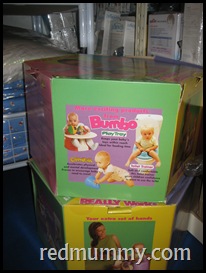 Bumbo ni arituh kan ada readers aku tanya, so nih meh amik beli ada dpt play pay sekali gak yer…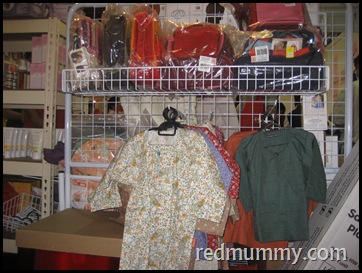 ha baju raya pun ada, ai remembered aku tolong pujuk2 sorang kakak tu beli baju melayu utk anaknya, she s definitely not my reader….so jangan kata aku layan readers lebih, tp bukan readers pulak gitu2 jer, sama jer tau.
ahah ai sangat bangga kerana berjaya memujuk 2 orang membeli itu emm nursing bed. wahhhhahahaha, siap ada sorang lagi datang carik nak beli tp sudah sold out…
yey!
ai nak beranak dahlah, dok carik nursing bed
dah abih la ma weii, ko pun datang lambat
mana aku tau ko ada kat booth Thelilcaliph nih
sapa suh ko tak baca blog aku

eh suka lah shopping bag nih, aku sumbat barang2 yang aku beli lam bag purple nih….anw Red ko ni semua tpt ko ada kan, sapa yang tak engage ko ek
emmm….sapa ek, banyak lagi tak engage aku, rugilah sapa tak engage, aku ada 'penyeri' hahahahhaha

eh betol2, aku nya ads ko tempek dulu kan, aku dpt ramai wooo now downliners aku
so where s my pengeras then?
Ma is my client from the Atrium Group.
ni apa main sembunyi2 korang nih….
cantik ketip rambut pink budak rambut panjang nih, Yaty Beckam…
oh saya adalah Personal Shopper for her make up and hair accessories jugak 🙂
apa menda aku tak buat hahahaha kalau boleh sume nak kaup
kalo leh multi, aku multi jam2 tu gak
ko nak shopping bag gak ek?
yelah kak red, yaty lom kawin, single lagi, so nak beli shopping bag jer
nak 2 kan? ha amik cepat, kang abih licin nih kang…
kak red, nak beg pink pls..
ado tu left one, medium size
alah besau, nak yang kecik macam kak red beli tuh
ko bukan kak pink ke? nak jugak merah kan…
eii apa ni kak dah banyak abih
sapa suh ko datang lambat, orang dah cakap dari ari jemaat booth ni ado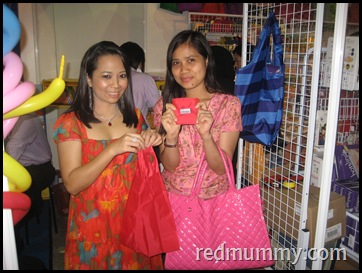 takpelah nak yang merah kecik tu cam akak
waa bagus, tak lama lagi ko jadi pencinta merah, lupakan saja merah jamboo mu itu.
She s my sweet little pink sister – Myasefia.
lawanya handbag tuh Puan, Coach kan?
alah kak, jangan sebut lam blog
opsss!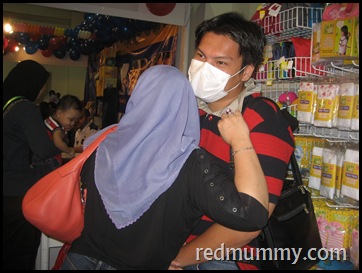 nak tengok posisi hbag tuh bley?
ha amik, gambo orang peluk laki orang..mik kak mikkk!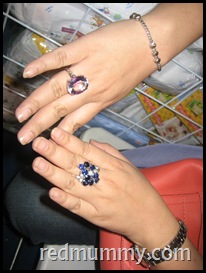 perkhhh yang tu biru
ini biru
lawonyaaaa
itu biru lelaki, ini biru wanita
nangis ai tengok kayyy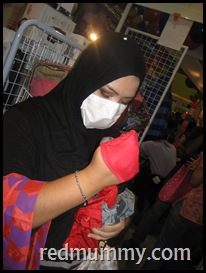 ni ha kak saya nak tunjuk saya baru beli shopping bag nih 2 saat dan saya sangat arif dan terer buat membungkus ini shopping bag…
amboii…tak agak2 kat sini gak ko nak demo wooo
wuii, semua bermask
eh Abby tak, abby si tudung kuning ada FB tau..wah tetiba, camni korang pi FB aku, korang carik Abby, eh boleh ke main carik2 via FB gitu? boleh kot..she s under my frens list.heheheheeh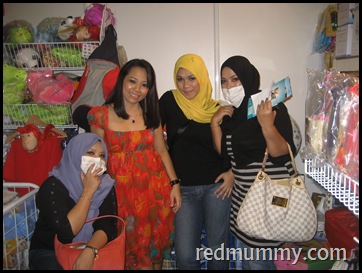 The Redglow's Family di Thelilcaliph.com
best tak, client2 ai, boss2 ai sume sekepala tak kisah dia pi visit dia, dia pi kelas dia, dia beli barang dia…baguih dok? hehehehe….
thanks to Ina, Najwa, Faizal and Abby ye datang singgah, pusing korang satu expo carik Thelilcaliph.com
orang dah kata masuk entrance terus turn left hahahaha, jangan ko baca signboard kat depan expo tuh, dah tentu kita lam msia kan, s/board n venue biasanya tak seiring sejalan…tapi datang main sergah tak set appt, sib baik acik tak kelentong waktu slot with Thelilcaliph 🙂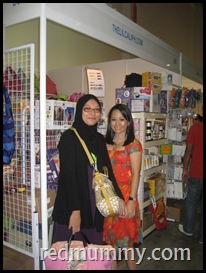 saya nak balik ye kak red, balik ipoh….seronok letak barang Snuggbaby saya kat booth Thelilcaliph.com

oh kita jumpa lagi lain waktu ye Liza, kirim salam suami mu (RM200 jer package baju n make up LG akak)
hampir waktunya, saya abih shift, kena lah clock out 🙁
anak2 datang menjemput, itupun saya bertangga lama jugak lagi di booth, ngenangkan nak carik tempat berbuka puasa, makanya nak tak nak kena gak beredar…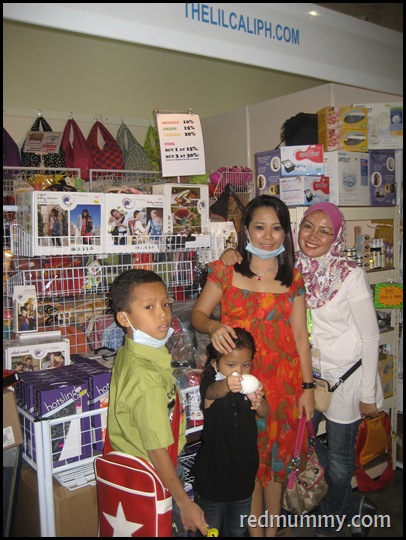 tamat dah bantuan kecil saya pada Thelilcaliph.com, ada rezeki tahun2 akan datang saya datang lagi, ada rezeki korang2 yang nak saya berada di booth kamu boleh jugak anto email kita bincang2 tengok tarikh yang sesuai. coz kalau saya takdak advertorial event, memang saya pergi cover booth center kamu.
To Molina from Thelilcaliph, harap2 penyeri saya bawa sedikit manis dalam puluhan ribuan untung dan sale yang kamu dapat, moga2 bertambah lagi rezeki, berkembang lagi perniagaan kamu, dan erat lagi hubungan perniagaan kita. wah perniagaan katanya…
apa yang aku niagakan
ooo
aku niagakan korang via RM
yes RM bisa buat kamu famous, RM bisa buat kamu dikenali ramai, RM juga bisa buat business kamu kencang…. 🙂 insyallah.
Do contact me for further business discussion.
Comment:
18