Sep 2 2009 Wednesday, 12:30 pm
p/s: RM's background is part of the advertorial, so jangan betulkan page anda
Hi – Ogawa is my special 48hours sticky mode, do scroll down for new entries yeah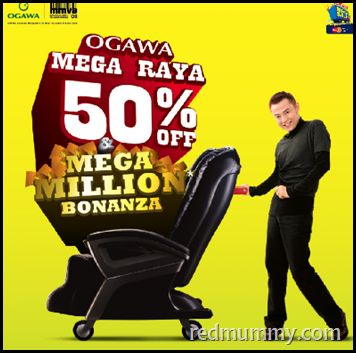 Raya raya!!!
wuii baru ramadhan dah nak raya kauu! katanya raya sebulan, puasa lagilah sebulan kan, so u have at least a month to beraya ngan barang umah yang baru2 belaka. Aznil ke main kurus plak ko dalam promo OGAWA Mega Raya seii…! Oklah tak nak cakap banyak, aku tau sume orang suka sale, sume orang suka OGAWA, semua teringin nak ada set2 OGAWA kat umah korang kan, so now OGAWA comes to you, korang tak yah kejar2 carik OGAWA.
How?
Sebelum aku openly cakap pasal on how for you to entitle all these Mega Raya 50% discount, pe kata aku cite sket on few items yang aku berkenan bebenor: Hallo OGAWA, one for me as RM's package boleh ek? ok boleh..tq, send to VA yer. tak muat umah belakang kira, tau lah aku nak campak mana2 sofa merah aku tu 🙂
First product yang aku nak sangat is this one the OGAWA SMARTAIRE, ini macam mau pigi naik mulan ooooo! tunggang terbalik badan aku dibuatnya. The price is not that much, 13 ribu jerrr….
lor tak caya. click sini hah http://www.ogawaworld.net/ourproducts/relaxation/SmartAire/smartAire_promotions.php#pgtop
ok since OGAWA ni murah hati, mestilah ada harga promotion, it goes down to RM8 ribu jerrrr, dapat satu nih tak yah pi indon layan massage Martha Tilaar dah. lena aaaa. mau nya tak lena, dia nya massage ko dari puncak kepala ke jari jemari kaki ku yang halus mulus itu.
kak red, bley bangun tak? orang lain pun nak gak nerai sama
ooooo, leh tak ko beli jer SMARTAIRE ni utk akak merah korang tersayang?
potong stim aaaa…aku dah sedap2 nak ke puncak bulan, tak ke puncak sudahnya, dapat dok situ x sampai pun 5 min, ai think OGAWA next time u should just call us for one to one session, lagi best anto satu kat umah aku. senang aku nak review.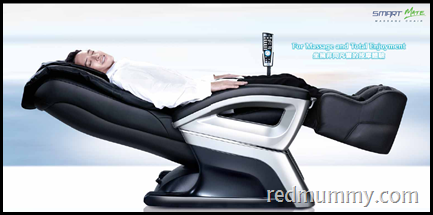 hah ni lagi satu
wah ko bang, balik keje tak geti bukak baju lagi dah landing atas kosi SMART MATE aku pehal bang? bangun lerr, pi mandi, udahlah masa aku kat OGAWA Pavillion aku leleh2 air liur nak naik SMART MATE ni tak dapat, camne aku nak try, q bersusun nak naik kosi nih, namanya je kerusi, tp kerusi massage bukan sebarang massage, tengok dia punya melintang negak patah tuh…alohaiii.
Oh Mate ni pun ado gak sale down down to the drop katanya, harga asal was RM9398 tapi la ni ko mention nama Redmummy dapat harga gini RM4699!!. manyak la sebut nama aku leh laku, ko sebut nama ko pun leh dpt discount aaaa…
Udah tak caya ha pi link nih!
Kak aku tau kerusi tu kaler merah, tp agak2 lah kan ingat orang belakang, dari tadi balik2 muka ko jer..
dengki!!
hamikkk! dok le ko kat kosi merah tu bolot sorang2!
Thanks OGAWA for not choosing them as the second Aznil hikss…ai just love these 2 boys Hafiz and Wan, banyak lorat!!
oh…why dont ai thank personally to…
Madam Elizabeth an Executive Director of OGAWA
Mr Michael n of cos standing next to him kekasih gelap putihku Robb from Nuffnang
ahah….the whole story for this entry is my tq note to OGAWA for inviting me to the dinner get together with 40 bloggers and OGAWA's team. trying out their product is a must to go, abih tu kang bila masa lagi nak dapat pi nerai kan. So we had a frenly dinner at TGIF, a makan2 buffet session, a tok2, and amik gambar itu gini etcs…
wah…tang amik gambar ni yang cool, let see sapa yang sempat masuk dalam RM, which photos were all taken by the manager/photographer of RM, Sirman. tq man.
SM ni kan bape puluh kali dah aku jumpa dia, pendiamnya dia tak pernah berubah….
ko makan apa bang ke main kurus? bak meh sikit petua..
gambo tak senonoh aaa nih, ke saja nak bagi tunjuk betapa putih nya dak Ayu Pink tuh, pipi koooooo, blusher ke main!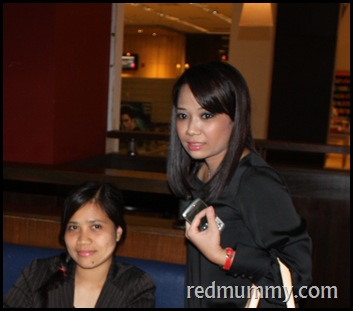 Mya sempat amik peluang beli barang from Shop@RM, tak sempat aku bernapas lam TGIF pun tau koooooo
how s your wife bang?
sihat, ado kat umah
bila dia nak ado blog
ahahhahaahhah
golak pulak ekau!
Not in order…
Carol kicik manis, tau dok ekau, akak dulu badan macam ko gak
dulu laaa
skang badan macam the futureeeee!
Thomas, ai hate talking to you while standing la, sakit tengkuk akak
ai know kak red, ai m tooooooooooooooooooooooooooo tall for u.
Zack is one cheeky boy, senyummm je dia.
Is that our Levi's pose Cindy?
Yeah lah, one day we should do the same pose again ok, in our next event!
There s a waiter in a bar
On his hand there s a scar
If you want to be a star
Get OGAWA
wohoooooo! my team won….ahah doesnt matter lah dah jadi lain ayatnya bila sampai kat aku, janji we won. when come to the second game….ahah, individual game, ai kalah u. sokay…ado gak kalo aku menang terus sentap hiks…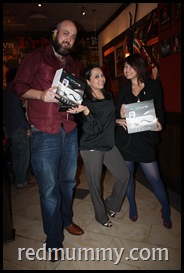 Pinkpau and Shaolin brought back home with an Eye-Tune
ha dengau la korang sampai lena menda tuh. dapat massage, dapat dengo laguuuuu. bestnyaa.  baru sejam sblm tuh Shaolin komplen kat telinga aku ala2 Taliban sket….ngan janggut panjang dia tu kan 'u always win something, u must be in my team'
ha kan….u got my luck already hahahahaha. congratulations Pinkpau and Shaolin, kem salam kat Kim aaa!
readyyyyyyyyyyyyyyyyyyyyyyy!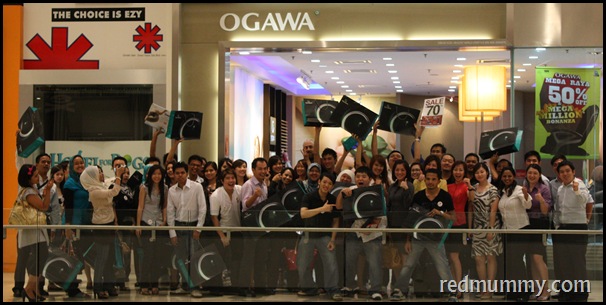 hiphip horayyyyyyyyyyyyyyyyyyyy for OGAWA!
apalah OGAWA kalau tak bagi goodie bag kan…
balik umah layan ini daaa sama anak2….
cool babee!
The whole team of OGAWA, standing side by side for RM's readers
hemm tak fair lah gambar ni, aku melindungi wajah tinggi an ED…
This is nice
She likes me
ai like her
get me OGAWA
wahh…pantun 3 kerat kau! pants kita sama kaler lah 🙂
madam, tocei tocei……ai love OGAWA.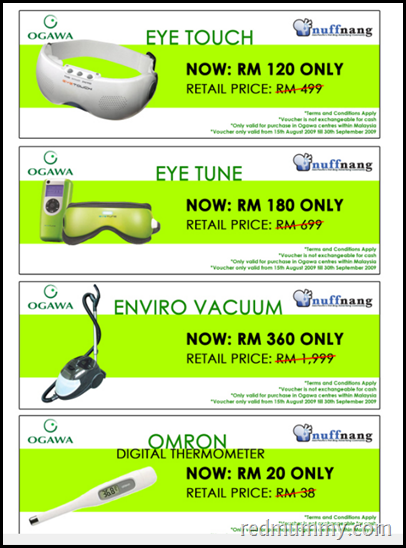 oh chop, top of the entry aku ada cakap korang boleh dptkan best pricing from the net kan. from OGAWA's official web…this is the voucher, korang boleh print bape banyak kali pun korang nak, in colour, black n white oso can, hangpa boleh main forward2 bagi sesapa je nak pakai voucher nih, yes, come join me get the cheapest digital thermometer anak2 kita, dan utk kita sendiri for only RM20. other 3 items yang memang ngah murah, Eye Touch, Eye Tune and oso Enviro Vacuum!
nak dapat kat mana voucher tuh? ha kat sini yerrrrrrrrr
ai shall close this entry then.
Khidmat pesanan masyarakat Ogawa Ogawa Close To You is brought by redmummy.com
Comment:
11