Sep 7 2009 Monday, 3:00 pm
a very useful entry about Rumah Ronald McDonald, jemput scroll down utk latest entries of RM yeah. this is a sticky mode entry. Thanks korang 🙂

Abang & Gegirl nak makan apa hari ni?
parapappapaaaaaa
hehehe as expected 🙂 eh btw korang tau dak apa "parapappapaaaaaa" tu?
melampau la kalo tak tau kan  "parapappapaaaaaa, i'm loving it" Tapi memang dari dulu lagi my kids used that word when referring to McDonald's.
Tapi kalau korang ingat McDonald's hanyalah restoran fast food sahaja, korang salah. Actually aku pun salah. Memang selama ini ingatkan McDonald's hanyalah makanan segera jer. Sebenarnya ianya lebih dari jangkaan anda. Selain menjadi makanan kegemaran kanak2 kita, McDonald's juga terlibat dalam  bidang kemasyarakatan di mana mereka menyokong Ronald McDonald House Charities Malaysia,  sebuah badan kebajikan kanak-kanak  yang membantu kanak-kanak yang kurang bernasib baik dari segi kebajikan (welfare), kesihatan (health) dan pendidikan (education).
Tahukah kamu di  Pusat Perubatan Universiti Kebangsaan Malaysia (PPUKM), Cheras, depan rumah aku tu, tempat my 2 kids diberanakkan, ade terdapat Ronald McDonald House (RMH)?
Tengah kusyuk dengar penerangan pasal RMH ni
Ianya adalah Ronald McDonald House yg pertama di Malaysia yg telah disiapkan pada thn 1999, yg kedua di Asia & yg pertama di ASEAN. Rumah yg kos pembinaan adalah RM2 juta ini dilengkapi dgn pelbagai facilities seperti kitchen, pantry, dining area, TV lounge, surau & laundry room & ia mempunyai 19 bilik tidur.
3 beds. Sesuai utk parents & kid
Korang sure wondering utk sapa rumah ni? Objektif utamanya adalah utk memberi penginapan sementara kepada keluraga-keluarga yg datang dari jauh, utk dapatkan rawatan perubatan  anak mereka di hospital ini, especially yang terminally ill macam leukemia, kanser dan sebagainya Ini adalah utk meringankan beban diorang, dah la medical treatment can be costly for some families kan, nanti nak duduk hotel lagi la macam sudah jatuh di timpa tangga. So Ronald McDonald House tolong kurangkan bebanan keluarga-keluarga ni.
Antara kemudahan2 yang ada di RMH ini termasuklah…
bilik komputer. Jangan lupa visit redmummy.com ya 🙂
laundry room. Dah kalo duduk berminggu2, takkan nak tak basuh lak kain baju dak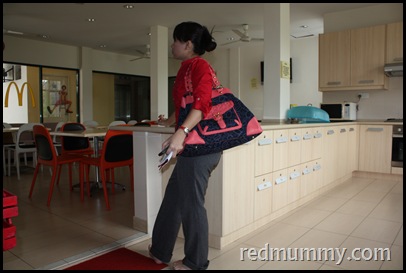 Kitchen & dining area. Very cozy & comfortable
meeting room pun ada
playground sebagai tpt anak2 melupakan sakit yg di alami
playroom for those little angels
surau utk kita berterima kasih kepadaNya

Of cos bukan utk semua, mereka yg datang dari jauh sahaja di beri keutamaan. Nak tau berapa bayaran dia? RM5 sahaja semalam 🙂
So sekarang dah tau kan, so kalo nak berurusan boleh la berjumpa dengan Cik Noor Azah Azizi, cik manis yg berkurung merah tu:) or visit their website.
mana tau Ronald McDonald House akan jadi RedMummy House pulak kan…kot aku jadi jutawan blogger terhebat, kompem aku bukak RMH satu gak 🙂
Opps bercakap pasal smile ni, meh aku ceritakan pasal cabang kebajikan (welfare) dari  RMHC Malaysia.
600 bayi yg dilahirkan setiap tahun, 1 daripanya lahir with cleft lip and palate (sumbing). Memang ada treatment tapi bukan semua mampu. Oleh itu program Gift of Smile yg dilancarkan oleh RMHC Malaysia pada 2003 bersempena Hari Kanak-kanak Sedunia, memberi rawatan/perubatan percuma utk ini supaya mereka membesar seperti manusia normal yg lain. Of cos mereka yg layak sahaja, iaitu keluarga yg berpendapatan RM2000 ke bawah di beri keutamaan. Tapi kalau famili yang ada ramai anak dan berpendapatan lebih daripada RM2000, boleh membuat rayuan and mereka boleh pertimbangkan.. Gift of Smile program is made possible with the help of Pantai Hospital Sdn. Bhd., ING Insurance Berhad and McDonald's Malaysia 🙂
So all, my lovely RM's readers, tolong war2kan kat luar sana, kamu bisa mendapat bantuan penuh utk operation sumbing nih, asal sahaja income kamu less than RM2k. ramai yang tak tau,ingatkan depa tak layak, so pls… RMHC Malaysia ingin membantu kamu dengan menanggung semua rawatan cleft lip and palate. Please spread the words to those yang tiada peluang utk membaca review saya ini. Borang utk mendptkan bantuan ikhlas ni boleh download dr website mereka ataupun menelefon Talian RMHC Malaysia 012-365 7324.
Dan dari cabang pendidikan (education) pula, Tunas Wawasan adalah program biasiswa bermula dengan kerjasama Department of Education of the Federal Territory. Di bawah program ini, pelajar2 dari sekolah menengah di Kuala Lumpur telah dipilih untuk menerima sumbangan kewangan utk membantu dari segi pembelanjaan sekolah menengah mereka seperti uniform, buku2, transportation & wang saku. Sekarang program ini telah berkembang ke seluruh negara. 2 pelajar sekolah menengah dr setiap negeri di seluruh Malaysia akan dipilih utk program Tunas Wawasan ni. RMHC Malaysia will see them throughout their secondary school years dari Ting. 1 sehingga selepas SPM – 5 years of bantuan ikhlas ni supaya pelajar2 dari keluarga berkemampuan rendah dptlah focus dlm pelajaran masing2.
Banyak juga aktiviti2  RMHC Malaysia ni ya. Ada lagi ni…

Ini adalah rumah Persatuan Orang Yang Amat Cacat Akal Selangor Dan Wilayah Persekutuan. Di sini terdapat The Ronald McDonald Sensory Room™.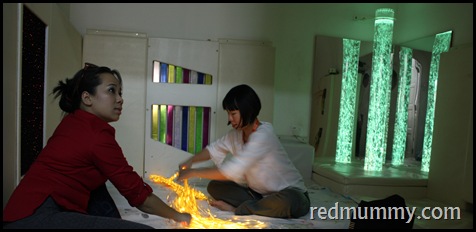 Ronald McDonald Sensory Rooms™ ada multi-sensory equipment daripada United Kingdom. Alat-alat nih boleh tolong stimulate the five primary senses dalam suasana yang relaks, selamat dan menyeronokkan.
Alat-alat ni boleh mengurangkan tahap hyperaktif dan membantu meningkatkan daya kosentrasi kanak-kanak istimewa…Kalau peralatan ini digunakan dalam jangkamasa yang panjang, kanak-kanak ini boleh meningkatkan daya keyakinan diri mereka dan kemahiran kognitif mereka..

Selain dari di sini, The Ronald McDonald Sensory Rooms™ juga terdapat di sini:
– Bethany Home in Hutan Melintang, Perak
– Agape Centre in Sibu, Sarawak
– Persatuan Sindrom Down Malaysia (PSDM) in Ampang, Kuala Lumpur
– Yayasan Orang Kurang Upaya Kelantan (YOKUK) in Kota Bharu, Kelantan

Malangnya saya tak berkesempatan utk berjumpa dengan kanak-kanak istimewa ni. Tapi dengan melihat gambar2 di sini sahaja sudah cukup tersentuh hati saya, apatah lagi jika bertemu dengan mereka.
This is their motto: I Do Not Need Pity Nor Sympathy But I Do Need Help In Doing Things By Myself
Negara kita banyak musim perayaan, jadi semasa Buka Puasa, Hari Raya, Deepavali, Kristmas & Chinese New Year, RMHC Malaysia akan merayai musim perayaan tersebut dgn rumah2 kebajikan kanak2 yg tidak berpeluang merayai musim perayaan dgn ahli keluarga masing2. Selain dari makanan McDonald's, kanak2 ni akan mendapat hadiah2 Nestle, Ribena dan Cadbury. Wah, memang kenangan yg teramat manis utk kanak2 tersebut…
hulurkan tangan & hadiahkan senyuman 🙂
Now korang tau kan ke mana perginya duit syiling yg korang dermakan bila makan kat McDonald's tu 🙂  Yes, setiap outlet  di McDonald's ada tabung yang exactly macam nih, dermakanlah walau seringgit atau sepuluh sen untuk anak2 kita yang tidak mampu, dengan duit itu akan dapat digunakan for their education, welfare and health.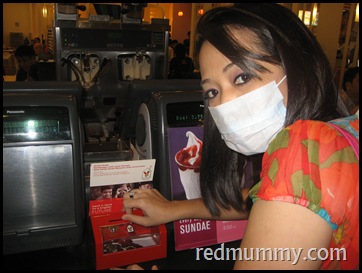 McDonald's Malaysia membayar kos-kos admin untuk RMHC supaya 100% daripada hasil kutipan diaorang boleh digunakan untuk menolong kanak-kanak yang kurang bernasib baik. so satu lagi sebab utk menderma kpd RMHC Malaysia!
"parapappapaaaaaa, i'm loving it" Owh jangan lupa to be fan of McD on Facebook as well!
Share the love; give them the Gift of Smile…
Khidmat pesanan masyarakat Endearing Moment in McDonald's is brought by redmummy.com
Comment:
24