May 30 2016 Monday, 8:00 am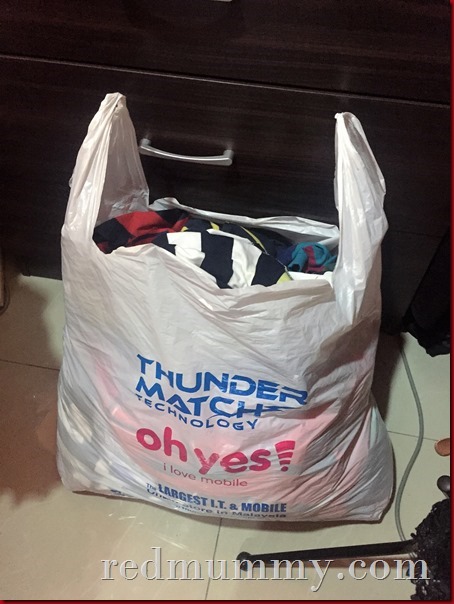 The Supermak's job memang all planned lama. I dont wait esok lusa raya baru nak carik baju raya segala, so Ramadhan kita boleh tenang, beramal ibadat, bermalasan. Tak yah ler nak keluar sangat bershopping sesesak, specially for them. For aku lain ler, selagi tak raya selagi tu ler aku menyopping baju raya aku kan.
So since end last year aku dah siap beli semua kasut selipars kain baju raya for all 4 of them, dari bapak ke anak2 semuanya dah taken care.  That s my doraemon bag, memula dulu plastiknya kecik jer but lepas tu makin lama makin besar and yey, muntah betul isi plastic nih.
Since every week kan aku ada helper datang buat ironing, so dia pun dah tau kena ironed all the satu bag doremon nih and aku tak nak le dia penat pulak during fasting month (or if aku yang kena iron plakkan), so kasi settle on the last weekend.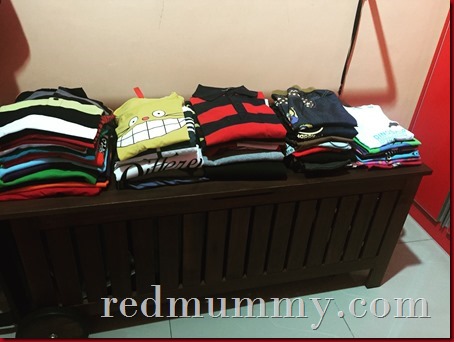 taraaa sudah siap. Ada ler 5,6 helai lagi tak iron lagi coz aku dah nak kena hantar helper balik, lelebih tu abang boleh sambung iron. Skang kan cuti sekolah. I know some said awal giler Kak Red, lom puasa bagai dah siap baju raya iron lagik. Ye ler, aku jenis organized sort of, kang pepusing aku gak yang penat. So better awal siapkan bagai. Kalau baju melayu pulak, for the boys memang ada yang dah bersiap but macam hemm, anak2 aku dah makin panjang, aritu siap awal pun coz sekali jalan ngan 3 lai baju melayu depa. Takpe le yang tu kalau memendek memanjang ker, kita beli baru je lah, habis citer. Hok tu senang capai, banyak malls pun ada jual.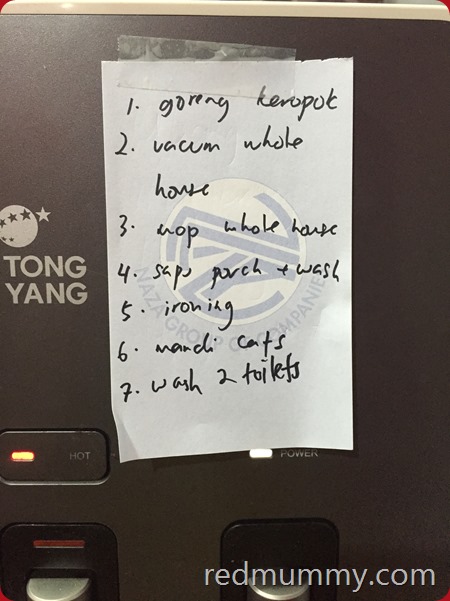 The additional list untuk abang to do. Kenapa Kakak takde, coz she seminggu ni ada extra classes so that s why job2 nih balun kat Abang. Toilet tu basuh 2 bilik jer, bathroom aku, memang aku sendiri basuhkan ler, anak2 tak yah buatkan. Dia pun dah tau tanggungjawab dia in fact dia tak bagi pun aku panggil helper datang to ironing so dia leh do and extra income lagik hehehehe…
Ingat semuanya free ke…takpelah rajin2 dia pun, takde extra income pun he still buat. All 7 tu pun to be done during this 1 week so Ramadhan nanti takde lah depa nak buat kerja sangat. Aku pun at first ingatkan cuti sekolah ni seminggu jer rupanya 2 weeks yek hehehe….yeler biasa cuti sekolah kita kan berjalan dah this year memasing ada major exam so tak de le berjalan bagai.
Anyhow, it s all bout planning lah. Bak kata anak2 and laki aku gak bukan mak kau ler kalau tak organized macam nih 😛
Comment:
2