Jun 14 2016 Tuesday, 9:00 am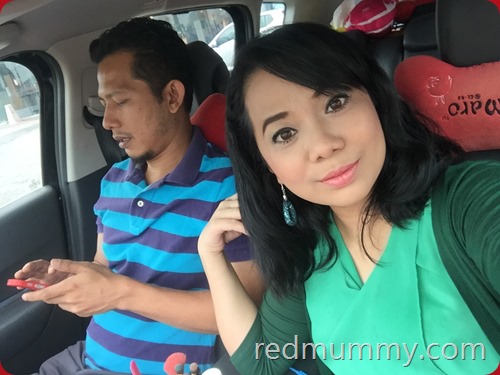 my man tu tengah tak sihat waktu ni, hidung dia dok selsema ngan sakit2 tekak, kitorang kalau sakit lebih kurang je berpassing batton but mengenangkan hari tu adalah weekend terakhir sebelum Ramadhan bermula so he pasrah je lah ikut bininya, or something yang aku ke ikut dia kot…Coz dah few weekends dia pergi carik barang sorang2 without aku, so this time aku ikut sama ler.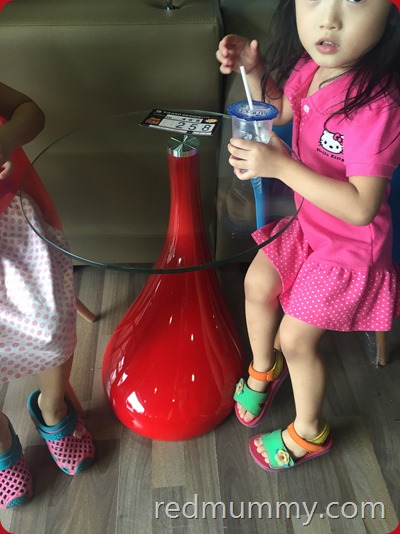 budak kecik 2 orang ni tak nak bergerak ke tepi sket pun wpun aku nak amik gambar, depa dok main memasak kat meja nih. Merah stand bawah tu, but cermin atasnya, ai is dont like ler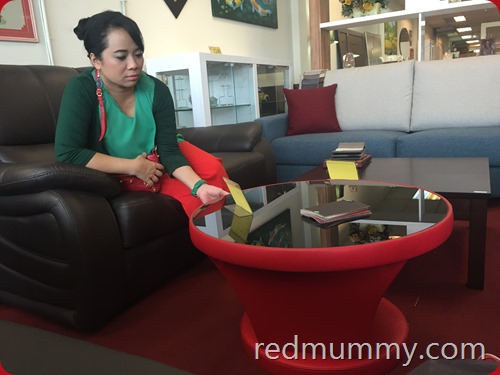 we were looking for satu lagi meja kopi, 1 tak cukup, lagipun yang satu tu memerlukan 2-3 tenaga lelaki menganngkat, jadi nak reorganize or tetukar style deco umah pun payah coz berat, selama setahun ni baru sekali ler beralih meja kopi berat tu, itupun pasal aku nak jemur carpet, kena ler depa angkat gak
This red meja kopi pun cantik le segala cuma aku tak suka gak bawahnya macam, terbongkok2 le ko nak mengambil barang if letak situ.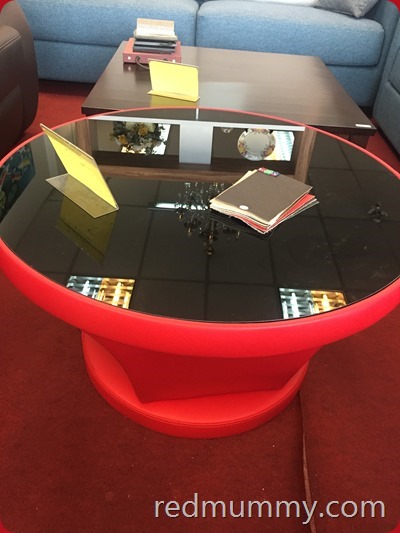 but dia merah, but tak nak but merah but merah but tak nak hahahaha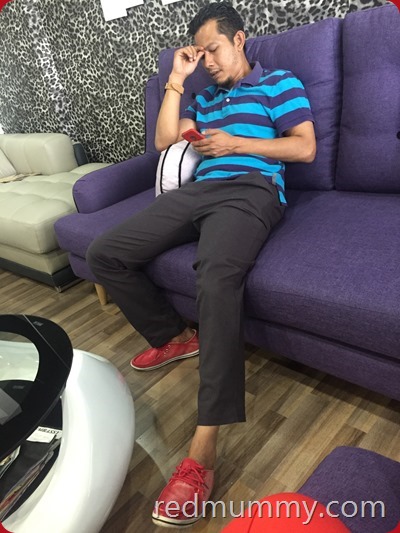 orang ni pun sakit melepek je, pun tangan tak sudah ngan hp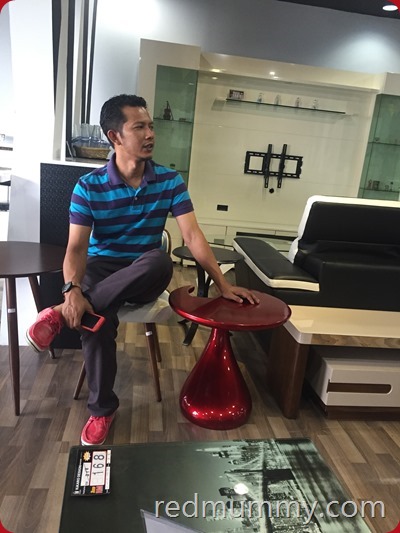 ha side table laki aku pegang tu memang aku amik gak lah, 2 units. The colour material sama je ngan my kitchen chairs but idok le aku letak ni kat kitchen pun, of cos le kat livign dining hall kita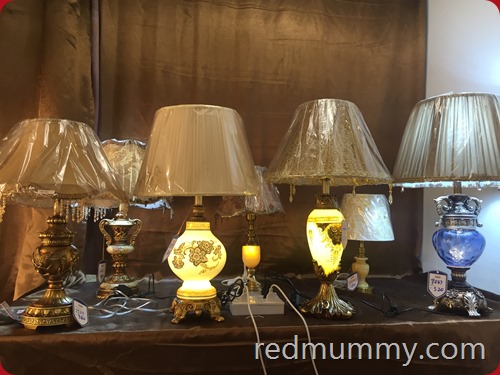 gambar ni macam kecik je lelampu ni but actually ni lambpu besau2 and harganya confirm above RM250, lawaaaa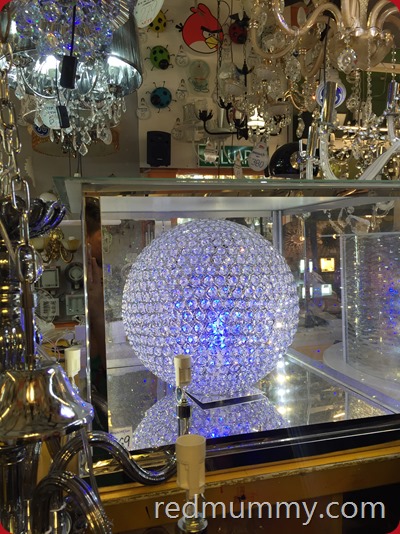 selesai kat furniture shops bagai tu kita rushed to our fav kekedai lampu, semoga pencarian kali ni berhasil ler coz dah setaun mencariknya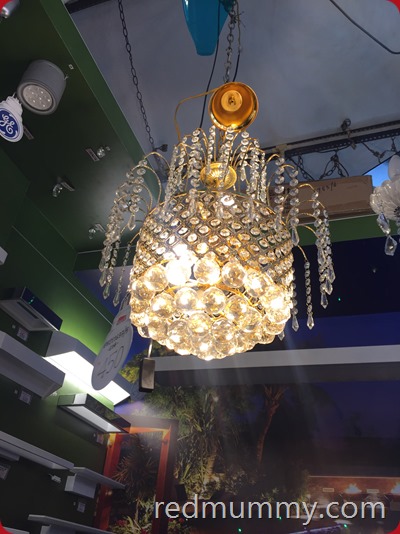 we (actually aku) nak carik 1 killer lampu yang will be the signature of the house, yang aritu chandelier laki aku beli tu untuk kat tangga yet ada satu lagi kita nak kena ada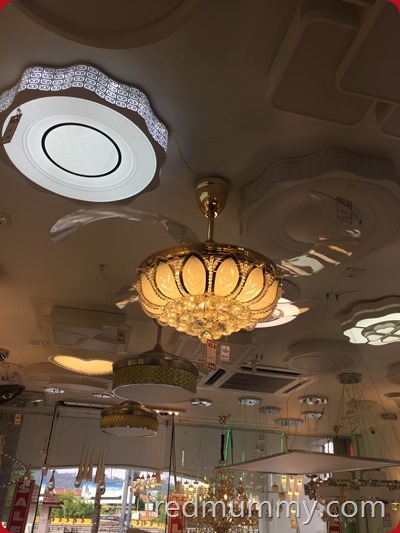 abis semua lampu laki aku cakap lawa lawa, padahal dia tau aku nakkan kaler merah. yelah dia kan ngah tersedut2 hidung tu pasalnya laju je nak cepat habiskan berjalan nih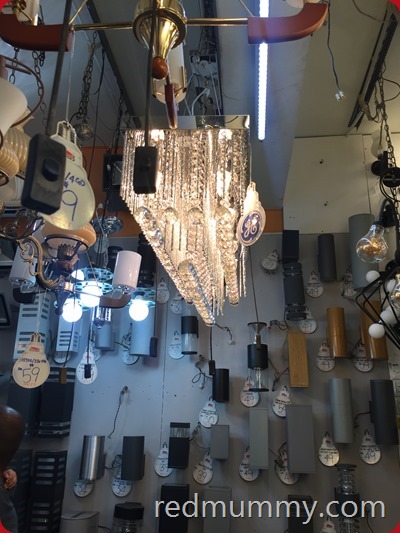 aku actually nak yang cam panjang nih but in red. I saw kat overseas ada jual merahnya nih but risky le pulak nak beli and bawak sini kang pecah berderai huihhh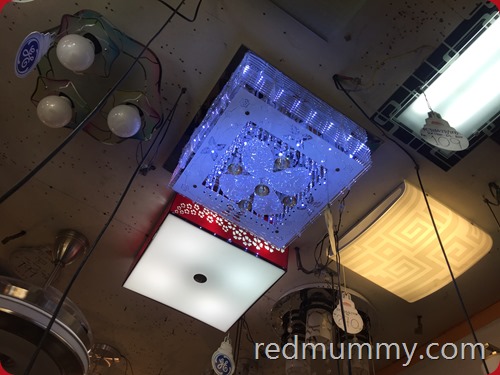 hok merah tu simple giler, tapi sebelahnya kanan tu cantik haih kalau takde tema merah kat rumah aku tu memang aku dah amik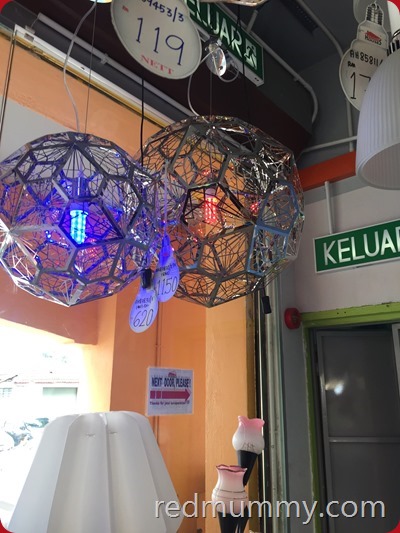 bukan lampu tu, but the bulb dalamnya, kan ada merah tu kan, tapi depa dah habis stock so nak jual kat aku yang tuh dengan harga yang sama, RM10 gak, cis ko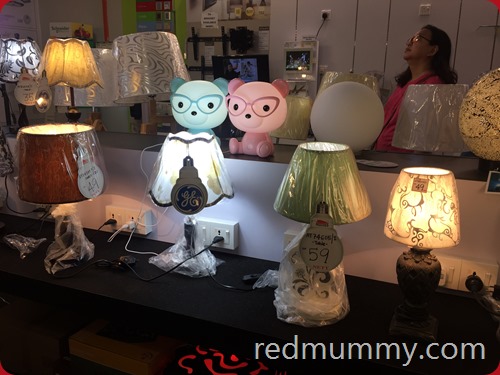 ini pattern untuk lampu tidur or deco gak but range harga lagi murah, below 60, lelawa gak, tapi size kecil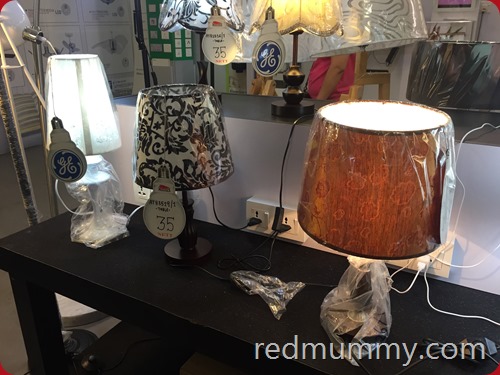 ha tengok murah2 le ni gak…bley ler tu if korang carik budget2 gini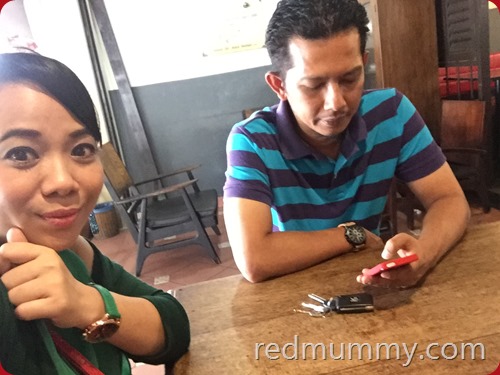 kita rehat kejap kat one of the kopitiams, kekongsi mee kari, muka dah bulat, apa da hal bulat punnnn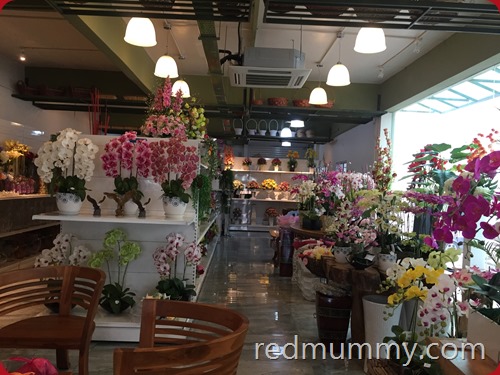 ada kedai bunga kat sebelah2 tu gak, jatuh hati betul aku ngan bebunganya but husband was so moody, bila tanya semua bunga dia cakap tak lawa. Takde hajat dapat beli bunga baru, dia dok suh datang lagi sekali pilih, yelah kan aku dah cakap orang tu tak sihat heheheee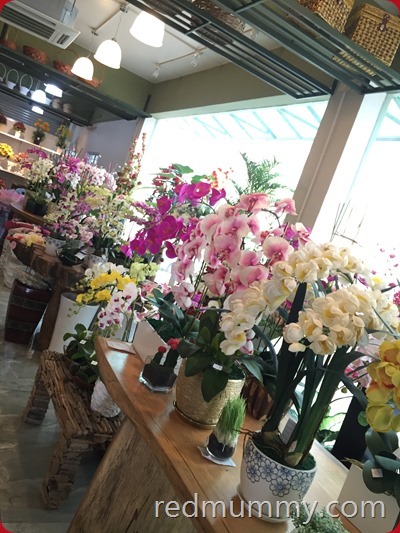 artificial je semua nih, pun cantik sangat-sangat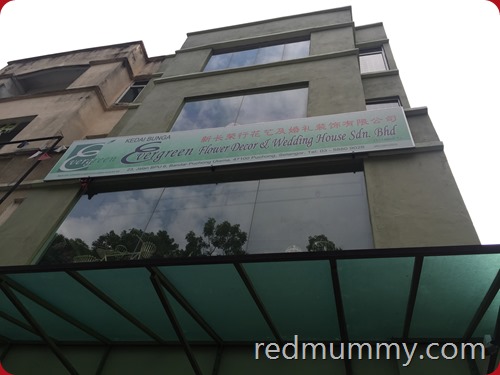 reminder if i nak datang lagi, ini kedainya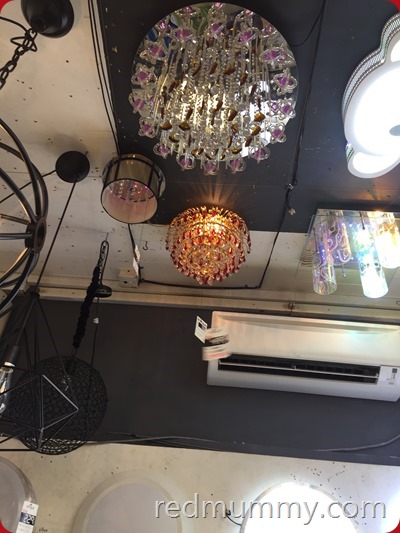 sambung lagi pencarian, the red lampu kuning hujung tu yang aku nak macam tuh but this is too small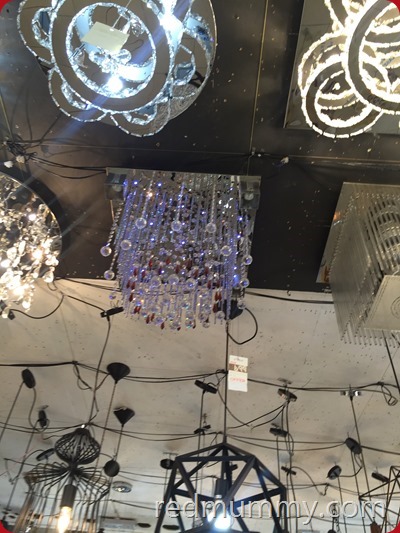 ini pun lawa but the crystal dia is purple, so lari tema aku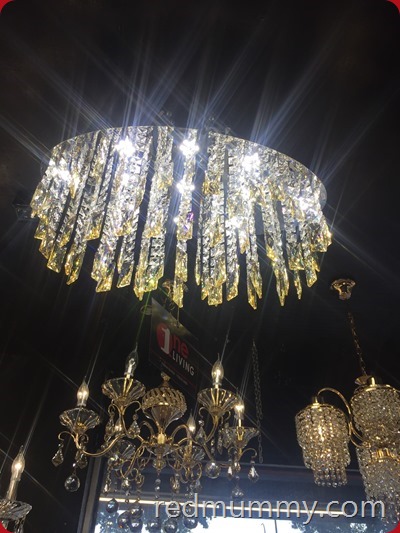 ini kalau ujung crystal tu merah dah memang aku sarung bungkus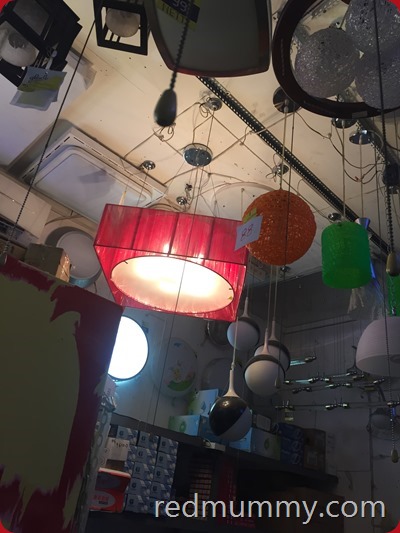 alahai, sedih tengok…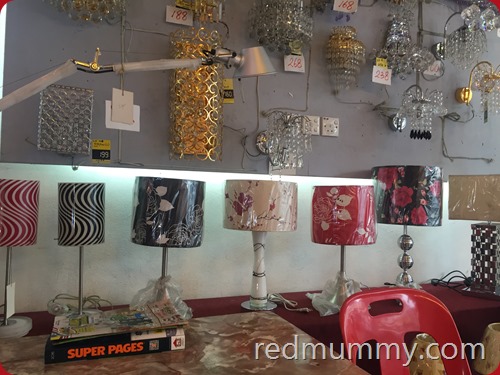 kedai ni macam nak bungkus (katanya bertukar boss) tapi banyak lelampu yang harga runttuh, so aku bungkus merah tu 2 bijik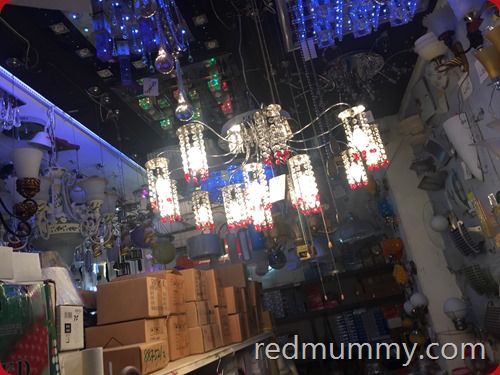 ini dah cukup merahnya tapi laki aku cakap macam kaki sotong jerrr. hish banyak hal le orang sakit nih, itu gini sume alasannya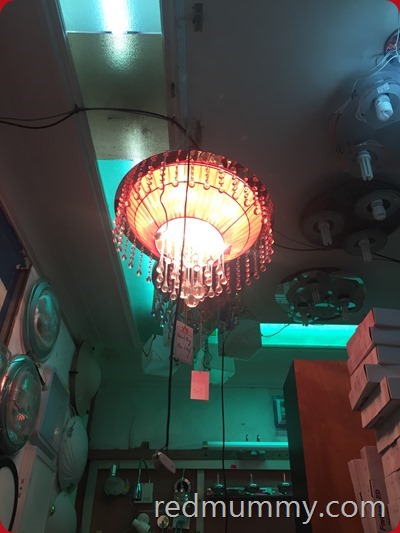 pun tak cantikkkk dah macam tanglung plak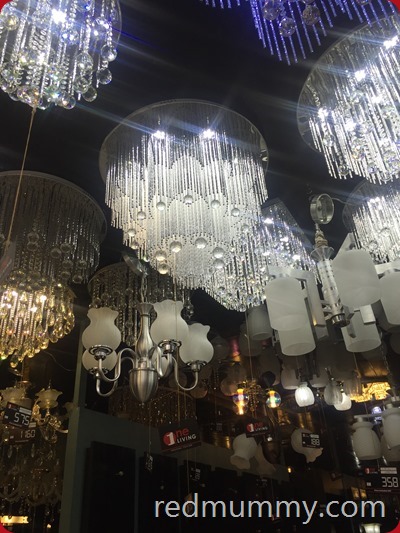 again if they have in red, would be the boom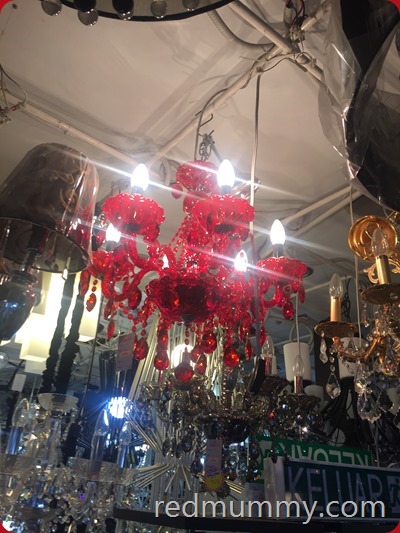 ini was the last shop, dah nak nak gelap. So ini harus kedai terakhir coz laki aku pun dah hint2, but this is the lampu yang aku nak jugak, macam dah berjodoh je kan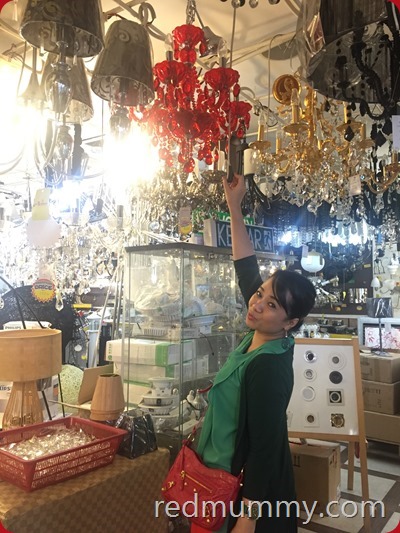 the price is a bit mahal but coz laki aku dah berdesyup2 hidungnya so kita kawtim le gak. But coz nak yang baru and depa kena pasang bagai dalam sejam setengah gitu so no choice, either we come back again tomorrow (aku ler tu) or kita pi jalan jap pi Tesco beli barang dapur to kill off time. So laki aku lam pikir2 terus ajak pi Tesco, gamaknya yelah dia pikir gak esoknya sian bininya kena datang balik pulak kot kan (ater dah dia tak sihat).
So we spent sejam setengah jap kat Tesco hah masa ni ler yang laki aku pi beli ayam tua tuh.Siap2 segala, bungkus McD (orang sakit tu tingin ni pulak) and rushed semula kedai lampu and amik lampu merah mengelip hakak, ya allah lawanya ko lampu. Tapi till now tak pasang lagi coz the guy yang supposed to do tengah ada job le pulak. anyway alhamdulillah, setahun punya kerja dah complete.
In total aritu punya 5 hours jenjalan, dapat 6 bijik barang merah 🙂
Meja kopi and 2 side tables yang aku tempah tu pun dah sampai sehari 2 lepas. Jangan tanya open house ler, blom dapat hidayah lagi nak buat open house taun nih, yang last year buat 3 kali tu punya penat tak habis lagi 😛
Comment:
8