Jun 13 2016 Monday, 8:00 am
First and foremost, thank you korang, berlumba2 memasing perah otak bagai nak bagi the best komen ever sort of macam tu lah, walaupun ada yang about 10 orang dah terlajak waktu submit komen pun hehehehe.
kalau 5 orang je yang bagi komen senang akak nak pilih, aku ni dahlah cepat kesian. So akak tak sanggup nak amik job pilih the 5 winners, ai is tak sampai hati, about 90 comments macam tuh. So I let my husband to decide.
He baca first round, dia katup kejap semalam hahahaha, dia sambung lagi esoknya. Kejam betul aku bagi kerja tu kat dia, alah bukan suruh masak pun, baca comments tu sume and pilih. So he picked randomly, I dont want to know camne dia pilih, yang aku tau aku nak the 5 winners.
So instead of akak wassap or email korang even ada yang tak leave mobile number or email address pun, so akak pasrah je lah leave the winners dalam sini, jadi makanya, tahniah the 5 of you, each one of you have won 2 vouchers berbuka puasa di Bangi Golf Resort.
1.
2.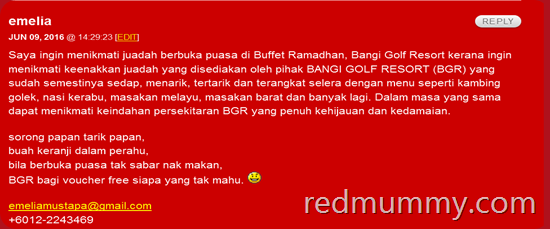 3,

4.
5. Erin Othman (sorry tak pat nak tempek komen ko kat sini but still u r the winner yey!!)
Asalnya was 6 vouchers pastu increased jadi 10 vouchers, but today increased lagi to 20vouchers!! Big claplah to Bangi Golf Resort. Makanya dengan ini, tambahan lagi 10 vouchers tu untuk 5 orang lagi (setiap sorang dapat 2 vouchers juga), nama-nama additional winners seperti berikut di bawah:
6. Fara Anne Cruise
7. Fazalina Yusof
8. Alia Ahmad
9.  Rizal Shahrim
10. Aisyah Noraisyah Siti
The top 10 winners ni ada 24jam sahaja untuk claim your vouchers via wassap from Kak Red yer. You need to contact me before 8am of 14th June, failing to do so, the vouchers will be given away to the rest of the commentators pulak. Adil ler ye, so please wassap akak kat 019 320 6264. If you dah wassap, tunggu je akak jawab, walaupun akak dah baca ada blue tick bagai tapi akak lambat le sikit respond, jangan ko gegar pulak, sabau, as long as i know you dah wassap akak,  gonna get the vouchers lah. Hokey sayangs?
Insyallah ada rezeki lagi kita buat lagi give away macam nih, setiap tahun pun BGR akan bagi vouchers to readers akak, so stay tune, mungkin bukan sahaja untuk Ramadhan but di events lain. Jangan ler give up pulak and sedih ye, bayangkan lah ada berpuluh puluh puluh komen sangat, kalau BGR tu akak ni tokeynya, akak bagi korang semua 90 vouchers terus hiks…but ini namanya rezeki, esok2 insyallah rezeki kita di tempat lain.
For reservation di Bangi Golf Resort, contact  03-8925 3728 / 03-8210 0265
Address: No 1, Persiaran Bandar, Bandar Baru Bangi, 43650 Selangor
Website: http://www.bgrrest.com
Facebook: https://www.facebook.com/BangiGolfResortRestaurant
RM58 for adults and RM29 for children. Murah je nih, go go go!!!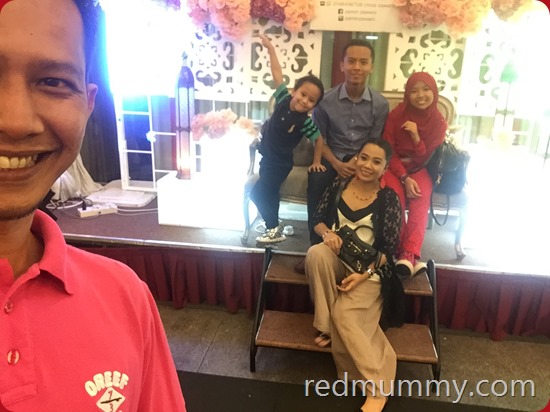 Red Family at BGR last nite, sorry kit tak dapat dating sesama bukak puasa, akak dah pergi dulu 🙂
Comment:
9