Jun 22 2016 Wednesday, 10:00 am
Aritukan aku cakap amik cuti bagai kita nak buka puasa ngan parents bagai kan. So pergi ler, 2 keter asing2. Keluar rumah serentak but Zeeshan and Kakak ikut bapaknya. Abang pulak ikut aku.
Depa pergi balik Kapar to fetch my mak mertua and adik ipar. Aku pulak ke rumah parents aku to fetch my parentslah. Tu pasal I need abang coz he needs to help me on atuk nya wheelchair. Angkat bukak katup bagai mana le hakak merah ni geti….
Kita keluar rumah pun awal, to avoid traffic, better early than late ler. Aku lagi sakit jiwa ler nak driving dlm jem tu gak nanti. So sebelum asar kita dah gerak ler, aku sampai dulu to the location, kat Shah Alam nun. Laki aku sampai lam sejam lebih kemudian, dia datang dari Kapar bukan jauh benar.
Dalam tu kita split, abang bawak atuknya ke surau lelaki, aku ngan mak ajah ke surau pompuan ler, asar kat situ. Lelepak jap dalam tu while tunggu kol 6 camtu.  In between tak tidur pun, tengok orang2 dalam surau, ramai anak2 muda yang datang sama menunggu di surau, macam fresh grad je adik2 tu, baru kerja. Berbuka by their company kat situ ler. Tengok gelagat2 depa…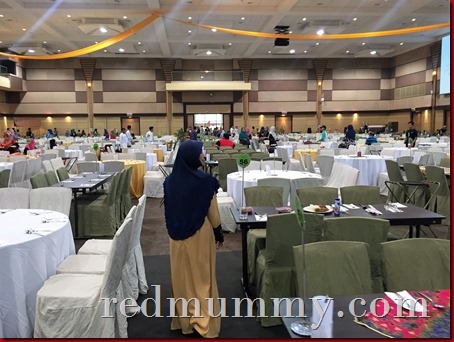 So about time, kita masuk le ke dewan. Jauhnya lahai dari buffet lines. Padahal dah cakap yang aku bawak parent yang wheelchair nih. That s my mak mertua, dia dah menyarung jubah raya yang aku belikan hehehee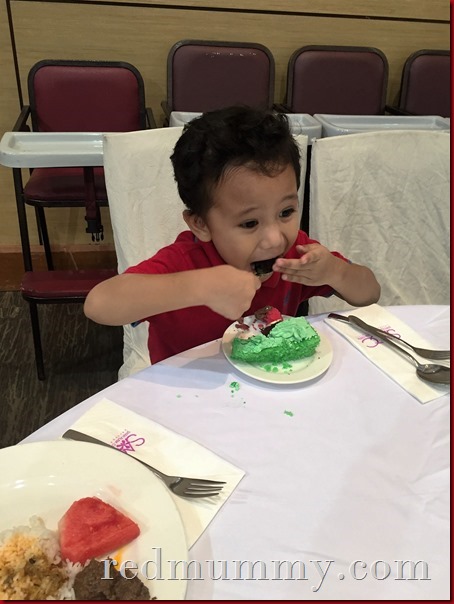 Zeeshan dah bukak puasa awal2….makan cakes tu je 2 plates. Dia belajar makan cakes ni pun mostly dari sekolanya, kat rumah susah dia nak telan, skang dah suka ler…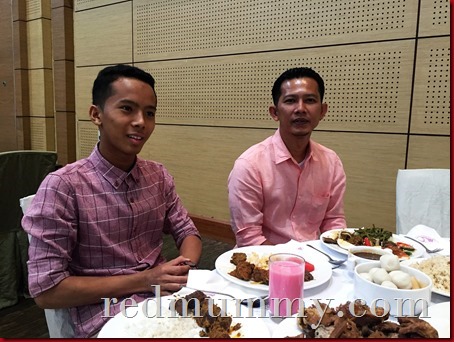 apasal le laki aku ni makin mengering, aku yang paling berpampam.
Baju abang pakai tu, sekali 2 je kot bapaknya pakai and dah berpassing turunkan kat anak, abang pun walaupun ada baju sendiri yang even belom pakai (bukan le baju raya) pun masih suka selongkar cabinets bapaknya coz for him baju bapak lagi best dari baju dia sendiri. huk aloh…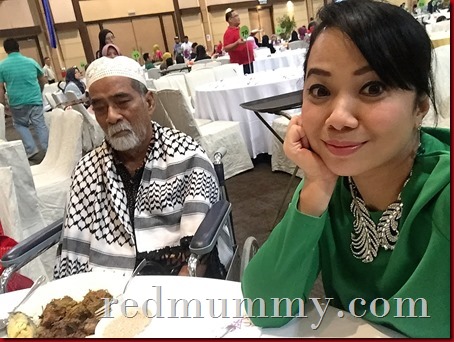 abah boleh ler jalan 2,3 tapak jer ngan tongkat tapi tak kuat, so memang kena pakai wheelchair.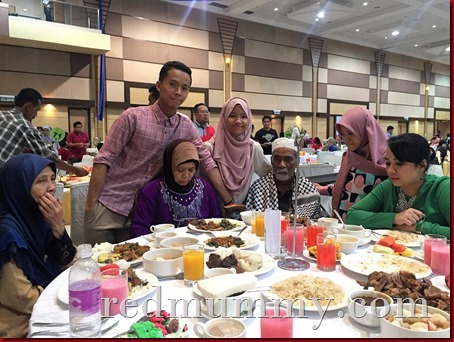 mak pun tak berapa kuat gak, boleh le berjalan lagi rancak jalannya dari abah but masih lagi ada sesakitnya gak. Kebetulan kan abang kakak and their cousin dayana pun pakai pastel colour. Aku bawak sekali Dayana anak buah aku ni coz ada seat extra aku terlebih bayar arituh.  Daripada membazir baik le bawak dia sama.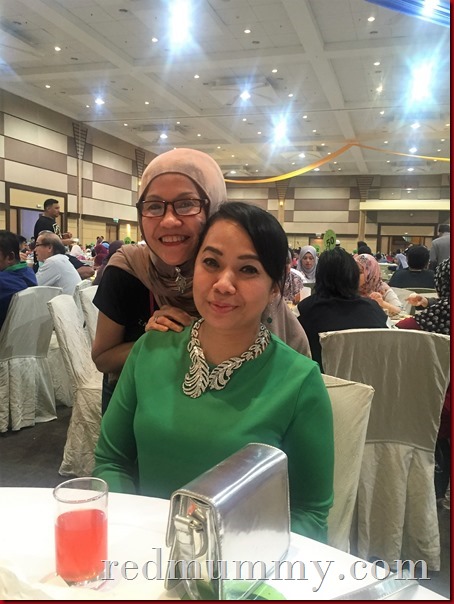 Bestnya dapat jumpa kak ani, my muallaf reader, for so longggggggggggggg dia used to buy my handbags also jadi reader di RM, and finally met her up, tak sesangka bertemu kat sini hah
So ler very talkative ini lecturer sorang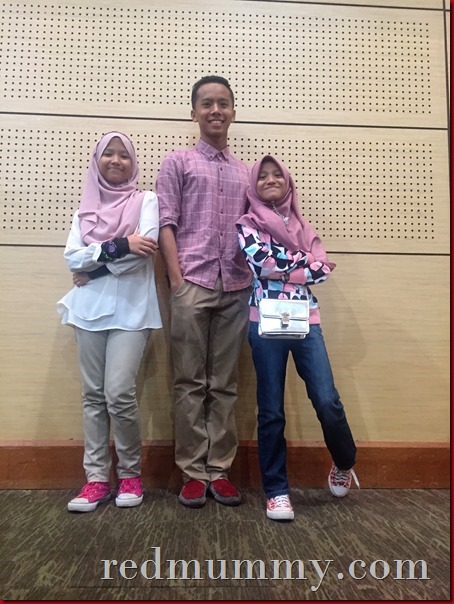 anak buah aku tu paling close ngan kakak, malam tu dia tidur rumah kami, dapat dia 2 pasang kasut raya aku belikan gak aritu baru dapat bagi. Malam tu gak dia tidur rumah  kami, esok noon baru dia balik. Biasa dah pun macam tu, kitorg kan adik beradik mostly dok dedekat, ngan makpak, senang dia mintak tolong dia, dia tolong dia bagai.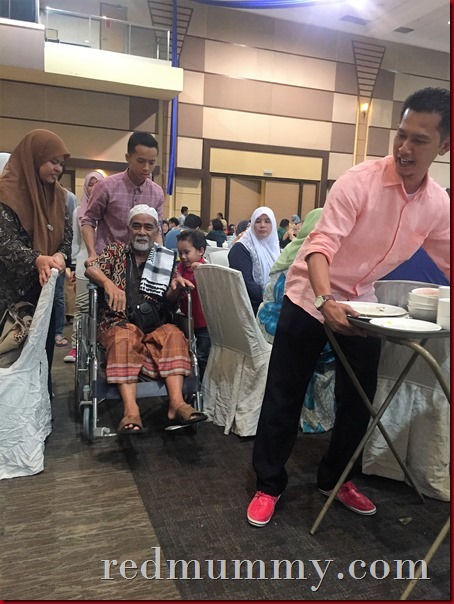 ni memasing baru balik dari lepas Maghrib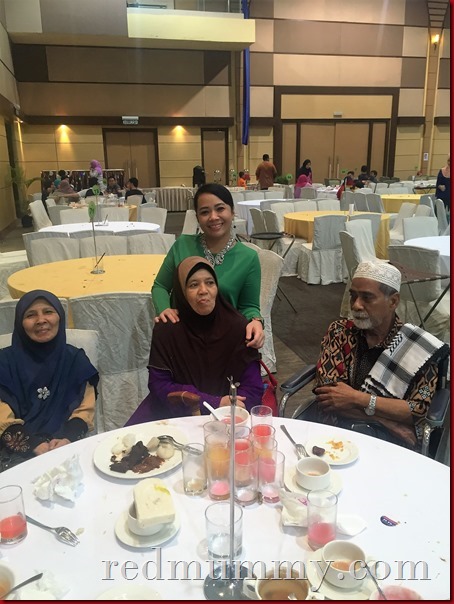 so gitu ler bukak puasa for all 10 of us, RD's mak and adik lelakinya, and also my parents gak ler. Kitorang dari dulu pun kalau berjalan bagai mana pun yang penting parents je lah, lelain tu kang tak de masa ler, jauh ler, mahal ler, jem ler, tolong belanjakan ler, tak best ler, ramai orang ler, heh banyak alasan. so baik ler kita bawak mak abah jer, itu lagi penting. Hem…ayat lagi penting tu penting sangat ditulis di sini, kang ada yang salah paham 🙂 . Urusan kita tanggungjawab kita to the parents, itu hal kita, yang lelain tu yang banyak bunyik nak hapa bagai, let it go, kitorg laki bini malas nak amik pusing, biak pi ler, dah penah kena bagai, tak sanggup dah.
We expect gak ada orang Ramadhan ni nak datang mintak maaf pun tak de kesedaran. U know betullah kalau kita salah dia punya nampak sebatu, tapi kalau dia punya salah, nak mengaku pun jangan harap, nak mintak maaf lagi ler, dosa besar gamaknya! Yet bukan kesalahan pun, fitnah plak tu, hish… A reminder to myself.
Balik tu, berpisah kita lagi, me mak abah and abang patah balik to Cheras KL and RD hantar mak and adiknya dulu baru balik rumah semula. 2 malam berturut2 aku laki bini tak tidur coz dok bukak puasa luar  and balik lambat and dingdong2 dah lewat so tunggu sahur je lah(malam ketiga no choice kena gak tidur coz esoknya kerja hahaha). This place punya buffet spread, not recommended. The food is ok so so, biasa jer, but the crowd and the ambiance, kita tak berapa suka ler. Specially to the red family, for our parents depa ok ok jer. So no need to mention this place, if you tau tempat ni, tak yah sebut hiks…Walaupun tak best ke hapa, alhamdulillah dapat gak le makan berbuka bagai, with our parents some more…
So the family 3 hari berturut2 makan buka puasa luar with buffet spreads bagai le kan, tapi aku 4 hari coz on Mondaynya pun aku kena bukak luar too, apaknya yang bukak puasa ngan depa kat rumah, berganti2.
We still need to host the buka puasa for my big family members gak, coz aritu aku terpaksa tunda. Mencarik tarikh..if tak sempat gak, terus melompat ke raya le gamaknya hahahaha
Comment:
3