Jul 1 2016 Friday, 8:00 am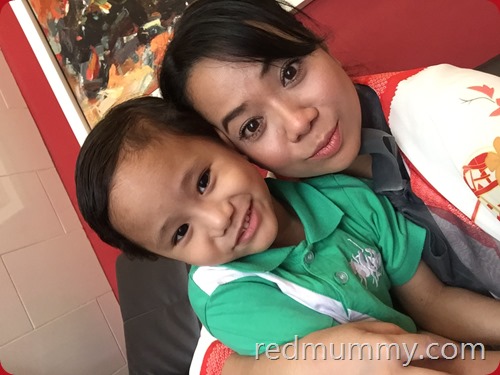 Eh aritu Zeeshan kena chicken pox ler. Aku rushed le balik amik dia terus bawak pi clinic. Doctor pun cakap it s a chicken pox. So yelah kalau dah macam tu kena quarantine ler kan.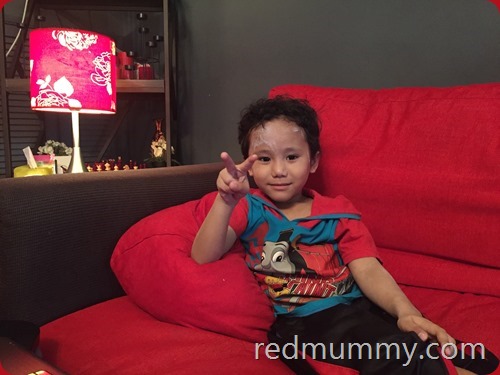 at home aku start bagi the calamine lotion. Tapi tak banyak le pox nya. So he tak pergi sekolah ler, tapi kan. tidak le pulak poxnya macam yang kita ni kena. All 4 of us dah kena so tak heran le kalau kena jangkit bagai.  Lepas 2 hari aku macam pelik betul ke ni pox or amende pulak, sket benau poxnya.
Tak demam pun satu hal, kita dulu kena pox ke main demam panas gak awal2 peringkat. So biarlah….tengok camne.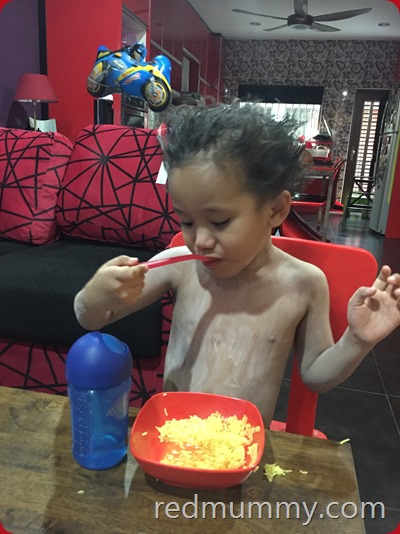 ni sampai ke rambut aku letak coz ada balik belakang rambutnya seketul 2 gak. Sedapnya ko makan dik, he tak puasa pun. Hehari suh aku masakkan dia yellow soup (it s an ikan masak pindang actually). His fav. Aku tak ler buat hehari pun, ikut kadar apa yang di dapur le, jemu ler heh kalau hehari yellow soup jer..So Zeeshan tak sekolah 1 setengah hari je lah, on Mondaynya aku hantar dia gak pi school (alah in fact esok and weekendnya pun aku bawak dia keluar gak coz like I said, dia tak macam kena chicken pox pulak).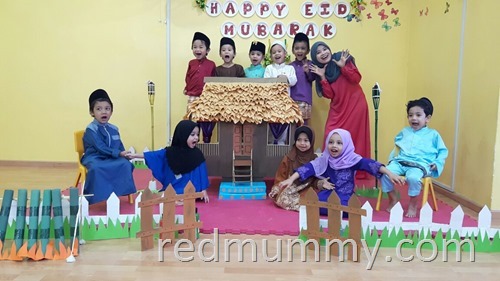 Since we are approaching Syawal, anak2 syurga ni pun dah melaram for Raya photoshoot gak. Zeeshan pakai baju melayu coklat tuh, sampin takde coz aku dah sedekah jariahkan. Salam raya syawal to aunties and uncles yang akan balik beraya bermula dari this weekend, kan? Gitu yek dah memusim nak raya sangat nih, semua dah tak ingat keje dah nih, dok pikir kampung je.
Btw back to Zeeshan, la ni alhamdulillah dah complete sangatlah baik sihat walafiat, macam aku cakap pox dia tak ketara sangat. Maybe mini chicken pox kot hahahha, belum habis2 keluar, kot le ada 2nd round sok sok makan tahun bila le pulaknya. Laki aku pun masa umur kat 30 taun baru kena. Oh dia kena sepackage ngan abang masa tuh (he was a baby/toddler kot masa tuh), huh, 2 orang sekali aku kena jaga, merengek2 pulak tu. Kakak kena masa umur 7 taun, i was on my early stage pregnantkan Zeeshan hiks..all those moments.
Comment:
0