Jun 29 2016 Wednesday, 9:00 am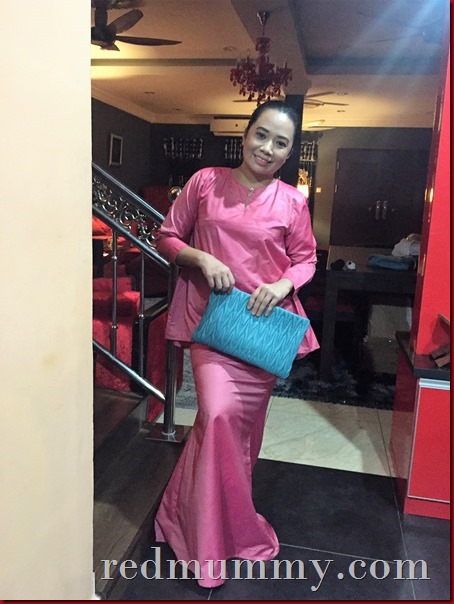 Ini kurung suraya dokoh, ada 2 bijik dokoh besau kat badannya, tapi selepas few hours pakai, aku cabut. Hiks..I dont like it. Masa beli awal2 dulu takde le trending sangat. but kemudian macam kes yang top fishtale aku beli mahal aritu gak lah, dah beli baru perasan oh my merata2 ada jual. So ini pun sama gak ler, udah ler aku rasa masa beli bayau mahal a bit, some more aku amik 2 colours lak tuh. Hish…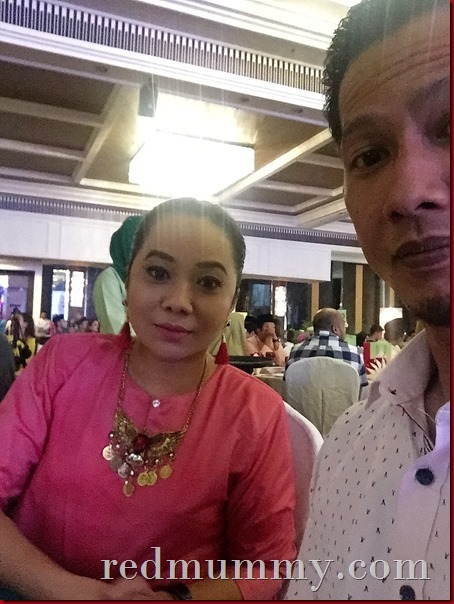 I sarung dari awal pagi terus pi kerja, biasanya aku akan menyalin dalam kereta but dah nak mood mood raya nih and biarlah ramai orang tengok yang aku dah pakai dulu kain baju dokoh nih hahahaha, walaupun orang nak pakai masa raya, so aku dah pakai awal2 dulu. After work I terus pi event, unlike last year, cantik je aku awal sampai tapi taun nih aku sesat. Bila heavy traffic, aku baca waze pun lintang pukang dah salah masuk simpang. Husband sampai dulu than me. Haiyahhhh…Kitorangkan split asing2 locationnya, kebetulan dia ada conference that week so dapat ler join sekaki aku masa nih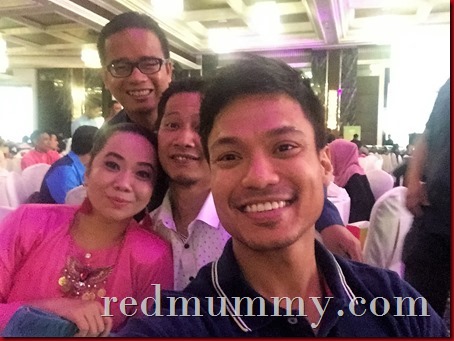 The same cronies for Astro buka puasa, wajibul untuk yearly event. Sesatunya event yang insyallah i never miss kot, lelain mungkin akak pass batton but this one wajib. Tapi sayang kepayang as years goes by, ai dah tak rajin nak snap gambar2 artists and specially with the handbags yet itulah trademark. Let the job goes to Beautifulnara 🙂
This is Beautifulnara and Redmummy's teams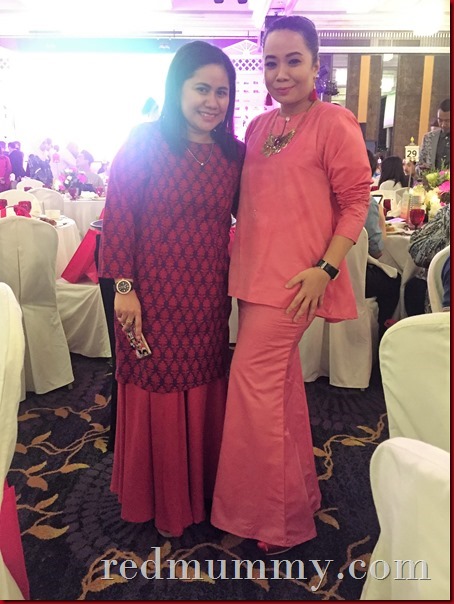 Pun gambar yang ada full outift untuk hari tu selain yang di rumahlah…with the journalist from Metro, Syanty Octavia. Unik giler nama ko dik oi….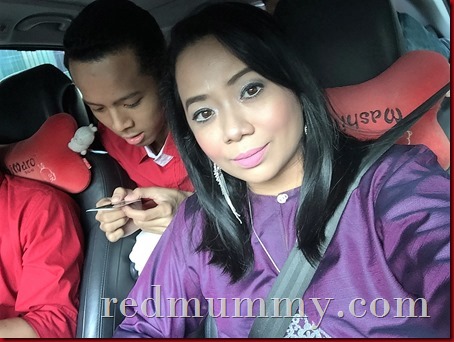 The  next day nya ada lagi buka puasa di luar, kali ni boleh bawak the Red Family.
I rushed back home nak amik kids, patut RD datang terus ke Convec but he dapat habis conference awal and kita bertogether2 ler satu keter je lagi senang.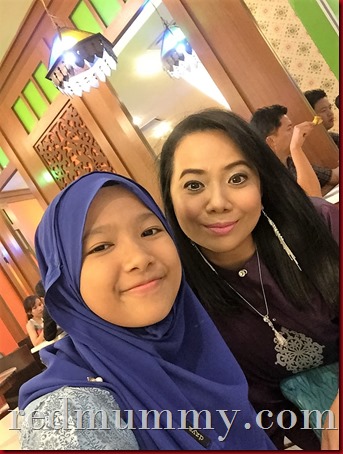 We parked at KLCC but we jalan ke KL Convec, so banyak pitstops ler coz aku menyinggah habib ler (again) singgah memacam tempat gak lah..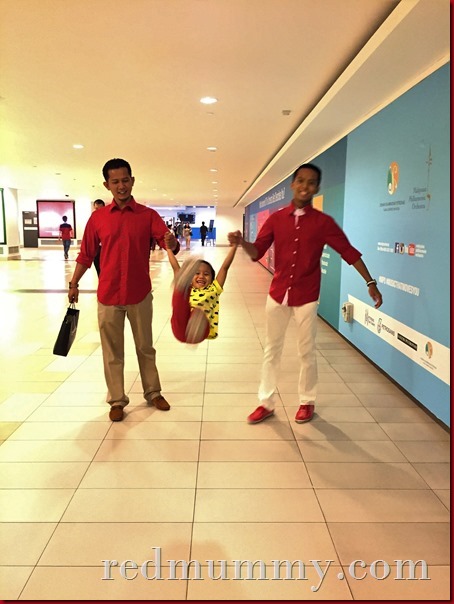 The red boys…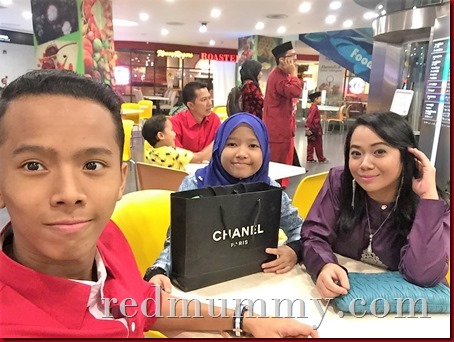 Sebab banyak persinggahan, banyak le jugak gambarnya gak hahahaa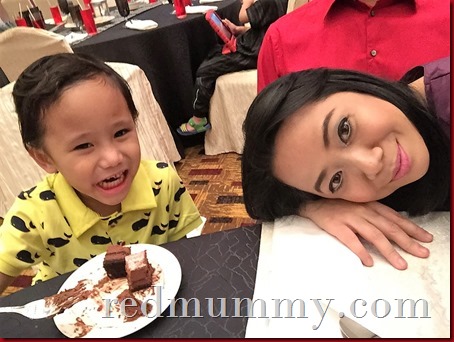 hantu choc cake betullah budak ni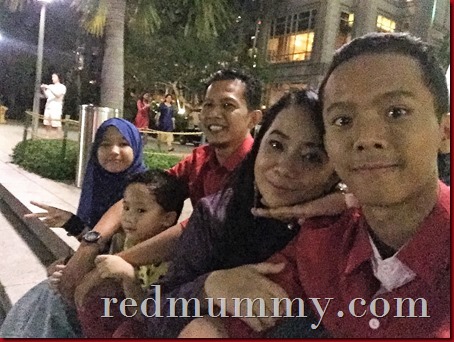 habis buka puasa kita jalan kaki dok kejap kat depan park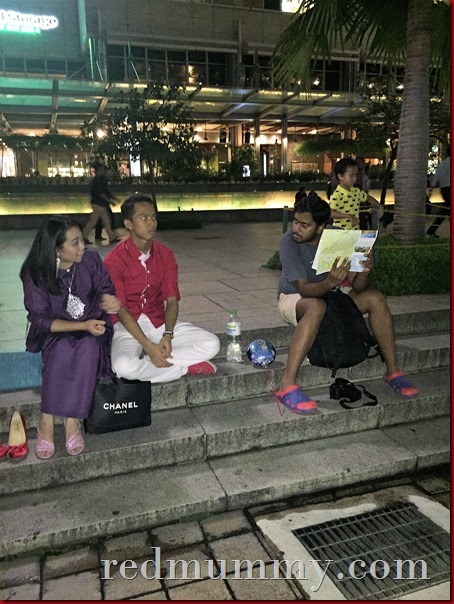 tetiba tourist sebelah tu tanya abang camne nak gi Pudu Raya, menggelupur le anak aku nak menjawab, mana le dia tau Pudu Raya tu mana apa bagai. Mamat tu nak pi Genting esoknya so esoknya la gak dia nak ke Pudu Raya. Den ajar ler sesikit on how to get to Pudu Raya from KL nun..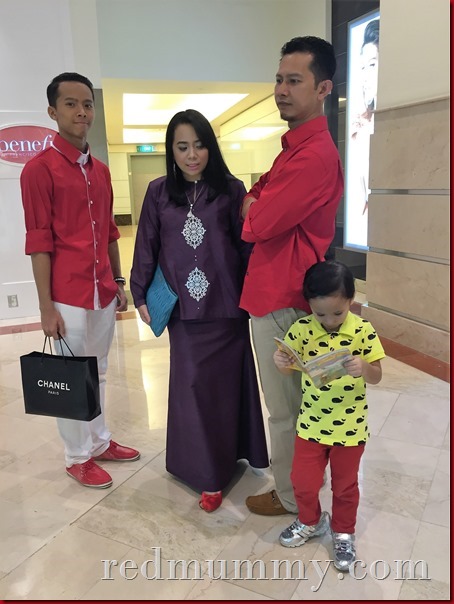 Kok ada yang ingatkan akak merah beli bag baru coz ada paperbag Chanel tu tak de ler dik oi, dalam tu ada our telekung, banyak paperbags dalam keter tuh so kakak tak nak bawak bag besau yang biasanya kita usung dalam bulan puasa ni for berbuka bagai, so pakai le paperbag tuh.
So ini kain purple yang berdokoh yang akak tak cabut, sama sebijik dengan yang pink atas tu gak, cuma yang pink tu asalnya ada 2 dokoh gak tu yang akak cabut. Hok nih aku saja tak nak cabut. So dedua dah pakai sebelum raya, and dah boleh let go hahahaha. Tak tau ler bila masanya nak pakai lagik. Biasanya bebaju macam ni aku pakai sekali je kot.
Kakak punya dress jubah taun lepas pun semua aku dah let go since dia dah makin tinggi, itupun sama max dia pakai pun 2 kali je dalam setahun, so sangat molek cantik pekerti lagi. It will end up to my nieces gak nanti, barang baik lagi kan.
There, the stories of my kurung suraya, namanya kurung 2 dokoh nih.
Nanti aku pakai Minaz pulak, itu lagi ler kawan aku pi tolong belikan, siap tak tidur lagi tu beratur pagi buta depan butik depa, wohai…..nasib baik le dapat. Kalau aku nak pergi beratur bagai tu memang hidok le dik oi, akak tak koser….Berebut2 betul orang nak pakai Minaz….ai dapat 2 helai, one is online one lagi pulak tu yang kawan akak tolong belikan.
Comment:
1