Nov 1 2018 Thursday, 12:00 pm
So many things happened on Oct 2018.
The good news the bad news the hem hem news haish…
Today, is about Zeeshan.
Kol 5pm anak bongsu ko tepon, mami, kakak nurse bagi surat, she said mata shan rabun.
oh my. ko pun balik la keje cam biasa, sambil masak ni ko baca surat ijau ko from the Jabatan Kesihatan! Depa datang sekolah Zeeshan and did the injections, rupanya depa checked also his eyes problem.
Kau….mak pun terus abiskan masak, pas Maghrib terus bawak Shan pi optician near by my house.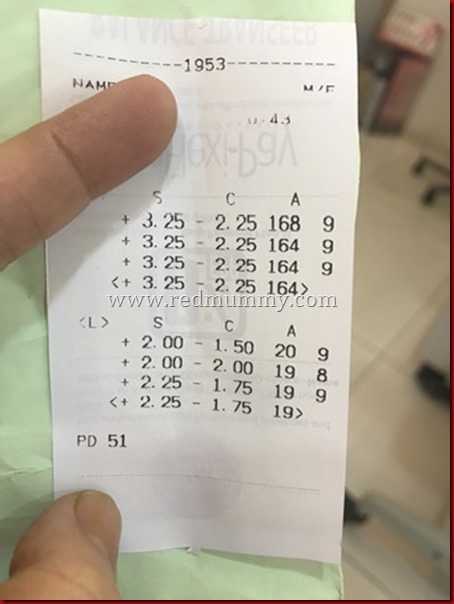 roughly, ni yang optician detect from the computer checked. takper, takper…kita buat manual check gak. pun begitu, still banyak tinggi gak lah power dia hoih! melopong mak aih!
basic question, Zeeshan tak kabau ke dia tak nampak Kak Red?
well, ada pernah, but i tot it s an excuse tak salin hworks anything yg written on the whiteboard (haih, mak ooo mak tolonglah dengar cakap si anak tuh). Lagi satu, being bebudak kan suka amik barang / pegang  my stuff kan.  So one of the stuff dia suka usik tu was my specs (yang bersepah ada kat rumah tu lah).
Rerupanya anak aku rabun yooo….
teruslah buat spec, but tak leh siap hari tu gak coz dah malam pun kan.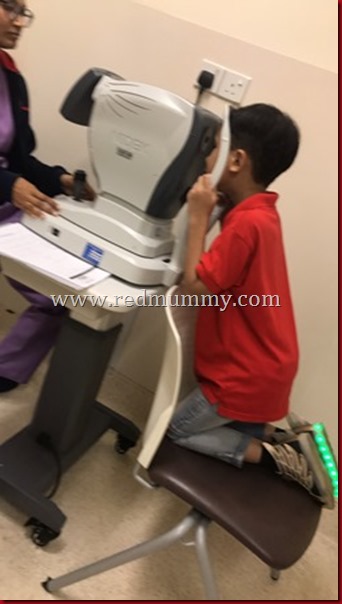 Tomorrownya, aku terus called eyes specialist, alhamdulillah dapat la slot noon tu jugak. So nasib baik my Boss sangat understanding, dapat je izin, aku terus rushed amik Zeeshan (i remembered masa ni hujan lebatnya Ya Allah, lencun kaki suor baju aku gak masa nak redah amik dia dalam school). Then took 7 min patah balik rumah jap tukarkan Shan to baju biasa bla bla bla coz dah kehujanan kan…
rushed lelaju (siap langgar banjir lagi) to hospital with Shan.
ngam2 on time, so startlah, buat checking mata luh pakai computer, pastuh check lagi manually. pastuh tunggu jap, masuk pulak ubat mata bagi blurry. then kena took break for lunch just quick 15 – 20min.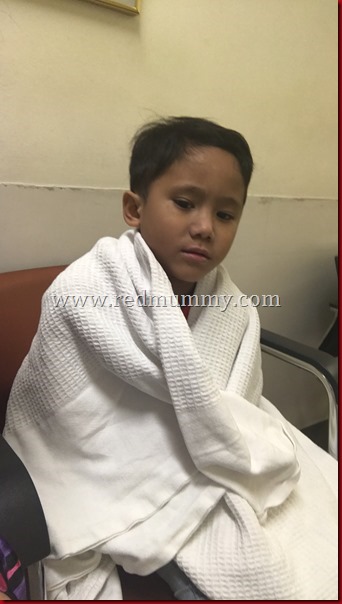 sejuk! mak lupa bawak cardiganlah, jacket pun lupalah, ater…..dah rushing sana sini kan.  Bapak eh mana Kak Red?
eh ko soalan!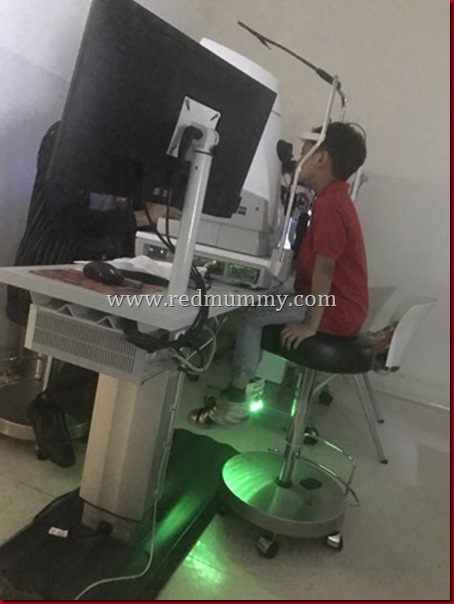 Last one before jumpa doctor.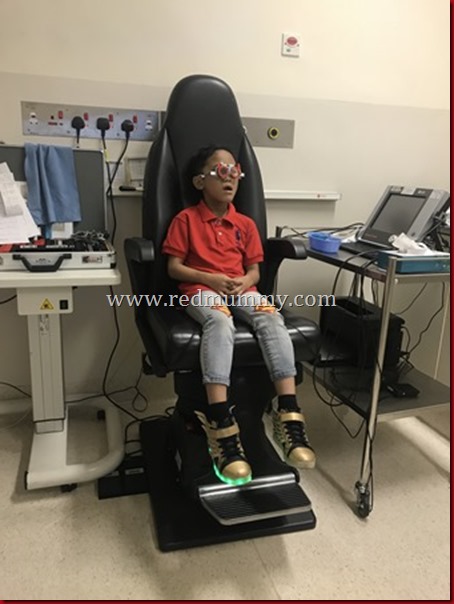 btw masa kat sini aku sempat called my optician to hold dulu Zeeshan's spek (kan semalamnya pi buat) coz aku nak dptkan final confirmation on his power first.
After meeting Doctor, it s confirmed that memang anak aku rabun sangat.  He needs to come back to the hospital for his monthly check up (looks like power dia akan increase gak lah doctor cakap) but kita tengoklah nanti next check up. Also after 3,4 times check up baru decide on the other frames/glasses to control the power (myopia).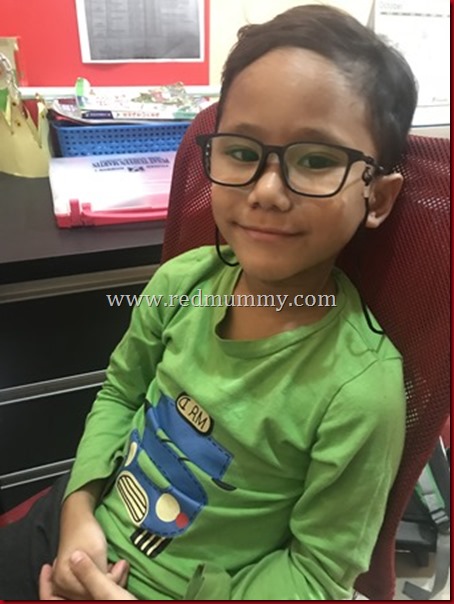 Beginilah ye Professor Zeeshan. Kadang2 kena panggil dia Prof jer, mesti dia menyahut.  Kenapa rabun? puncanya? takde punca pun, he s not a gadget person. coz dia dapat ipad pun once a week hari Sabtu after his taekwando kumon classes. Itu jer lah. Doctor pun tak cakap puncanya from there, but ini more to – dah ketentuan mata dia rabun, dah nak rabun gitu, kata doctor ye.  Same cam mak dia lah. But i rabun sejak masa ai was in ITM not lah dari kecik.
Seronok betul Zeeshan dapat pakai spek, u know why? coz baru dia nampak DUNIA! hiksss…kesian kan. rerupanya bila tengok wayang ke bagai tuh, dia bukan nampak benau. Bila dia tengok tv sambil makan dari kitchen table tu kan, aku tanya lah, apa yang Shan nampak kat tv tu, oh Shan nampak little bit jer. Ater napa ko tak kabauuuuuuuuuuuuuuuuuuu mak ekau Shan oi!!
Spek ni ngan glasses frames RM180. Bapak dia bayaukan, dah tuh kulu kilir aku ngan anak, ko leh melepak je buat tak tau, hah bayaulah!
Zeeshan's power for Oct 2018 at the age of 6 years 10 months:
Right side +3.25/-2.00
Left side +2.75/-1.50
Mak engkau pun tak seteruk camni Shan oi, but my rabun jauh dah kurang skang nih (i dont wear c/lenses on daily basis anymore, specs pun malas nak pakai coz tak nak rely on them dah, so bila kat luar, aku mmg tak senyum kat ko coz aku tak nampak, driving pun ai tak pakai except masa hujan). But ai pun ada rabun dekat gak, lagi ler aku tak nak pakai, ai do have multifocal lenses gak, pun tak kuasaaaaaaaaaaaaaaaa nak pakai. as needed jer.
Napa frame Shan not in red? eh mak dah amik merah dah, but optician said, jangan kak red oi, sekolah tak leh pakai merah.
oh yeah? takper, nanti mak buat merah gak for back up bila dah confirmed the powers lagi seround for the next months.
Yes ai know power dia akan berubah but ai cannot lah pakai satuuuuuuuuuu tu jer kan. kena lah stylo sket. Frankly speaking, i have more than 10 specs (yang memang wajib pakai everywhere).
1. 1 in my office
2. 1 in my doraemon bag
3. 2 in my car
4. 1 in his car
5. 1 kat depan pintu rumah
6. 1 kat sofa bawah my 'bed'
7. 1 depan tv bawah
8. 1 at kitchen's table
9. 1 in my bedroom, next to my bed (kengkadang nak tengok tv gak)
10. 5 kat everywhere lagik, celah bedah, drawers.
Gitu….
Comment:
6