Sep 18 2017 Monday, 8:00 am
On the day of kakak's birthday arituh, noonnya kita 'tersinggah' kedak basikal kat BSP. Kat area umah aku ada 2 je kedai basikalpun. Impromptu plan je tengok kedai nih. Asalnya nak tengokkan basikal abang. Cant remember lah aku ada mention idok but abang hilang basikalnya kat tasik permaisuri, dia tak lock kau! hah so for 1-2 months dia berjalan merata pi tuition ngan beskal his sister.
So since his birthday pun is coming gak next month, dia dah bagi list, 3 wishes to pick one. semua makpaknya tak approve hahahaha….semuanya min price at RM4-5k at least. But aku tak nak lah upsetkan dia…ada jalannya.
But first back to this shop, takde yang berkenan kat mata abang, but ada pulak yang adiknya berkenan.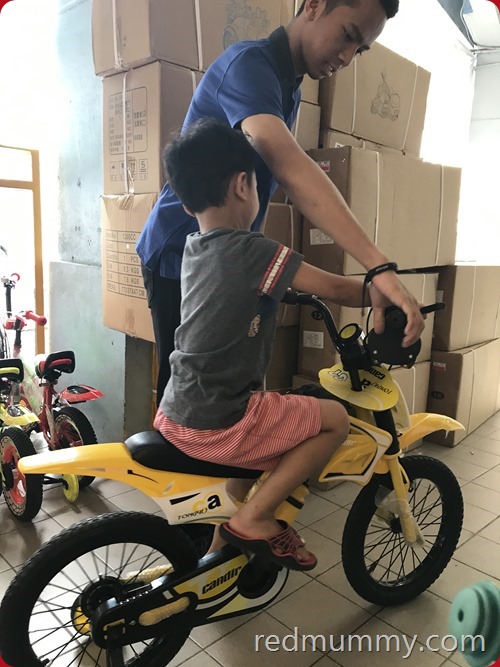 This yellow bicycle ada vroom vroommmmmmmmmmmmmmmmmmmm ye  kat right handle tuh. Bunyik sebijik cam motor but it s a bicycle!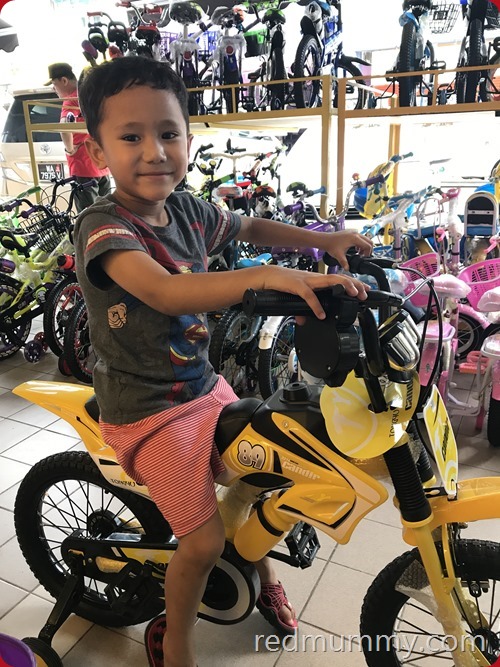 ok bungkus satu!
They dont have in red colour (soalan biasa orang akan tanya, why tak buy in red).
Deal is, dengan adanya basikal baru ni, dia berjanji untuk tidur sendiri in his own room/own bed. yabadabeduuuuuuuuuuuuu!! So ini bukanlah birthday present dia, but more to motivation untuk dia tidur kat bilik sendiri. Kakaknya dulu, hari adiknya kuor dari perut aku, balik dari hospital baru dia dapat berasingan tidur dari makpaknya yek.
But akhirnya, king size bed makpaknya, luasssssssssssssssss….ko bayangkan ler, bukan Zeeshan je tidur ngan aku, LV pun sama. Chanel ujung2 kaki aku jer dia tidur but pastuh bila kaki laki aku melasak, dia terpaksa turun gak, so skang selesa piau. Yang jadi mangsanya aku lah, bukan depa 2 tuh. Laki nak peluk, baby boy ni pun nak peluk mak, last2 aku yang jadi sandwich tetengah tiap kali tidur. But alhamdulillah dah over 2 weeks gak dia tidur sendiri. Mission accomplished!
This yellow bicycle nih ramai kat IGs aku suka giler, coz of the vroom part, harganya is RM240.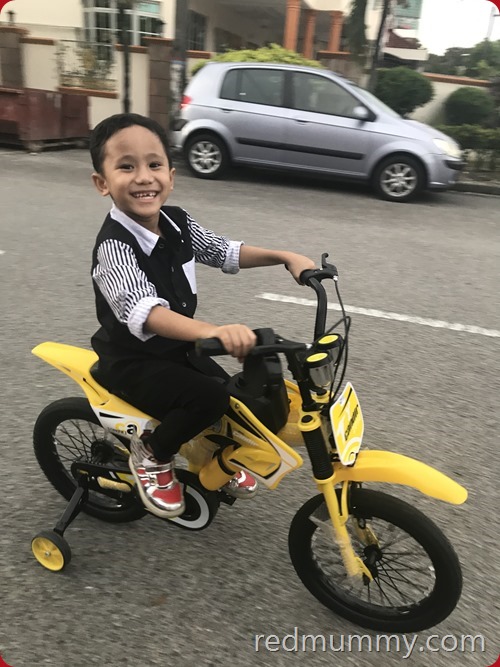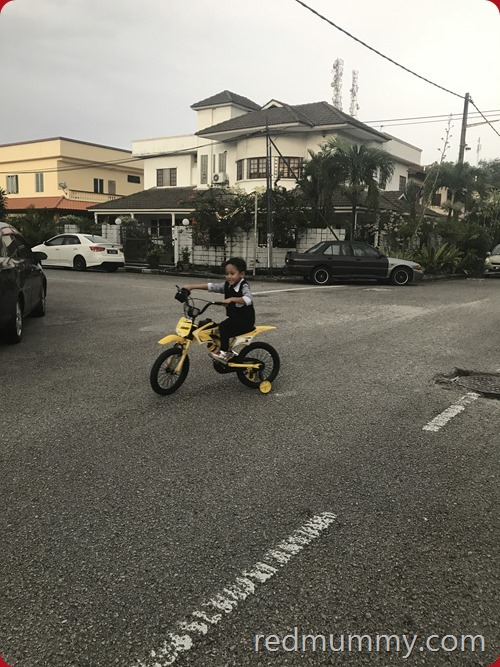 2 wheels belakang tu lambat laun akan dibukak cabut gak by apaknya. Skang dia lom lagik pun 6 years so biar dulu lah. Basikal lamanya dah bapaknya cabut 2 wheels tuh but lambat nak belajar coz time factor. Weekend je ada masa nak ngajar dia kan…so takpelah dulu, lagi setaun lah dik kita belajar bawak basikal tak yah pakai 2 wheels tu yek. Kira ok ler tu..dari mak kau, geti bawak basikal (wpun basikal tua yang kat kekampung pakai tuh) but malangnya tak geti konar.
Benar loh, aku boleh kayuh jer, wpun aku rendah and basikal tua tu tinggi, aku akan bawak kat on side palang tu, ada la caranya untuk orang rendah ni kan, cuma bila break, aku sokmo terjojol ke depan dan bila konar, aku failed liau. Konar part nih memang kat semua basikal lah aku fail, sebab tu lah aku tak boleh bawak basikal. Motor? lagi lah lupakan, dah sekali laki aku ajar, sampai skang aku tak nak dah.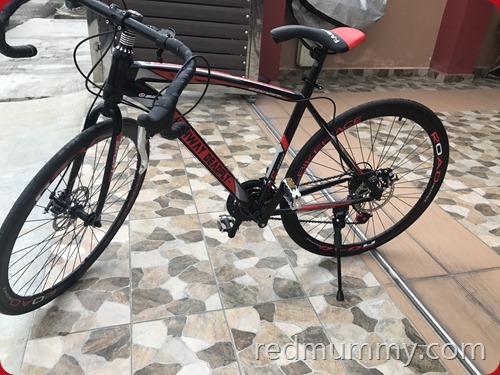 For abang, dapat dah dia early birthday present. The road bike yang dia nakkan sangat tuh. Harganya tak de le beribu riban, maknya kan queen of shopping online/offline, so aku dapat lah mengorek site yang jual dengan harga yang reasonable. Itupun hantar ke rumah, tak siap cenggini tau, in a very big box, abang yang pasangkan. But rasanya macam dia ada silap pasang hapa tah, so apaknya suh dia antau kedai basikal kat BTR, dengan upah RM30 orang kedai charge dia betulkan balik apa yang dia silap lah. N dengan itu happylah dedua my boys.
Over the weekend baru ni pun, abang sendiri pi sekolah kakak to visit her, sebenarnya nak show off ngan kakak hahahahah…but kakak tak berani nak naik coz tinggi sangat and satu lagi kat school (yelah kang kenkawan gelakkan pulak buatnya dia jatuh, pastuh ada pulak bebudak lelaki yang nampak, haih lagi lah malu, mana tau ada crush kot kan hiksss)….balik rumah nanti kakak nak melenjan beskal abangnya.
The end lah citer basikal…
Dan dan dan…maknya pun dapat gak adiah lain, sendiri beli hiks.
To be continued…
Comment:
6