Sep 11 2017 Monday, 7:00 am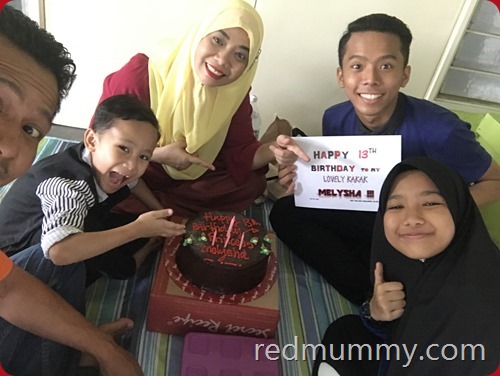 9 September.
Our daughter's birthday. The only daughter pun yang kita ada.
Because it falls on Saturday, weekend yang dia tak boleh balik rumah or even outing. so kami berkhelah kat sekolahnya. As a simple girl, dia tak nak kek mengarut2, her fav is the Indulgence of Sec Recipe, so top up ngan bihun. Kita makan 5 beranak sikit jer, lebihnya semua bawak naik ke dorm. Makan ngan kenkawan pulak doh…
The laminated card tu was made by Abang.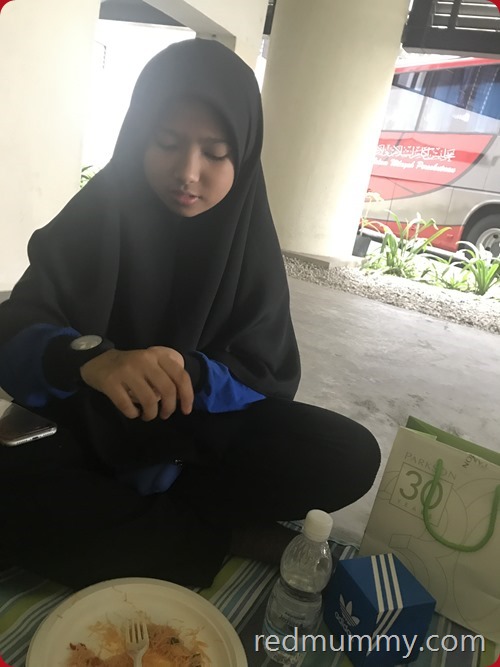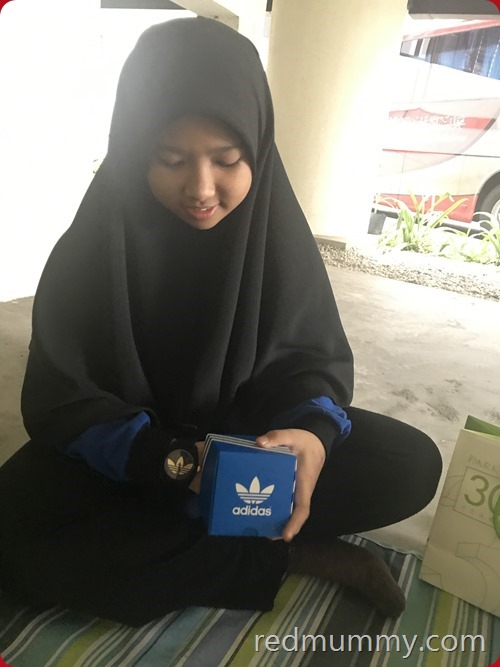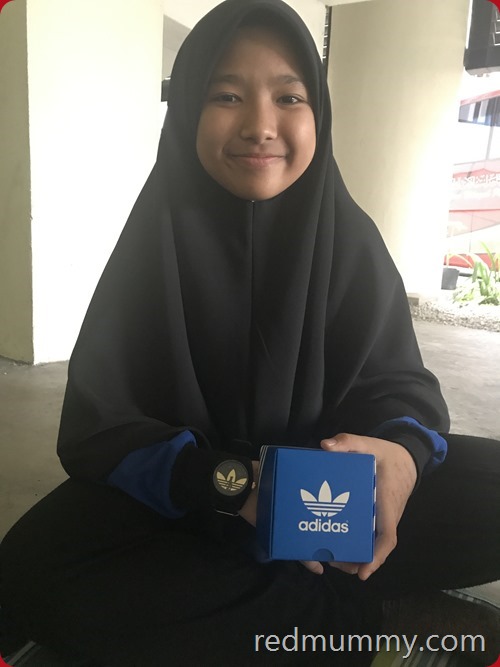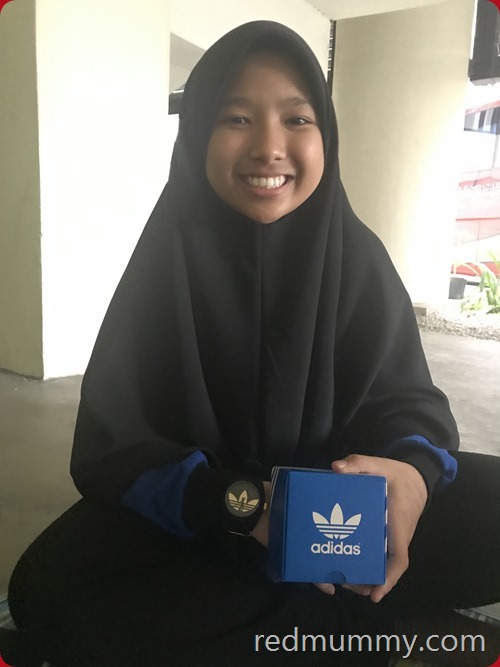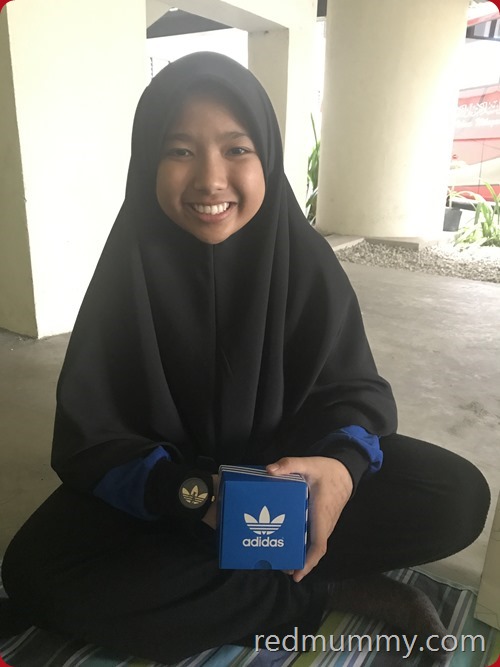 That s her birthday present. Masa lepak kat spital waktu adiknya admitted tuh, dia cakap nak satu benda ni jer (she s not like abang siap berlist2 bagai). Dia nakkan jam Adidas but specifically in black and gold inside (as seen there).
There s one weekend (masa cuti sekolah), dia ikut aku pi training netball kat KLCC. so abis training tu, kita pusing jap KLCC, aku pi beli tight aku dalam Adidas, dia dok melepak le kat kedai tu sambil aku menerai, masa tu la dia nampak jam tuh and dia sudah  jatuh hati. She s very jenis simple kan, so jam tangan yg dia pakai sebelum ni pun makan bertahun2 tau, dia tak nak tukar walaupun aku bagi memacam jam lain.
So a day after adiknya discharged, aku pusing KLCC, carik jam nih (adidas masa ni dah relocated pulak, new shop yang relocate takde pulak carry jam masuk kedai), luckily kat Parkson KLCC ada, it has 30% discounts till end of September nih.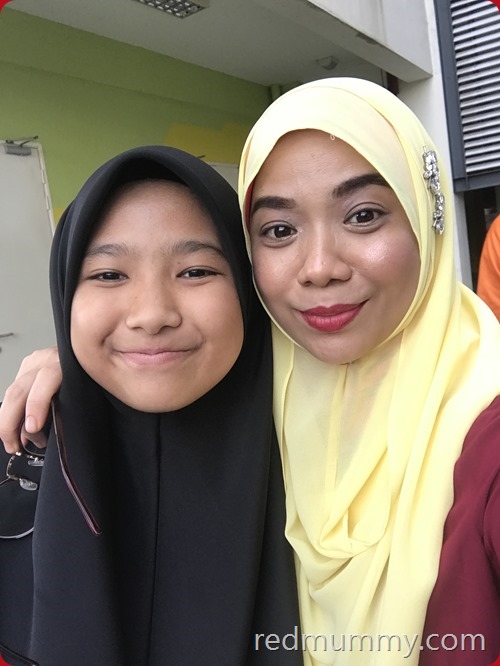 kelakaunya sebelum tu dia dah nak nangis, coz she called me tanya bila nak sampai skul, aku ckp, alah tak dpt datanglah kakak. mami dok carik jam kakak kat KL ni tak jejumpa lagik. 
sebak je bunyiknya.
padahal kita dah nak sampai pagar sekolahnya hiksss
nampak je keter apaknya,  dari sebak sedih mengembang senyum sungguh, dapat pulak jam idaman *yet aku tipu gak kata tak dpt la jam adidas, dapat asadi, muka pun dah cuak*
prank sket je pun. Yet dia kena prank ngan kenkawan sekolah dia for her birthday lagi dasyat ….(berbatasan of course).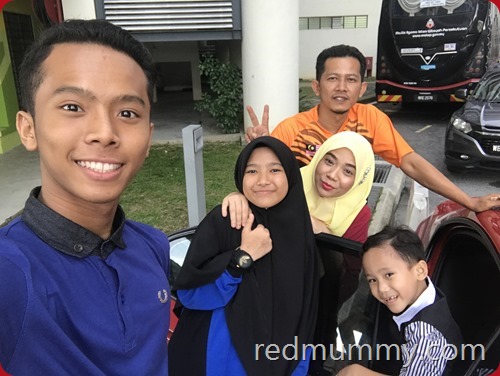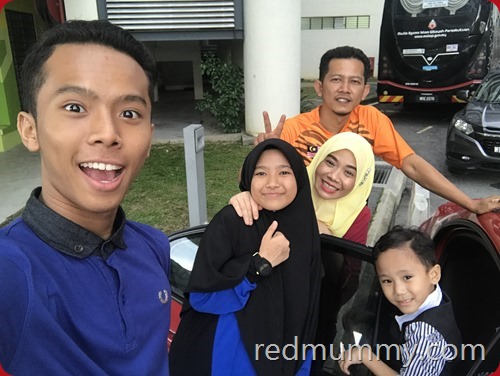 Happy birthday Kakak, semoga terus  menjadi anak yang solehah, anak yang membanggakan mak apak ko, banyak ucapan untuk kakak dapat from my IG and my FB page. Alhamdulillah.
Kalau aku letak gambar hanbag baru pun, tak pernah nak dapat that kind of like, but setiap kali post  pasal my daughter nih, gamaknya semua orang sejuk je tengok dia ni kan hahaha…
tapi pipi tu kakak ooiii…tembam pau pau.
She did thanks to all of you, but in Mandarin. Coz dia tak confident nak berucap dalam BM, English or Arabic. She's comfortable converse in Mandarin, so bolehlah dengo ucapan thanks dia to all of you kat my ig or fb page yeak. Aku pun tak paham gak but abang kakak translatedkan lah apa kakak cakap tu kat maknya.
We love you kakak, Allah jagailah anak dara kami ini, lindungilah langkahnya, tenangkan hatinya dalam pelajaran, ukhwah keluarga dan yang penting, kena belajar lagi memasakkkkkkkkkkkkkkkkkkkkkkk…cuti sekolah aritu, kantoi dah lama tak masak, makin lupaa. Ha..siap ko cuti year end, kita dok dapur ye kakak.
Comment:
12