Sep 20 2017 Wednesday, 8:00 am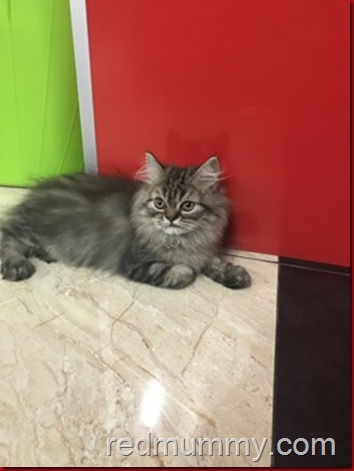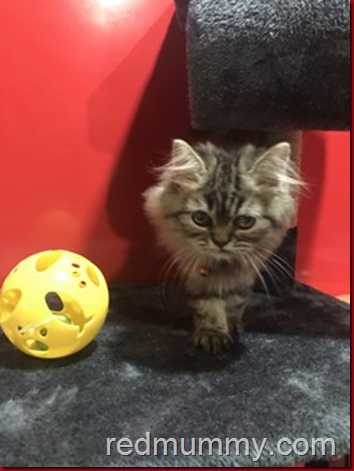 My new baby, Dior!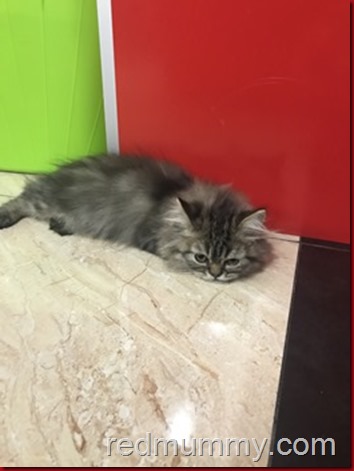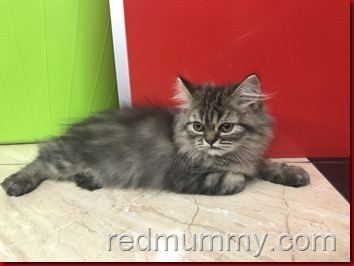 Male, 3 months old. DOB 10 June 2017.
The petshop jual at RM850 but aku dapat ngan harga RM600 coz dulu LV pun aku beli dari depa gak. Sebenarnya aku nak 2 kittens, 1 male 1 female. But lom ada rezeki lagi nak adopt yang berkenan di hati for another female. Coz kalau ada 2 ekor kecik terus senang sekali arung ajar litter bagai. So aku tunggu lagi lah. Nak gak amik BSH but harganya halahai, top up sket lagi leh dapat harga bags aku weoih…..
Tho memang aku tak berapa nak bela male but since penatlah asyik nak menghantar si Chanel tu pi matting, jadi  aku amik gak male si Dior nih. Sok dia dah matang sket, bolehlah dia jadi peneman si Chanel tuh.
LV dah spayed, Chanel belum lagi coz memang nak dia beranak seround 2 dulu tengok hasil anaknya. have i told you about LV's spayed? alahai sian betul dia….first few days tu kena pakai neck collarnya. Skang dah ok alhamdulillah sihat. Sempat aku spay sebelum dia jadi cam Chanel yang first time dia bunyik mengawan huk aloh aku rasa satu Taman umah aku leh dengar hoih. Tak tahan betul. Bisinggggggggggg!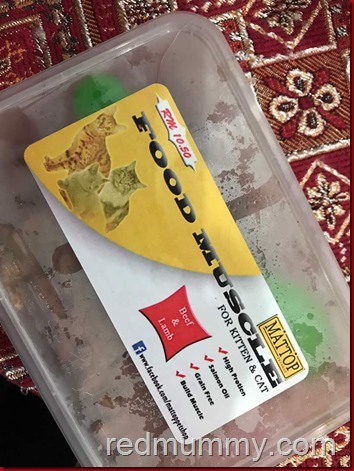 Ini wet food yang Chanel, LV and Dior makan
for dry food is blackwood but only if depa pi boarding or pi matting (specially for Chanel yang asyik nak menjantan je kan)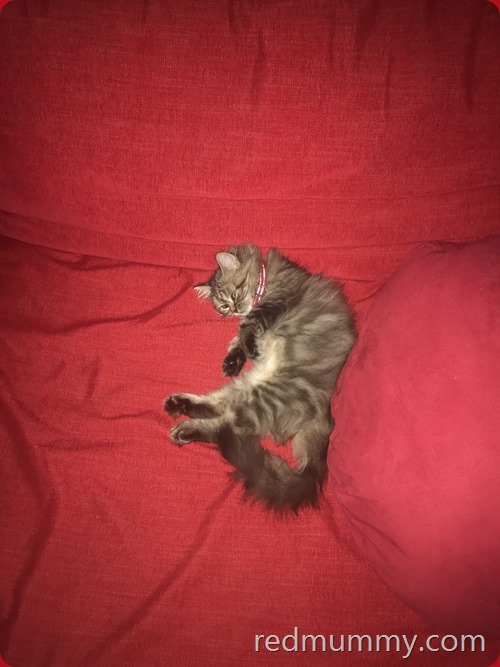 but 2,3 days after aku amik dia bawak balik, dia baru explored tingkat atas, so being kitten dia tak tau lagi rules untuk turun naik tangga. Waktu dia ikut Abang naik atas, abang nampak tetiba je dia dah terjun dari tingkat atas ke bawah! omeng….berdarah idung dia. Aku balik kerja memang rushing lah nak bawak pi vet tak dan, vet tutup awal (issue vet rumah aku tu haih, pendek sangat waktu operation dia).
So malam tu Dior melepek jer…main makan tak nak.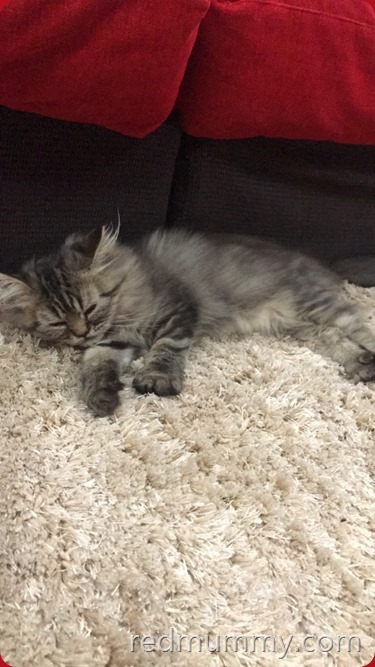 But esoknya, alhamdulillah, he got better. Dah melenjan bagai but for few days gak dia tak nak gak naik atas, trauma kot. So slowly aku ajar dia turun naik tangga.
But for first 1 week Dior datang to our Red House, dia kena ikut the rules and regulations of being cat lah. Kena in out in out from the bathroom, seminggu. Coz nak ajar dia litter train dulu. Standard macam tu gak lah dulu Chanel and LV gak…kemudian seperti dijangka, LV tak boleh terima ada Dior. Merengus marah2 jer ngan Dior. Sian budak kecik tuh. Cuma biasalah, seminggu 2 je camtuh…setiap hari ada perubahan, semakin dekat dan dekat to each other.  wpun bunyik merengus LV tu masih ada.
So aku beli cat toy yang leh depa main berdua, nak bagi ukhwah tu cepat ssikit hiks..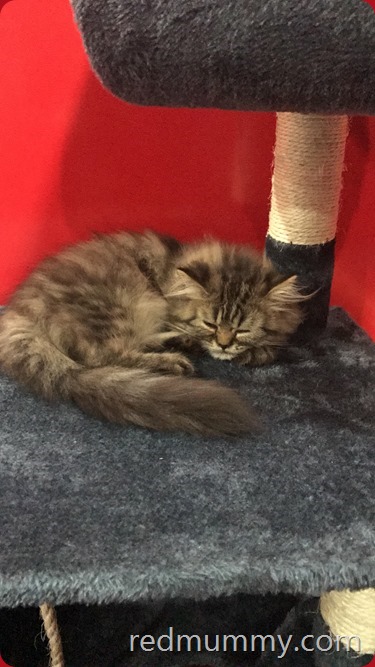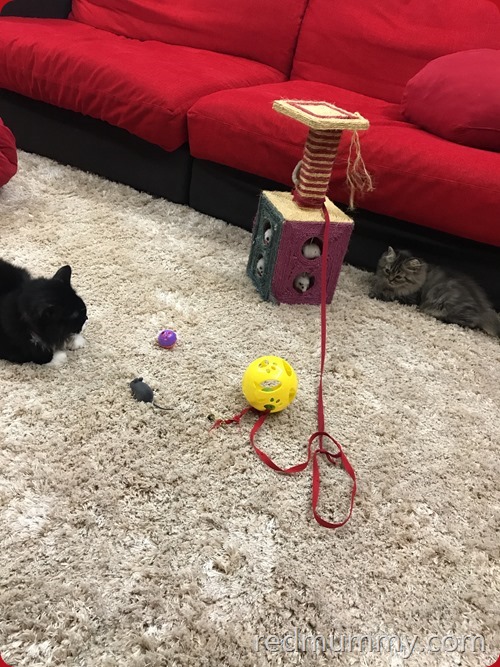 Masa Dior datang nih, Chanel takdak (masih di rumah boyfriendnya for matting), jadi bila Chanel balik nanti, akan ada lagi 1-2 weeks issue of dia merengus kat Dior (macam dulu LV datang, dia sampai panjat tingkat atas lah takutkan ngan si LV nih), skang dia akan face the same issue gak, takut and tak suka kat Dior. But at least by now LV dah bolehle dedekat sikit ngan Dior, cuma tunggu sikit je hari lagi for them to get along, pastuh jadi bff dan saling tolong menjilat bulu memasing serta bergurau senda bersama.
Antara sebab aku amik si Dior ni gak coz sian kat LV yang sesekoq kat rumah takde gang tiap kali Chanel pi matting. Lama tau dia pergi, sebulan haih. Pastu sebulan balik rumah, kang dia nak mengawan balik, sebulan lagi pi merantau kat rumah jantan. Hah cyclenya camtu lah. Aku tak tau ler dia mandul ke hapa or jantan tak dapat nak masuk ke hapa coz masih gak tak menjadi2 lagik hasilnya. So takpe dont give up ye Chanel, mami will help you hiks…
First nite dia dah tak tidur dalam bathroom tuh, kita semua kat  atas, aku tengok from cctv, sian Dior sesorang kat bawah macam takut jer. Aku turun, dia dengo aku ada kat tangga teruss meluru. But sebab dia trauma nak naik turun tangga, kol 3 pagi tu aku ajar dia lagik turun naik turun naik. At that time, LV ngah melena sebelah aku (her usual spot, even Chanel pun tak leh tidur situ, memang just next to me). Hasilnya esok pagi aku bukak mata, Dior dah ada atas badan laki aku hahahahah!! Boleh laki aku tak sedor, coz badan dia lembut sangat ke hapa bagai kahkahkah….seriously!
Love them so much, love my cats..Untuk semua kucing2 ku yang telah pergi sebelum ini, you are always in my heart. I will not stop here, being pencinta kucing, aku nak bela lagi and lagik…..
Comment:
6