Aug 8 2016 Monday, 8:00 am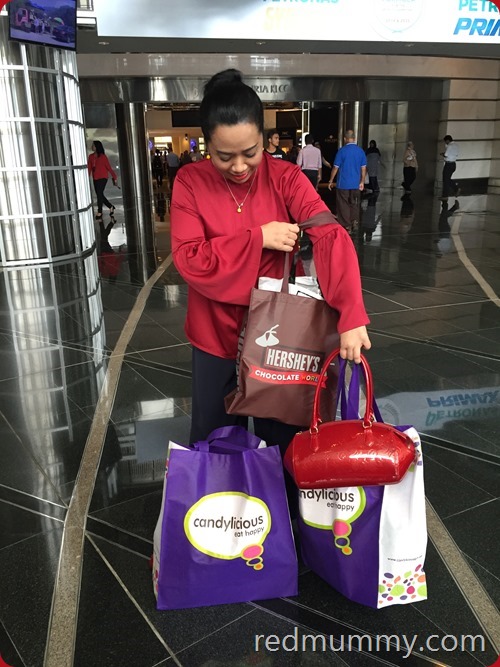 3 bags penuh on my first visit to candylicious klcc. Sejak depa bukak, tak pernahhhhhhhhhhhhhhhhh langsung aku masuk, thot jual candies je lam tuh. Pernah la Zeeshan dulu masuk but kita tarik keluar pun bukan aku gak, seriously takde nafsu betul aku ngan kedai nih. So when frens told me that they are having moving sale, 40% eh macam menarik though aku bukan nak carik choc pun.
Ok long story cut, I went in (sambil tangan penuh ngan barang lain coz I need to meet my reader one thing) sebelum tu I need to meet my Prada's buyer gak pun ye but tukar plan timing. So huruhara sikitlah.
Jadi dah dok dalam tu, like i said i tak kisah pun ngan choc maknek bagai, but sibukkan benda lain….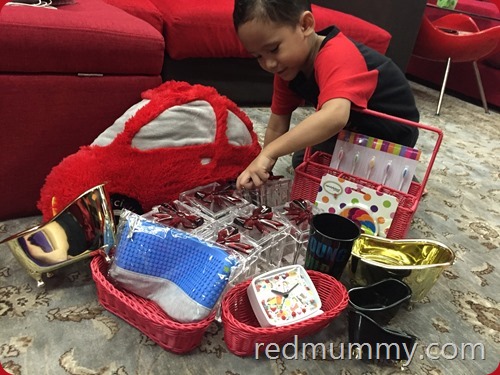 these are from the part 1 lah. Car pillow wpun rasa macam mahal gak after discounts but eh, lenjan gaklah coz Zeeshan tak pernah ada this kind of pillow. 6 units of 'candy storage or balang kuih raya', red basket, ni square one and 2 ketul pulak for make up stuff, glass for kakak, big eraser for kakak, porch aka pencil case for abang, alarm watch for abang (kakak tak nak), toothbrush sets for Zeeshan and tu lah semua. They have discounted for 40%, all items. ada satu unit lagi takdak lam nih, makeup storage gak tu akak dah placed kat opis.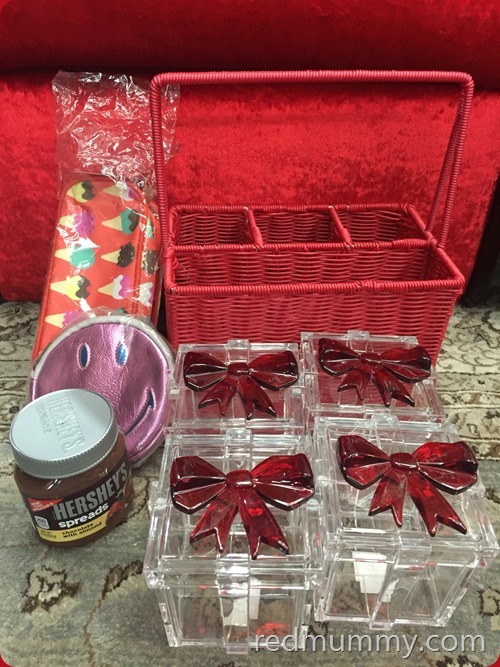 The next day pergi balik, borong these jer…tambah lagi the balang kuih raya, actually not sure nak letak buat kuih raya ke hapa, tu masalah kemudian kita pikirlah yang pentingnya kita beli je dulu, purse and duo pencil case for kakak, dan seketui Hershe's almond butter.
I tak tau sampai biler ler dia punya sale nih but as ai pergi 2 hari tu dah makin lama makin habisnya, first day je orang dah borong beratur punyalah panjangggggggggggggggggggg….
so once again ada discounts to 40% pastuh depa tutup kedai kat KLCC, donno la pindah mana or depa tutup terus bagai i have no idea. yang penting is i got what I want oredy, putus cite. U try lah pi carik2 lagik if ada, jangan beli sama candies storage tu dahlah, tu ada left blue ribbon, yg merah akak merah ko dah sebat, maybe ada 3,4 kotak lagi kot.
Comment:
0