Aug 4 2016 Thursday, 9:00 am
If tak suka citer pasal kucing, you can skip this entry. But you rugi coz kadang2 dalam entry ai banyak al selingan cite lain, so stay here and READ!!
garangnya hakuuu….
i nak bukak cite the 9 ekor kucing yang mendadak sampai to our hands on the same day, same night. Masa tu belum ada lagi Chanel. But kita dah ada Kathy alone, Aminah terpaksa dilupakan kerna dah sebulan dia tak bebalik. donno mana dia pergi, haih…
Jadinya…hari yang bermakna itu, a day before my birthday, kita nak beli barang kucing (yet kucingnya belum ada), long story cut, depan petshop tu ada Puan Sharifah ni offered kucing dalam carrier nya to us. Coz laki aku tegur, banyaknya kucing….
So kita macam berpandangan, should we take? memang kita nak kucing, but tak nak ler sebanyak ni (ada mak dan 4 anak kucing yang belum cukup sebulan lahirnya lagik). Puan tu terjumpakan 5 beranak ni kat parking, dalam kotak, at her apartment. So kesian. Tengok dari maknya, aku rasa macam pernah bertuan, ini mesti tuan tak nak bela dah kot, or pergi cecuti raya and tak nak jaga kucing. Hem..jadi oklah, kita pun amik.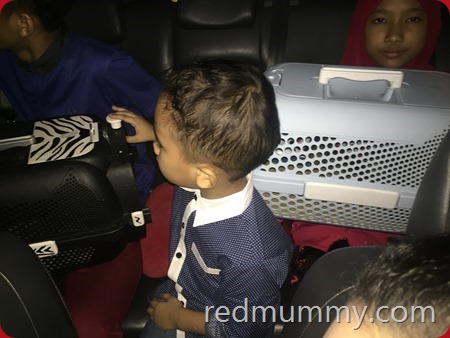 because most of cat stuff kita ada di rumah lama, 2 carriers ni Puan tu bagi pinjam untuk ngan 5 beranak kucing tu lah, esoknya laki aku pulangkan semula kat her guard house.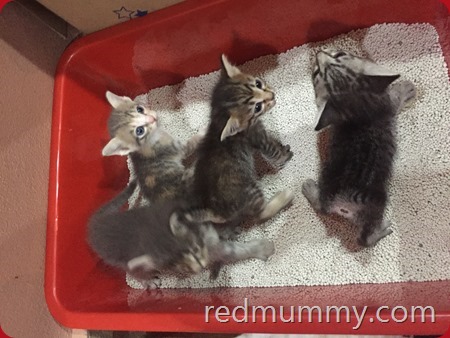 jadi kelam kabut hari tu bukak cage semula, letak lam bathroom, alangkan bilik ayo beso. Masa ni tak terer lagik, dok pakai lagi pasir putih ni yet skang ai dah terer sangatlah, pakai pine wood dah akak skang. So depa berempat ni dok dalam cage, sama ngan maknya…sebabnya depa ni masih menetek lagik.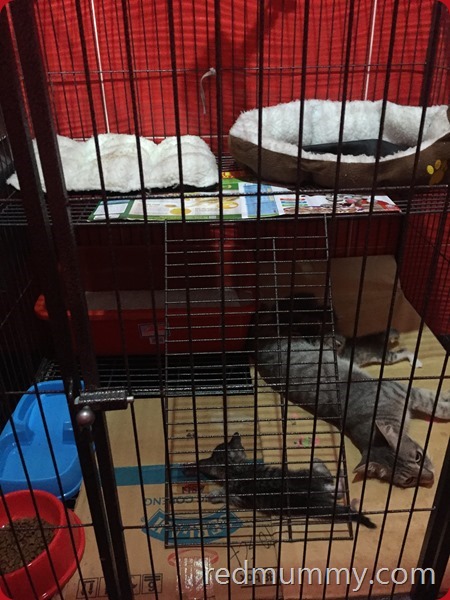 tapi duduk ni few hours jer, midnite tu jugak, laki aku balik dari amik 4 ekor kucing lagik (satu mak and 3 anak, baru 2 hari bersalin), kawan RD offered coz kucing tu beranak kat porch umahnya, and dia tak nak bela, donno la kucing sapa. Katanya bulu kembang mak nya, so aku macam tempting lah. Jadi laki aku amik. Tu dia dalam few hours jer aku ada 9 ekor kucing instant (tak termasuk Kathy yek).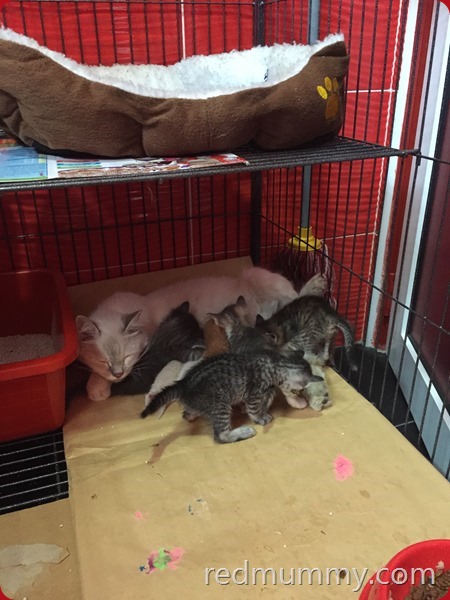 masalah mula timbul malam tu jugak coz 2 mothers of cats ni tak boleh stay in a cage. Depa bergaduh cekau. ni anak aku, bukan anak kau. Biasa lah kucing tak pergi sekolah, dia tak kira anak dia 3, anak dia 4, pada dia semua yang dalam cage tu anak2 dia. Jadi aku terpaksa pisahkan Sharifah (we named the mother of 4 kittens tu Sharifah sempena nama orang yang bagi depa kat kita heheheh).
Jadi, Sharifah kena dok luar porch, or dok kat dalam rumah, but macam dah tetau je dia akan dok diam je kat porch coz tau anaknya kat dalam. But kekejap nanti kita keluarkan pulak Mak Teh (si putih yang anak 3 tu), untuk bagi peluang Kak Pah untuk menetek anak-anaknya dan anak2 Mak Teh gak.
So these 2 mothers dok jadi ibu susuan for anak2 lain gak lah, for eg Mak Teh yang beranak 3 akan menyusukan gak anak Kak Pah yang 4 ekor tu, sama gak ngan Kak Pah to anak2 Mak Teh. hah kau bersungguh aku nak memahamkan korang.
Kalau turn Kak Pah dalam cage sama kittens ni, kena cepat letak Mak Teh kat porch kalau tidak dia akan meroyan huru hara hidup dia tak dapat anak2nya. She s very agressive sangat, cuma ngan manusia je dia bagi tengok anak2nya if pegang, dia akan huruhara gak. Sama la ga ngan Kak Pah, mundar mandir jalan depan bathroom risaukan anak2nya kat dalam tuh ngan Mak Teh.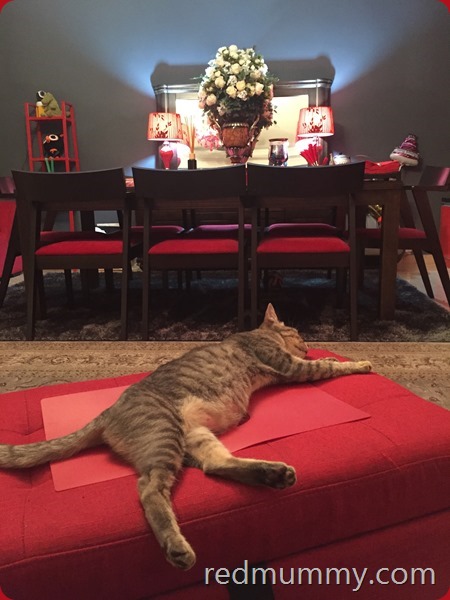 jadi for a week, Kak Pah ni jadi my fav. She sangat sangat ibu yang manja, and i love her sangat. Dia pun tau aku dah sehati sangat ngan dia…tidur pun mesti carik aku. Itu semua dalam a week lah, but kita tak pisahkan dia ngan anak2nya, depa masih meneter marrr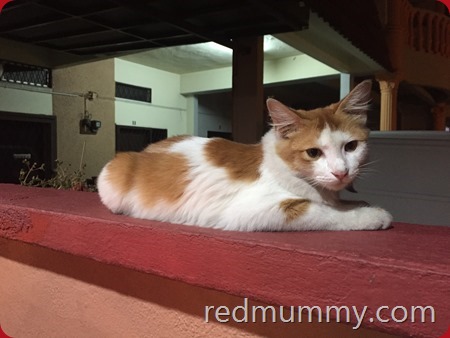 Kathy pulak macam left behind, tapi tak dia yang terasa. None of our stray cats (yang kita adopted bagi makan jaga mandi bagai) yang dok dalam red house, semuanya level2 kat porch jer. Depa yak shihi pun bukan di rumah, di luar seberang lautan jauh dari rumah. Gamaknya depa rasa dah dapat menumpang tidur, makan kat rumah ni pun dah syukur. Gitu kau kan.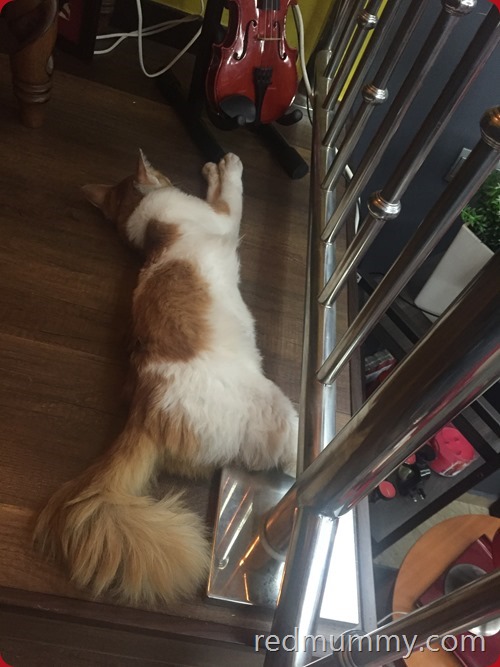 dan Kathy membesar dengan hensemnya. Bulu dia dah cantik sangat, apparently he s a male ler, bukan girl. but biak pi lah, nama ko malas nak tukar, carry je ler nama pompuan tu Kathy oiiiiii
skang dah ada Chanel, dia pun dah tak boleh masuk rumah. ada le 5min je dalam 24jam tu yang dia boleh masuk kot…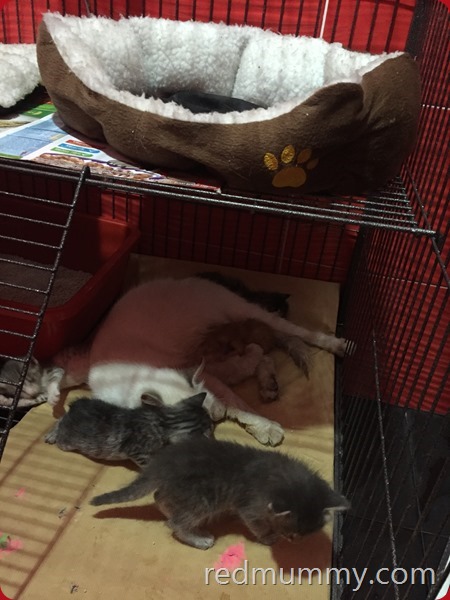 Back to Mak Teh, selepas genap seminggu akhirnya dia dah adopted by RD's fren. The whole anak beranak, 4 ekor. So aku pun bukaklah cage, dah tak perlu pakai dah. As promised, we dont intend to keep all of them, sebab depa masih menyusu jadi kita tolonglah bagi perlindungan. Now I dont have Mak Teh and 3 kittens.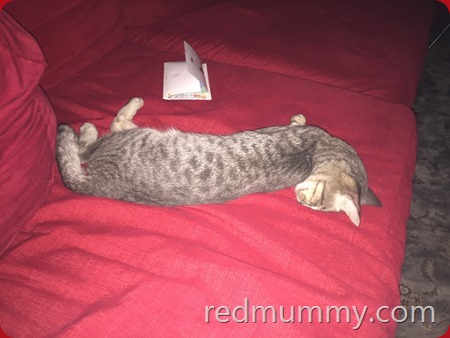 naik tergeliat aku tengok Kak Pah ni tidur…ko tengok le pala dia tuh…rasa nak betulkan jer. Ini fasa2 yang Chanel belum ada, she s like the queen of the house.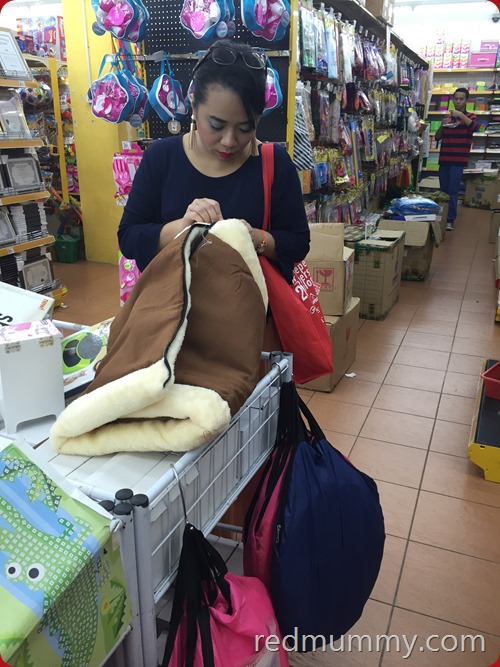 meanwhile, ai ada gak beli bembarang kucing lagik. Ini bed baru untuk kucing….once a week akak basuh. So dah ada 2 beds lah for Pah and anak2nya…depa stayed outside, kat porch.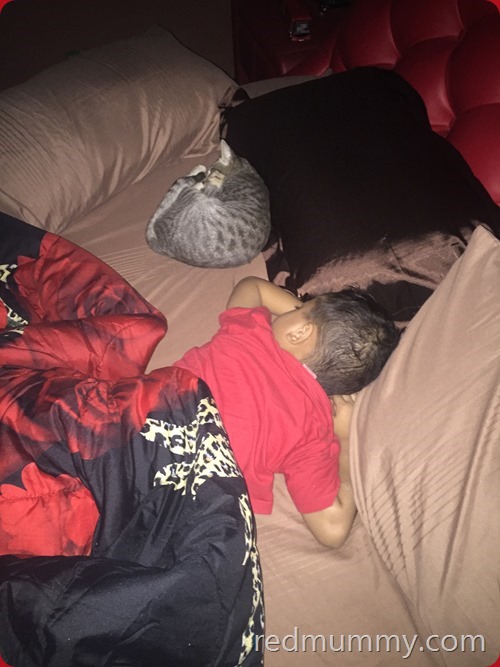 Like i said Pah kan very the manja. so bila tidur pun dia akan datang tidur but nanti dia nak membuang, dia akan mengiau la mintak  bukakkan main door.
Depa pun dah level porch gak, so anak2 Pah yang 4 ekor tu, 2 mati. Sekoq mati masa Pah mempertahankan anaknya dari Mak Teh (maybe dia terkokak kuat anaknya something like that), aku ngah sibuk masak masa tu, tengok anak dia dah nyawa2 ikan jer. Tak de kesan darah.
Esoknya sekor lagi anaknya mati, kali ni ada kesan darah, aku suspect ada kucing yang gigit. Yelah selain Kathy ada lagi stray cats lain yang suka datang rumah kami ni untuk menumpang makan sama.
but lain hari pulak laki aku kantoi tengok si Kathy dok ikut bontot anak pah and cuba nak mengkokak gigit anak orang! hah kan dah kena ketuk pala ngan RD! Ko ni Kathy….
but now dah few weeks already, both Kathy and Sharifah (Pah) also the 2 kittens dah fren fren lah. Yelah depa berempat je yang dok kat porch tuh….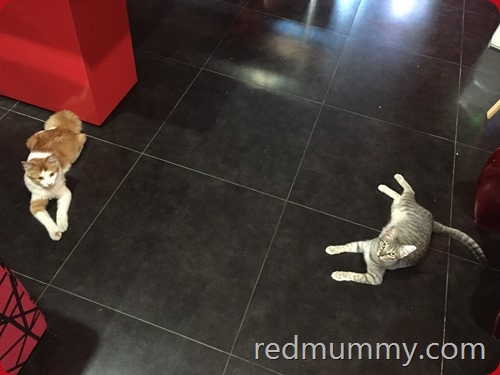 the king and queen of the house….skang semua dah turun takhta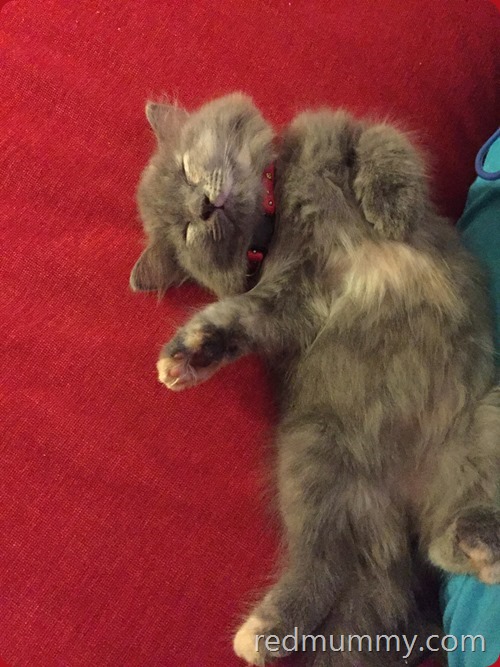 coz now the diva the queen the princess goes to Chanel. The moment Chanel datang je, aku potty train dia inside my bathroom, but after 2,3 hari terus pindah bawah coz dah takde sapa kat bawah. First week kita kenal each other, dia pun cuba nak belajar rounding satu rumah, specially on the potty training lah, itu wajib. so far, dia dah lulus.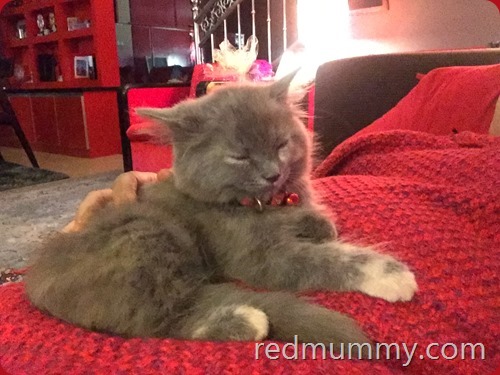 only Chanel jer yang indoor, unlike the 4 tu semua dok kat porch and she pulak tak boleh keluar dari rumah. Level dia intai kat pintu je…laki aku cakap ko tu puteri lilin, anak kandung, yang kat luar tu anak angkat..jadi ko tak boleh keluar! hahahahah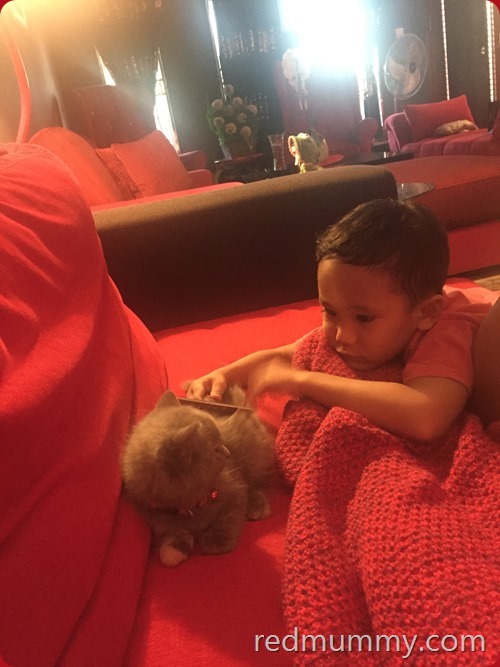 well because masa kita terima dia, she s only 2 months and we dont have her exact birthday date, we declared 18 July 2016 as her 2 months birthday lah. Senang cerita. By 18 Aug is 3 months.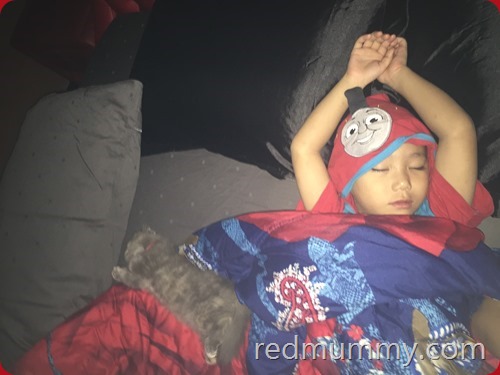 because she is supermanja, satu perangai dia yang obvious ialah she cannot be left alone. hari tu aku naik atas, dia dok bawah sorang2, menggelupur dia dok naik atas sama, if laki aku sorang2 pun kat rumah, dok dalam toilet, pun dia dok dalam toilet sama tunggu. Kalau mandi, dia dok le tunggu depan bathroom tuh.
Time tidur lagi le, betul2 nak kena berdodoi dan kena pegang2 dia, usap2 dia. Dia akan dok mengendeng sebelah ko till dia tidur.
Kakak cakap, ini dah standard anak number 4 ko ni Chanel, dah boleh Chanel binti Ami Shamril ler macam nih!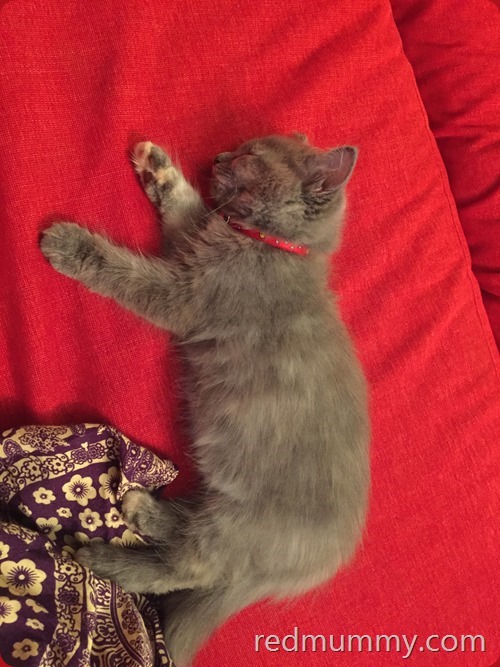 collar tu terpaksa pakai coz bila tak pakai aku tak jumpa dia kat mana. If malam2 gelap, nak suh dia masuk 'her house' agak payah mencarik ngan kaler kelabu gini, udahlah kecik lagik.
Jadi sekarang ni akak ada sekoq ni la indoor cat, my intan payung sangat. Food dia (compared ngan food 4 ekor luar, pasir pun) high standard sikit kot. Kesian Kak Pah, terus dilupakan hiks…
She makan blackwood, her pasir pulak is pine wood (please check my ig ada tutorial videos on pine wood, the BEST!!!). We should be taking her for vacci by this week, rasanya weight dia dah boleh for vacci nih and so on lah.  CHOP! TO UPDATE: SUDAH VACCI!! Dah bermandian, tu abang's job. Bersihkan pine wood, biasanya aku, lagi kemas dan lagi details, if RD or abang yang buat, agak tak berapa up to my standard, still ok cuma i said compared than me lah. Kakak and Zeeshan kerjanya main ngan depa jer lah.
For Pah's kittens yang 2 ekor tu, tak bernama lagik, pun akak tak intend nak keep it, if anyone nak, please buzz buzz akak. Depa dah boleh putus susu, eh Chanel masih lagi bersusu, i beli dari pet shop lah.
What a long storyyyyyyyyyyyyyyyyy about my 5 cats. Dari 12, jadi 11, terus 5 jer.
Comment:
8