Sep 13 2016 Tuesday, 8:00 am
Sudah selesai alhamdulillah Raya Haji kita….
I had a very simple raya, memang biasanya pun raya haji kita tak sambut meriah sangat.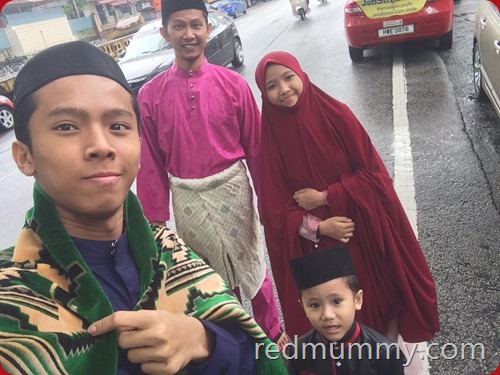 These 4 went for solat raya, kali ni bawak Zeeshan (means next year raya Syawal akan datang pun dah boleh bawak masuk Masjid gak), i didnt join cos masih lagi 'cuti'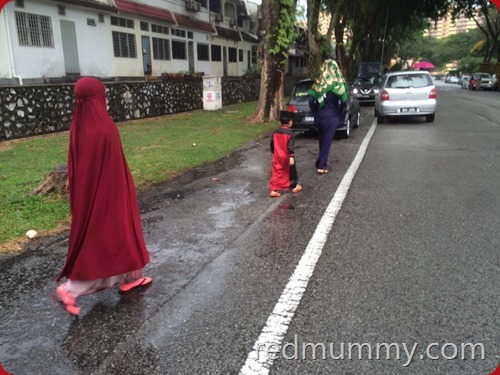 pagi tu, memang hujan rahmat…depa pergi balik jalan kaki jer, masjid depan rumah je pun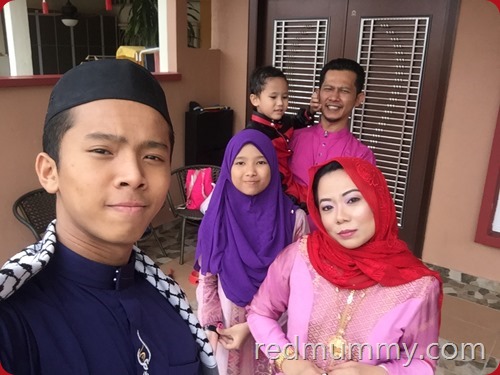 dan lam jam 10 lebih kami bergerak ke BTR yang senapas tapak jer…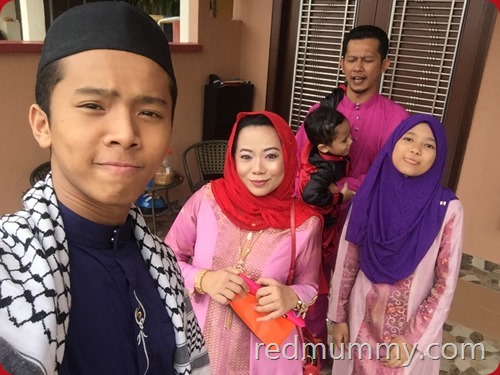 my pink jubah, kainnya asal dari Cambodia yang laki aku belikan setahun lepas baru dapat pakai wpun raya aritu dah siap (same goes to kakak's gak). Lelain depa semua repeat pakai baju melayu lama jer. In fact laki aku pergi rumah mak bukak sampin songkok sume tinggei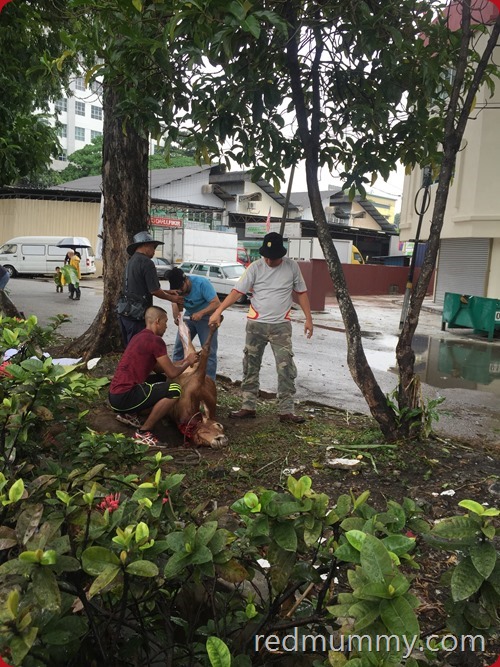 terus ke Surau, sebelum tu hantar food kat rumah mak since everyone semua dah ke surau untuk sessi qurban, the maroon shirt is my brother, Ayin. He memang master lah bebenda nih.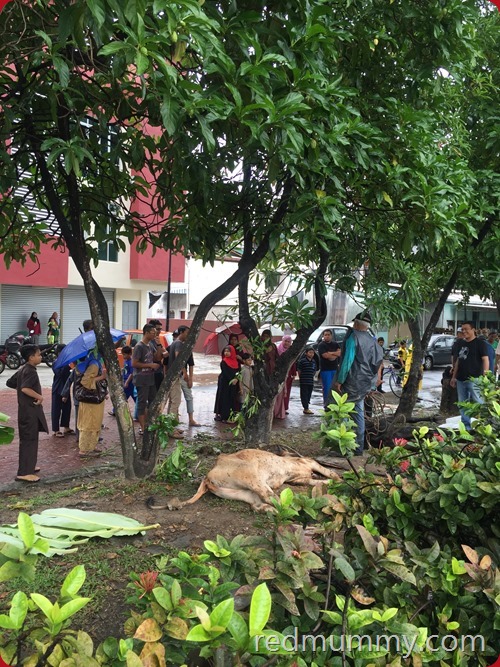 untuk qurban di Cambodia (yang akak dok canang and uruskan dari KL pula, ada 20 ekor lembu dan 17 ekor kambing yang selamat ditumbangkan, insyallah)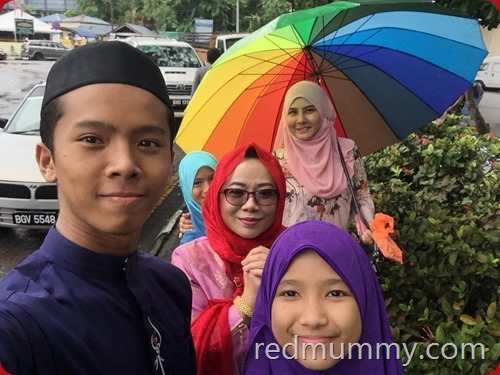 dalam renyai2….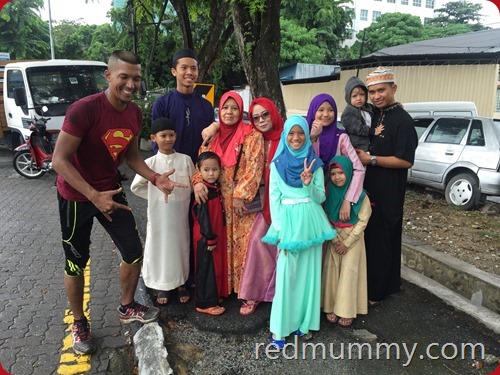 kidnap jap mak ajah yang dok kulu kilir membuzyyy
tepi jalan pun bolehlahhh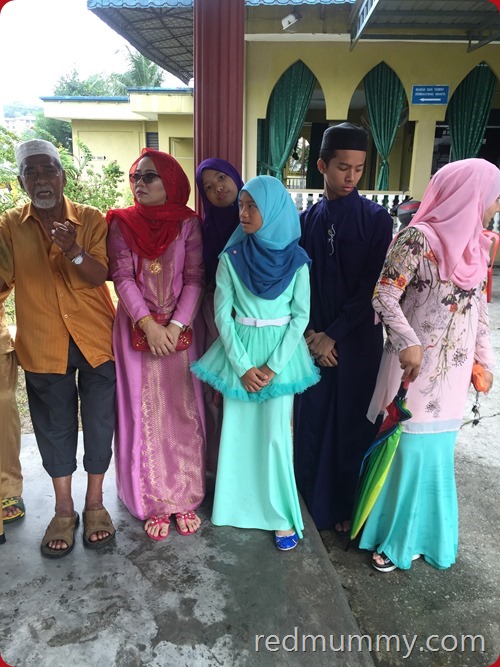 lepak surau sat, teman my abah. ada group melapah semua di sini. I sent Abang my eldest to help out a bit (ikut pakciknya gak) since my husband kerja2 gini is not his cup of tea. grrr!!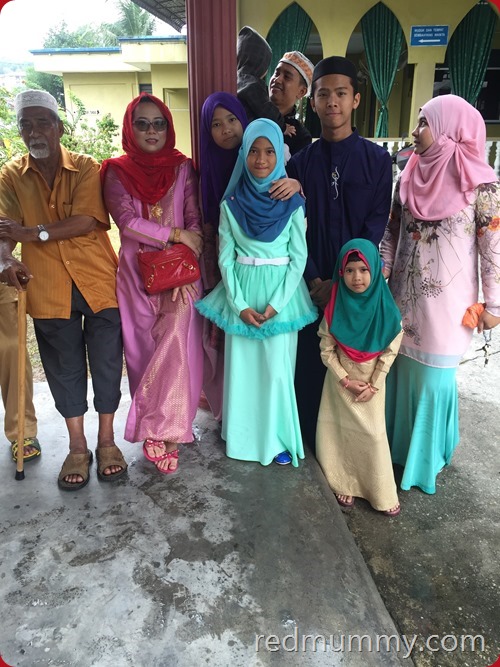 my transition spek, mengggangu kejelitaanku hahahaa…ini semua my batallion lah…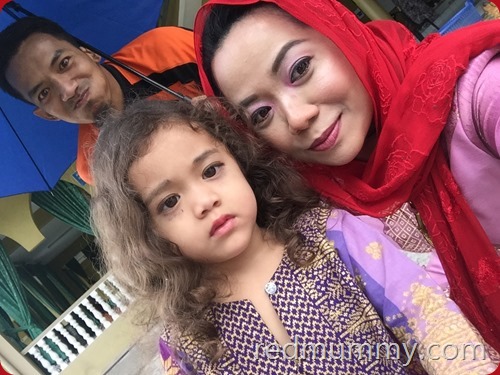 she s so beautiful, matanya macam baru pas pakai make up mascara segala, ni mesti dia tereban mak nya punya waktu maknya sibuk nagn baby. My pretty niece (bapaknya nyibuk heh)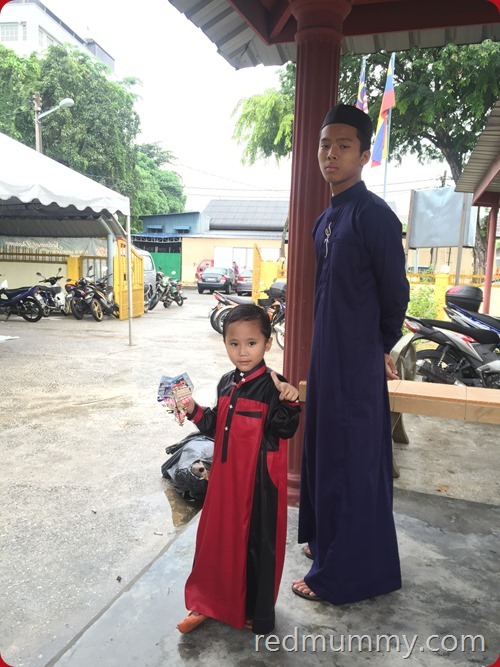 you Zeeshan, i know one day u will be so tall like your abang too…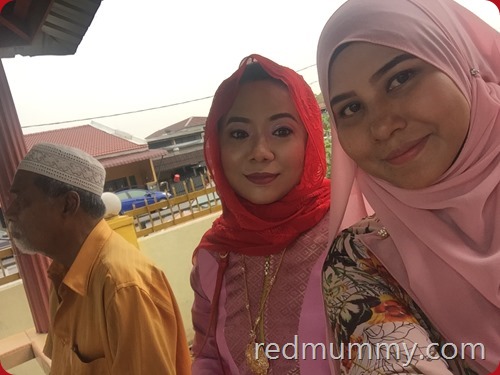 my sister in law, we both shared the same hobby, make up. So usually my make up stuff memang goes to her lah…lucky her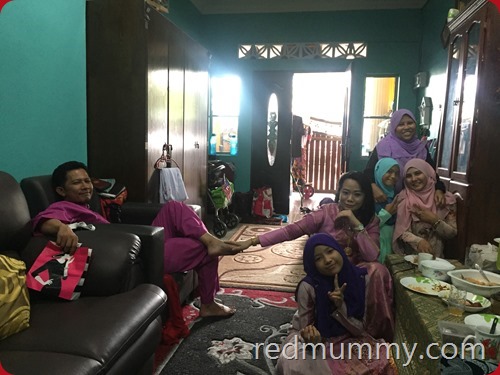 lepak rumah mak ajah and tinggalkan the kids kat sini. Balik rumah, aku ada banyak kerja menunggu. I have blogjobs yang never ending story siapnya, I have to siapkan all my make up stuff from my car to husband's car so on. Belum lagi dengan kerja rumah yang tak pernah siap…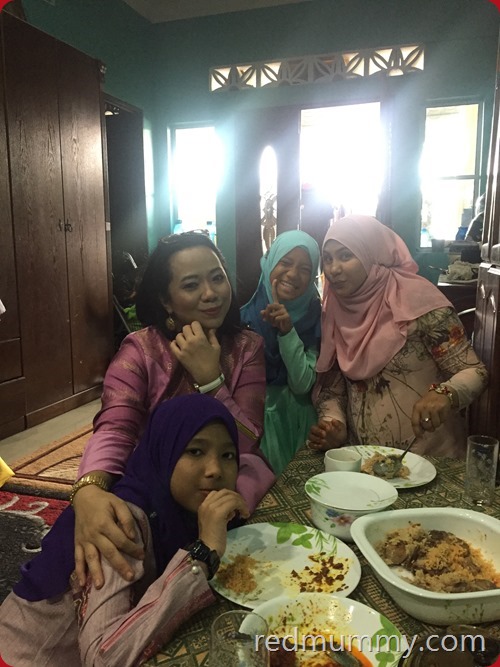 but molek gak tinggalkan anak2 kat sini, kakak abang tolong2 sikit kat rumah ni, as anak dara memang boleh dah Kakak diharapkan bantuan di sini. Abang pun sangat handal basuh pinggan bagai. It s like one day break for them too since depa masih lagi bz dengan exam yang in a month baru settled.
we are not going anywhere pun cuti sekolah ni, kakak kena pipis cili kering, rendam and blend. Pastuh bawang2 halia kunyit tu sume kena gak siang potong and blend bagai. Depa boleh buat masa cuti sekolah jer. Sekali buat boleh pakai untuk max 3 bulan, so bulan 11 nanti seround lagik. That s how I masak usually.
Petang tu gak I ada dapat daging qurban sikit, terima kasih atas sedekahnya. So ai terus rebus and buat sup.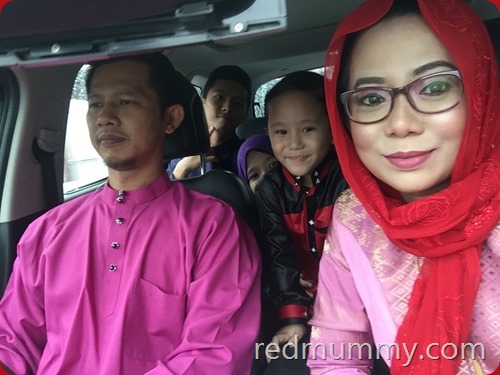 one of our last days with the black Peugeot
I silap info lah, for Cambodia, both of my parents akan pergi insyallah fly esok untuk sambungan  qurban di sana. Untuk yang telah buat qurban Cambodia through akak, i ll insyallah wa you the gambar2 qurban selepas Ustaz Hafis pulang with my parents group from Cambodia yek.
Salam AidilAdha, semoga kita berpeluang menjejakkan kaki ke bumi Mekah Al Mukarammah (turn haji aku lambat lagi ler, so kena appeal to get it soonest). Can assist me tak?
Comment:
6