Sep 15 2016 Thursday, 9:00 am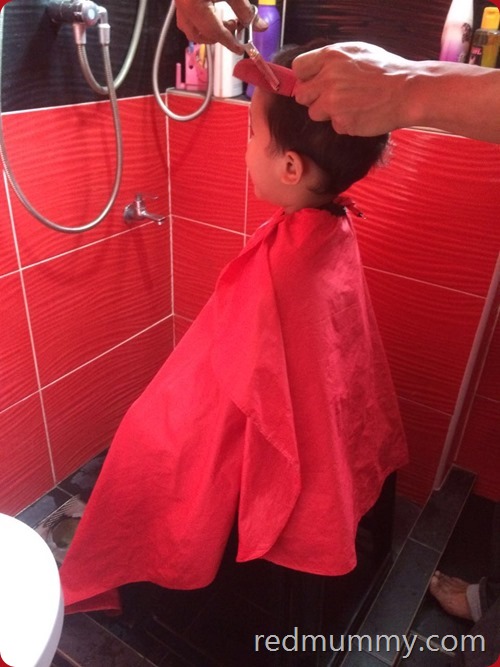 aku beli gunting rambut, suh apaknya gunting rambut kakak (since kakak dah tak boleh nak potong rambut kat saloon unless they have the muslimah saloon), jadi bila kakak naik dengan takde beza. Hish…apak ko ni kan. Rambut Zeeshan yang dia guntingnya (pun tak banyak beza).
So aku yang tak pernah ada pengalaman gunting rambut orang, menjadikan itu pengalaman pertamalah dengan menggunting rambut anak sendiri. Bercantas2….terer gak hakak potong. Pakai gunting rambut leceh, coz rupanya gunting aku tu for trimming not for cutting, so pakai gunting biasa gak, pun bolehhh….Lawo gak rambut kakak, ala2 boycut pun ada aku buat hahahah….Barulah nampak bezanya. Memang saja tunggu cuti sekolah to cut her hair pun, dah lama sangat berpanjangan and she doesnt like it as hijab lady.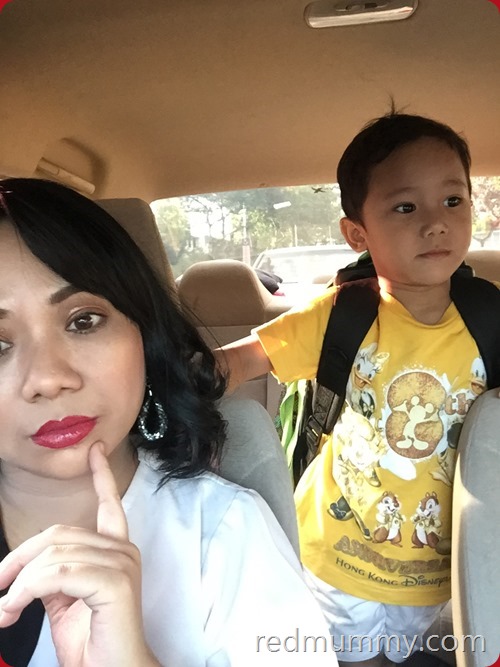 Mr Zeeshan sedang dalam process nak bercakap fasih, but of cos le the satu ayat tu agak lintang pukang lagi, but for photo dalam ni was our conversation on dia nak jadi big like all 4 of us. So aku kept saying, makan veges fish chickens a lot lah if nak big like us. Terus dia senyum…ok lah Shan nak cook. Hem balik rumah nan adonya cooknya, main kapal terobang ada ler, sambil makan. Till now veges alahai payah btol budak sorang nih. Bebenda yang ada dalam nasi dia, if dia tak makan, dia sanggup keluarkan wpun aku suh letak aside, stilll….takpe takpe, one dia akan makan gak tuh, insyallah.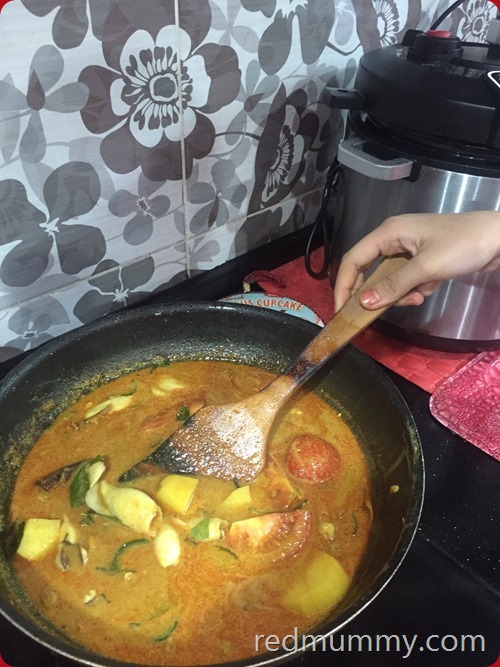 School holidays, anak2 tolong bantu lots of kerja2 rumah yang seperti contoh:
1. hiris and blend all cili kering, bawang merah, putih, halia kunyit untuk 2 months punya usage (stock up). Itu memang routine setiap kali cuti sekolah. Ini totally done by Kakak and her cousin (anak buah yang rapat ngan kakak memang akan tidur kat rumah once a while). Next cuti sekolah, will be abang's turn pulak. Macam tu lah pusingan hidup bawang2 di rumahku hehehehe….senang nak masak, semua dah siap blend.
2. Cuci all bathrooms – Abang
3. Basuh fridge – Kakak
4. Mandikan semua 4 cats – Abang
All in all ini je kerja tambahan yang depa kena buat, lelain waktu, depa study and mengular dalam rumah kuor masuk bagai. We didnt take leave to bring them anywhere walaupun ada cuti extra 2 hari this week kan, coz once again depa ada major exam – UPSRA (sek agama) and PT3 in less than a month je tuh.
Kari sotong atas tuh, kakak tolong masakkan (but I was behind/next her lah) to ajar cecampak dalam tuh. Dia pun cuti sekolah ni jer lah boleh tolong2 masak, mulut aku bising mengajar but hasilnya kemudian hari kita mak2 jer yang tau. When a fren of mine (non parent) found out I suh kakak hiris all the bawangs bagai, guess apa katanya "kenapa you suruh anak you do all those things". Yapadah. habis tu ko ingat aku ni anak raja yang ada 10 maids untuk buat kerja rumah, ada kekayaan yang boleh buat anak2 aku tak yah kerja tak yah masuk dapur kemudian hari?
Ini knowledge lah, macam ko pergi sekolah, belajar. So potong bawang tu pun belajar, blend tu sume tu belajar gak, process depa membesar, itu jugaklah yang akan bawak bekal depa masa akan datang. Buatnya kawin ngan jutawan pun, takkan blending bawang segala pun satu perkara yang memelikkan bagi sorang anak dara belajar?
Pikiran orang, minded orang, tak sama ngan kita mak mak nih. Aku ada gak kawan yang mak gak tapi tak pernah bagi anak2nya masuk dapur at all, buat satu kerja rumah pun tak payah, kerja depa belajar jerrrrrrrrrrrrr…sampai depa habis UNI ler weih, tak dibenarkan. But bila nak kahwin, you know lah apa akan jadi kan, menggelupur semuanya carik mak balik or even kak google.
Mengajar anak how to cook or even potong2 hiris bawang cili tuh adalah wajib, sebagai sorang parent. Derrrr! Biar sekarang depa belajar susah buat semua tu, daripada jadi anak pemalas or yang tak pandai nak buat kerja rumah. Untuk yang non parent ni kadang2 aku bagi jawapan, u just waitlah you jadi mak, kemudian kita citer panjang kay.
Comment:
3