Sep 9 2016 Friday, 8:00 am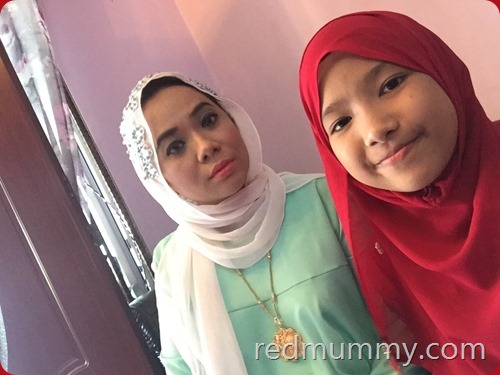 So the one and only daughter of us turns 12 today.
12 means dah boleh buat MyCard, pastuh dah alang2 bolehlah renew the passport, soon sangat nak kedaung matinya pun. Berjalan ke mana bagai, kemudian citer, it s coming to year end gak pun. Sekali package ngan kami berempat gak, like mine dah berbulan2 kong (yeap tu pasal i ddnt go to Jakarta this year, pemalas nak renew).
12 years pun, meaning dah anak dara. She has gotten her official title of anak dara, about 2 months dahlah 🙂 . So tu pasal in my social medias (mostly) untuk gambar2 di dalamrumah, jarang ada gambar anak pompuan ai ni dah. Pahe dak ngapa? Tak paham?
12 years gak meaning dah patut pandai masak lah kak oi. Masalahnya dia tak masak hehari, dia tolong2 jer, so lambat sket nak expert. Some more bila musim exam lagi ler tak dok dapur, takat simple2 tolong lap dapur jer, pastu dah naik sambung belajar. eh but she s expert on cili kering. itu memang her full time joblah, dari gunting/pipih the cili, rendam ngan air panas, and blending, semua goes to her, she loves the job too. Pastu tangan pijar 🙂 .
12 years gak, dah long gone UPSR. but ada lagi UPSRA, so after Oct baru boleh yippi yaribba la ye kakak.
12 years gak, lagi banyak kerja rumah, lagi banyak tanggungjawab as anak, kakak and adik di bahu mu.
She s very humble and very simple person too. At the age of 12yo, we know she s not a materialistic daughter, apasaja yang kita belikan bagi etcs, sangat jarang dia nak meminta-minta, but of cos being mak yang shopaholic,always get something for her though dia tak pernah mintakpun. Jimat untung ler sapa jadi laki ko kak hahahaha….
Happy Birthday, Happy 12th Birthday Melysha
Setiap perjalanan langkahmu dalam restu ibubapamu and Allah menjagamu.
Comment:
10