Oct 7 2016 Friday, 8:00 am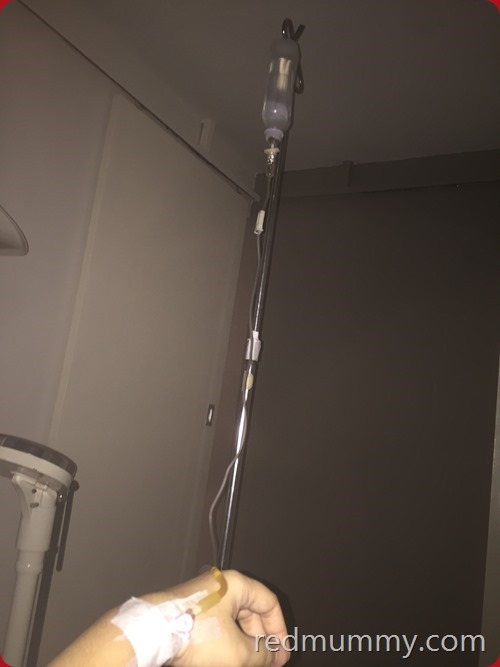 ini bukan dalam hospital, ini dalam clinic jer, kat satu bilik doctor, kena masuk air. It was on Tues morning, I was supposed to go to work, but kepala ai berpinar2, tumbang atas katil. Zeeshan dok berzikir, faster la mummy, shan nak school nii…so ai mandi pun sambil duduk (ada kerusi) and masih lagi berpinar. Hoping bila kena air kat pala tu berkuranglah sikit.
But still tak nak gak pergi clinic. ai siap pakai baju kerja but dalam masa yang sama berdiri jalan semua tu masih berpaut. It s very dangerous sangat coz I was alone with Zeeshan. So i memang  lawan la the dizzy nih, kena kuat semangat ler coz pikirkan aku ada anak kecik. So sebelum turun tu, ai duduk kejap and memang menahan sangat badan kepala ni and masa tu la ai cakap Zeeshan, i m so sick la.
Then Zeeshan pun, haaaa yelah mummy sick.
I m going to clinic la Shan.
Alah nanti Shan late to school
yelah mummy send shan first ok, then mummy go to clinic.
Turun kami berdua dengan berpegangan tangan, mbe coz dia tengok aku memang longlai sangat, dia pun risau gak kot, entah sempat aku pi sekolah idok nih hahahaa.
Driving pun macam gigil gak lah, kepala berpinar2, dah bape kali tumbang kat katil tuh. So selamat je aku hantar Zeeshan to skul, ai terus cabut pi clinic. Memang badan pun dah naik bulu roma bagai, lemah sesangat. Doctor checked, my BP was too lowwwwwwwwwwwwwwwwwwww!!! she terus waterdrip me, dok le lam bilik satu lagi, 3,4 kali dia datang check aku sampai air tu bebetul habis masuk ke badan. Barulah rasa kebah sikit.
Terus aku pi umah mak aku, coz earlier I told mak already and she dah terus masakkan anaknya yang sakit ni dengan porridge daging (ya allah sedapnya), satu tupperware besau mak buatkan (untuk cucu2nya gak). So cut story short, hari tu petang baru rasa better.
Then coz I was given 2 days mc, I thot I was ok ordy lah kan, I nak pergilah kerja on the next day nya. Coz husband was on trip, pagi tu masa hantar kakak sekolah, sekali lagi kena pening and tumbang. It was so hard for me to even walk from the bed to bathroom (dengan Zeeshan moody tak nak bersiap with the help of his kakak), nak aku gak yang attend dia.
Even nak masuk kereta pun pala aku peningnya lahai, ini tak boleh jadi ni, camne ler hai nak driving but I had no choice, gigih gak hantar dedua anak pergi sekolah pagi tu. Langsung balik rumah, pasang aircond bilik and boommmmmmmmmmmm, betul2 ai pengsan and tertiduq. Padanlah doctor tu bagi 2 hari mc, gamaknya she can see my body is not fit enough. My point is, i know it s very bahaya for me to drive etcs but I had to fight the dizziness, aku pun bukan jenis melembik. I remember when I was admitted at the hospital for my dengue (my mind my mulut still bergerak thinking on the house the anak2 semualah). Itu being mak lah, so sakit macamanapun anak2 takkan paham sakit maknya, depa pun nak tolong2 pun tak pandai sangat specially kakak and Zeeshan yang masih budak lagi. Abang lainlah, dia dah besar and if dia tau mak nya pengsan pagi tu sebelum dia pergi sekolah i m very sure dia will skip school to look after his mom. But dia tau pun after dia dah pergi skul .
Bangun tu pun dah nak thari pun aku tak larat nak masak hapa…kejap lagi anak nak balik sekolah (ada ler satu lauk pindang aku masak semalamya but nak tanak nasi pun tak larat). So husband teponkan McD, abang balik lunch McD jer, haruslah dia sukaaaaaaaaaaaa!!! For the second day of my tumbang lambang tuh, I only recovered late petang. So that bad.
Now i m feeling better already. Hence the update of this blog 🙂 . Alhamdulillah.
Comment:
2