Jan 27 2017 Friday, 8:00 am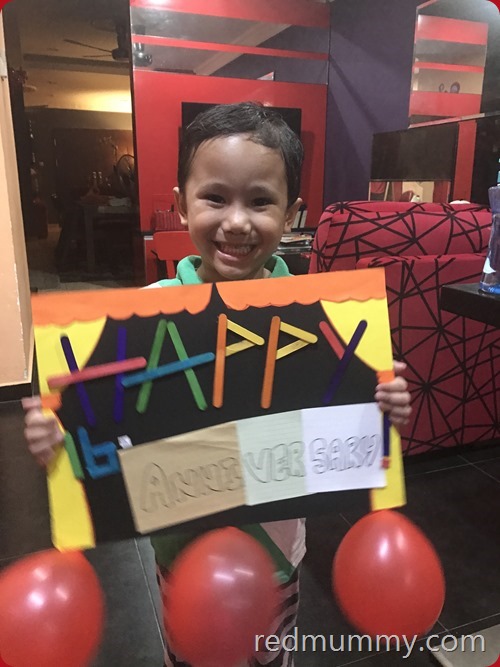 18 kali snaps, walaupun ini ada shaking, ini jer lah yang the best untuk letak sini. Si kecil yang berpakatan sama abang kakaknya to create this anniversary card. But mastermindnya of coslah Abang. Sharing the same ideas ngan our own daughter.
The anniversary card for their 16th anniversary.
Alhamdulillah…. thanks kiddos.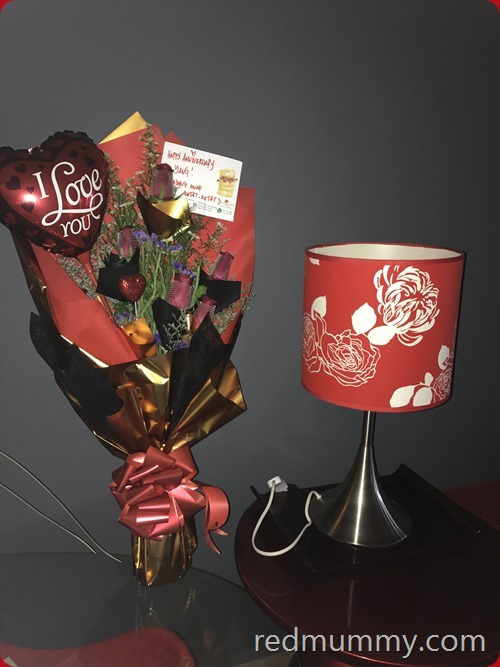 the roses yang suami belikan a day before, pastuh dia simpan lam bonet keter dia, midnite dia balik kerja, dia letak kat meja nih, siap pasang lampu merah tuh, sampai esok siangnya pun. Aku turun bawah dalam jam 11 pagi macam tuh, memang ler aku nampak lampu menyala tapi aku maleh le nak off kan, ingatkan laki aku saja pasang for cahaya dok sini. Dia pun masa tu takde kat rumah pun. Sampai dia balik kol 1pm kau, teman dia makan, selamba dia tanya….you tak perasan ke ai dah rombak perabot u kat depan tuh
what theeeeeeeeeee
terus aku ke depan
rombak hapanya, ada bouquet la wei!!! terima kasih sang suami. Tak pernah miss, tapi tu lah, bertahun2 aku cakap, bagi la yang dlm vase, maleh dia nak mencarik. Katanya florist ni takdde khas for vase one. Biasalah aku kan dah lelanjut ni prefer vase lah so pas2 tuh bolehlah pakai balik vase tu untuk bunga2 lain pulak…..akal kena panjang mak2 nih.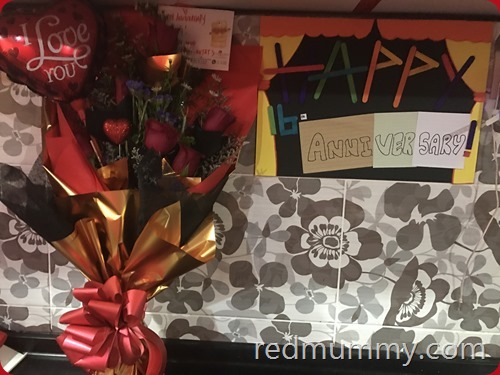 we took leave on that 19th January 2017 coz dah routine untuk berjalan sana sini. But, coz a day before kita ada dapat some kind of good news for kakak, so laki aku pagi tu spent half of the day  di Jabatan Pelajaran, kemudian to the new school of kakak. Dan langsung balik untuk lunch jer pastu keluar balik untuk the current school of kakak (that time lah, now dah old school, sempatlah 2 weeks je kat situ), patut bila petangnya nak berjalan, laki aku plak pi melayan kereta dia nya service apa tah segala. Dan aku pun dah takde mood nak kuor coz dah ngan baju dok umah bagai. Mata pun kekuyuuu jer.
Last2, bila semua anak2 gather balik all in from skul, semua melepak atas katil makpaknya, together ngan kekucing sama…
takpolah, itupun valueable gak, semua berkepit. nak proper dinner pun yilek, itu nanti anak2 will belanja us, insyallah masa cuti raya cina ni lah.
The hadiah2 bagai pun, laki aku dah bagi memacam, aku pun dah bagi memacam…but one thing is coming. a Prada, shall blog about it, insyallah soon soon.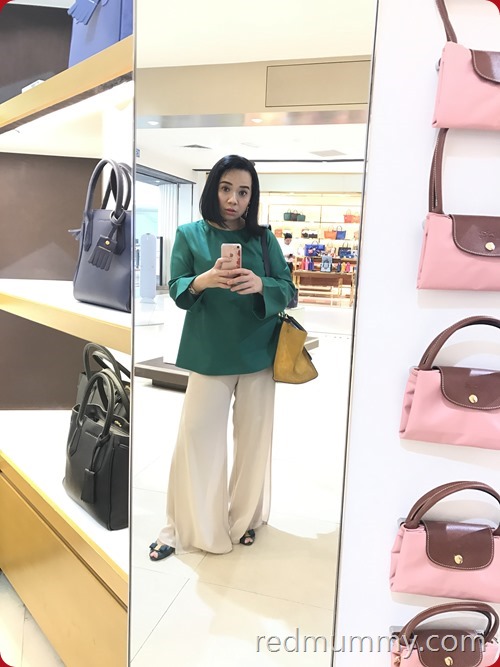 maleh betul aku nak update blog, sebabnya aku ada 2 distractions tiap kali nak ngadapnya. 1 is my online chess, ni memang bertahun2 ler addictionnya, meleka je ngan chess chess. 2ndly nya pasal aku dok melayan movie ler. Almost tiap malam aku dok galik tengok the latest movies, online. I did lots of reviews for the movies yang aku dok melayan tu dalam my instagram stories. Kalau nak merasa tau apa the best movies skang nih, hah pegilah tengok ig story aku tuh. It lasted 24hours jer daily, so kena cepat2 kejar tengok.
but i only did the review tu while I am driving to work and balik from work, bercakap lah sorang2 dalam kereta bercerita on the movies. Daripada sakit hati dengan jem tu kan, baik gak aku contribute something haahhahaa….
Dan seperti dijangka, memang ramai carik movies yang aku dok jaja2 tuh. Aku cuma review citer yang best2 jer, rating tinggi bagai. If aku tengok pastu macam tak best, memang aku tak cananglah kat korang kot. So, go check it out, for those yang the hantus2 movies yeah. Ai is dah bersekian lama betul tak tengok wayang, coz aku dah ada banyak lubang untuk tengok the online movies semua nih. Chiao!!
Happy Chinese New year gak and also happy holiday, long weekend kita kan…
Comment:
3