Feb 2 2017 Thursday, 8:00 am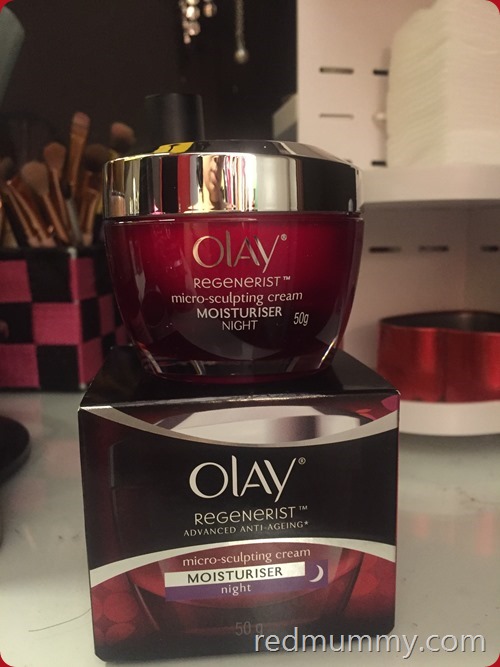 So untuk cerita hari tu – http://redmummy.com/2016/11/10/olay-makes-5-years-younger/
Sambungannya ialah cerita untuk the 3rd product yang akak mahu kongsi sangat.
Ni sangattttttttttttttttttttttttttttttttttttttttttt akak akan menyesal bangun pagi if tak pakai benda nih. Hah, punya banyak sangat tu nak cakap sangat. Because the texture of this product sangat buat you calmmmmmmmmmmmmmm, macam eh sangat istimewalah. Coz it has to apply bila you sebelum nak tidur tu kan, so bila you pakai, you rasa macam nak landing2 jam tu gak, dia buat kerja ngan kulit kita tu satu hallah kan, tapi dia punya rasa nyaman bila dipakai, agak harus wajib dipakai itu jelah pendek kata.
Beria akak cite, hah namanya ialah Olay Regenerist Micro-Sculpting Night Cream.
Kita ajar dulu camne nak pakai, lepas dah pakai the Miracle Boost,  you terus apply this Olay Regenerist Micro-Sculpting Night Cream kat muka you, kat leher you, sapu rata macam biasa (for the best one, check kat Instagram akak ada video details pasal pakai ni.  Let they do their work while kita tidur. Work tu ialah, dia akan firm kan lagi kulit kita, dia akan supple skin kan texture kulit kita nih, gonna make it smoothhhhhhhhhhh and specially untuk akak yang sangat almost 24 hours dalam aircond, akan lebih kurang kering texture kita lah. If not nanti dry kan dok ngan aircond jer.
Semua combo ni akan jadikan kita lebih calmly on soul, kita akan lebih confident dengan kerja2 kita, masak pun sonok jer, dok dalam jem pun bahagia jer hahahaha….but actually yang pentingya this is anti-aging product yang mengurangkan dan menghapus lagi masalah2 dalaman kulit kita. Kalau rasa nampak kusam benau tu, pakailah nih, cuba ada sikit perangai untuk buang lama beli yang baru, jangan percaya sangat dengan product yang tak tau asal usulnya, do trust Olay coz dah ada kat market sangat lama and trusted product to most women in the world too.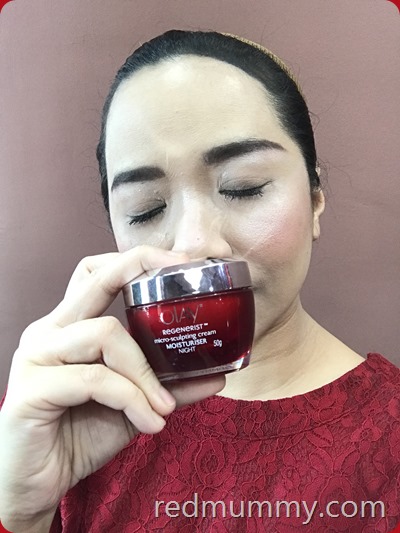 So very straight forward kan, you can also apply this after you pakai Olay Regenerist Miracle Boost Youth Pre-Essence gak, duo combination gak. But remember the Miracle Boost must be applied right after you dah cuci muka, barulah you pakai the Regenerist Micro-Sculpting Night Cream nih.
Ada jugak 2, 3 malam yang akak terlepas terlupa nak pakai, but esoknya macam alah…padanlah rasa macam kurang lena. Cewahhh…yelah, I really love this product. For me, if you ask me among the 3 yang from Olay ni apa yang akak suka, akak nak vote the night cream ni, can kah? Hehehe…everybody have their own opinions and also bias to anything, so tu lah dari 3 beradik tu, ini paling akak sayang sangat kot hikss….
For further info:
https://www.everydayme.com.my/olay
Check out my Instagram for the video details too on Olay.
Comment:
7