Nov 10 2016 Thursday, 8:00 am
.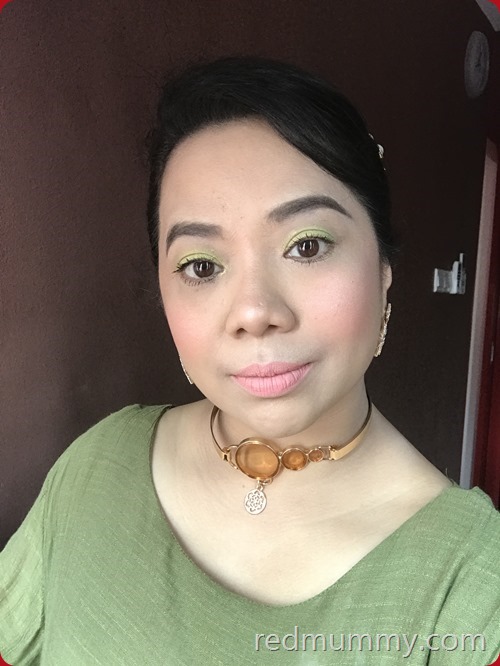 Kak Red, umur midst 30s ye?
No, already 41.
This is the normal situation yang Akak dapat, bertahun-tahun. Mungkin sebab akak petite (dulu orang dok ejek-ejek Akak bonsai bagailah – those in BBChat hahahaha, not nice you know, this bonsai have delivered 3 kids and became a superstar gak, LOL). OK that s joke aside. So, other than size, ialah skin kita lah. If pandai jaga, insyallah, boleh nampak muda belia.
Jom direct to the point, apa antara skincare yang the best among the best yang patut ada in our dressing table. It's OLAY!!
Everyone knows this brand, very famous. Jadi ramai tau kebagusan this product so mungkin masih antara kalian gadis-gadis, wanita-wanita or even the lelaki yang baca post nih, mau lebih details on this family of Olay. Tak gitu, so let me story-story you.
Why you have to get OLAY as your daily skincare….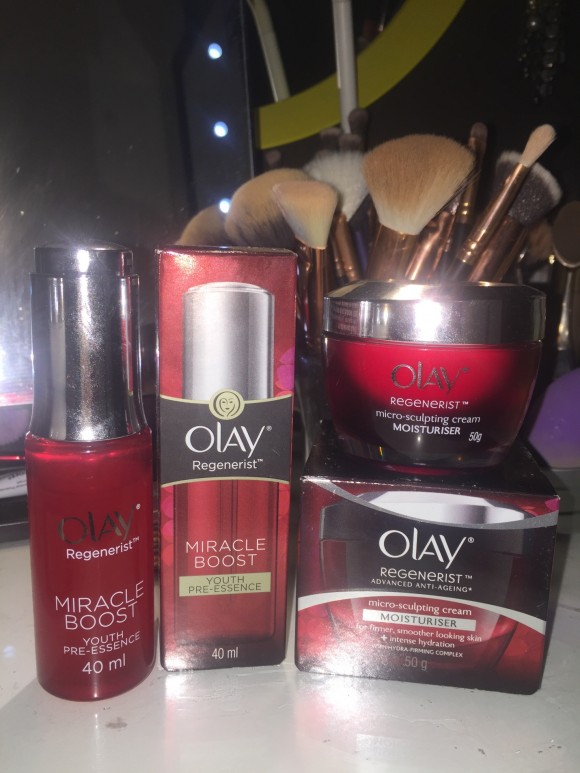 Olay Miracle Duo (Olay Regenerist Miracle Boost Youth Pre-Essence & Olay Regenerist Micro-Sculpting Cream)
So untuk Olay Regenerist Miracle Boost Youth Pre-Essence ialah the one yang terbaru nak masuk Malaysia. I'm so happy Akak dapat pakai dulu so dapat tried for few months already untuk check whether it suits me well or hasilnya. Alhamdulillah berkesan!!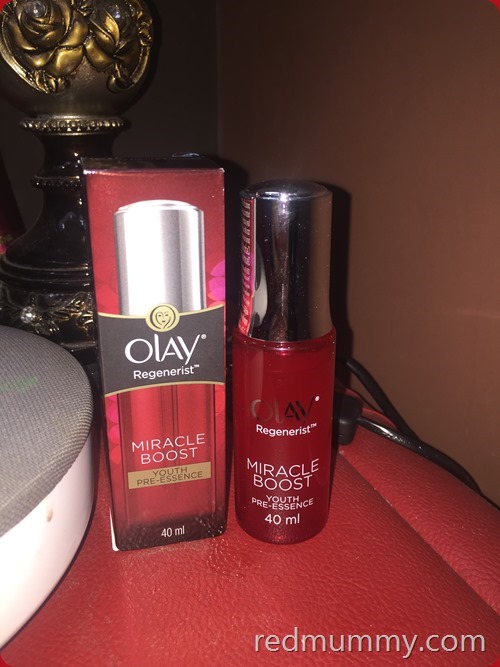 This is highly recommended to be used dalam your skin care regimen yakni selepas you dah cleansed and pakai toner. So baru u pakai Olay Regenerist Miracle Boost Youth Pre-Essence nih. This powerful combination of Olay Regenerist Miracle Boost Youth Pre-Essence dan jugak the Olay Regenerist Micro-Sculpting Cream work together to surface sel-sel dalam kulit kita nih dan provide 2x lebih anti-aging active penetration dalam skin kita.
Result sangat stunning (you may check my Instagram for my no filter video of my skin, smooth kan?). You may look even 5 or 10 years younger (I have proven it) if you apply consistently to you skincare.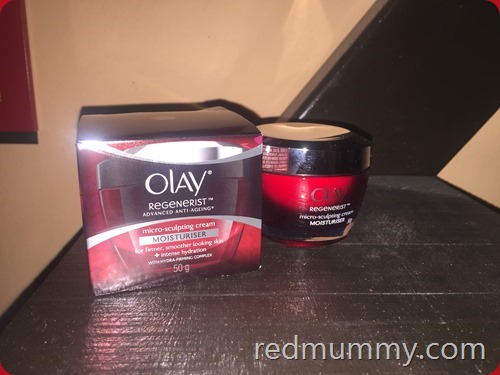 The other one is the Olay Regenerist Micro-Sculpting Cream, yang ni is the moisturizer yang kita pakai selepas kita dah pakai boost tuh. So wajib apply these 2 on your face. Best kalau ko tengok video akak explain about all these products (akak kan suka bercakap), jadi why and why? Let s move on…
Untuk these 2 products antara khasiatnya or hasil mujarabnya specially for mothers or those yang dah 30s tu, not too late to look after your skin. I know some mothers dah yang lelanjut macam akak ni malas nak jaga kulit. Some tu lagi lah, bukan takat tak nak jaga kulit, personality pun sememeh, hish kome ni nak kena buat class lagik ke.
Jadi our penampilan, dah banyak kali cakap, yes true people will look kat heart kita, our kindness bagai, but takde salah jugak if kita jaga kulit kita nih. Doesn't matter lah umur kita berapa, but kita berhak untuk menghasilkan kulit yang terbaik untuk diri kita sendiri, jugak nanti kita juga adalah mentor pada anak-anak dan menantu serta cucu-cucu kita, apatah lagi teman anak-anak kita.
Olay Miracle Duo membantu kulit kita untuk lebih firm, agak cepat jugak keberkesanannya, tak perlu tunggu berminggu-mingu (depends on your skin too), as for me it works really good. Kemudian wrinkles pun agak berkurangan, takde la nampak sangat. Kesmoothan kulit kita ni pun sangat ketara, some people pun sibuk nak reraba rasa kulit muka kita ni coz mereka tahu ini adalah satu yang sangat mereka perlukan dan mereka mahukan rahsia kita. Jadi nah, I don't keep the secret but I share with you. Get yourself an Olay product, this duo is a must to have at home.
Prices are not that bad, affordable, halah benda mahal pun pompuan sanggup bayar, asal nak cantik ye dak. Nothing is impossible for your skin.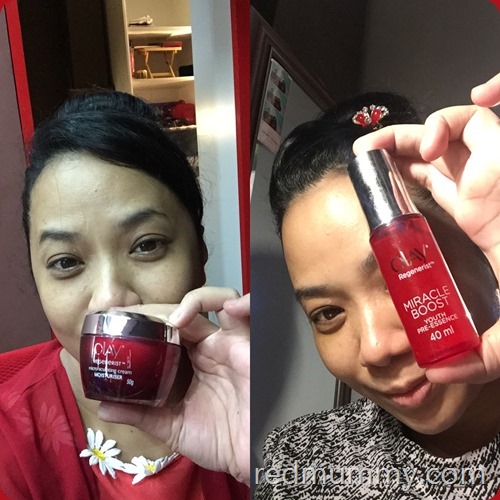 Remember bila kita menganjak umur – kulit-kulit kita akan semakin lama semakin kusam, itu sangat hakikatnya tapi kita ada product dari Olay yang boleh help you to slow it down. Kira takde lah nampak benau ko tu tua sangat or kering or sangat tak kuasa mata nak pandang. Jadi you have the solution.
Let Akak ajar again cara nak pakai, once you dah cuci muka, dah pakai toner, you pakailah the Olay Regenerist Miracle Boost Youth Pre-Essence nih. Olay Regenerist Miracle Boost Youth Pre-Essence ni you pump kat tangan 2 kali jer, sapu kat muka (kalau akak sampai leher tengkuk), kemudian you apply pulak the Olay Regenerist Micro-Sculpting Cream, letak gak kat muka dan juga di leher selepas dah pakai boost tuh. Rata sapu di muka, you akan feel calm je bila dah pakai dedua nih.
You can get them kat any pharmacies or shops.
Jadi ingat, the power of our skin nih bukan saja terletak pada hati dan senyuman kita, but juga terletak pada kulit kita. Lagi flawless lagi kurang wrinkles or lagi smooth, lagi sedap mata memandang 🙂
Final one to remember, these miracle products – Olay Miracle Duo will be launching in our country Malaysia on October this year. Dengan new form of packaging yang akan menyemarakkan lagi the Olay trend.  For further info:
https://www.everydayme.com.my/olay
Check out my Instagram for the video details too on Olay.
Comment:
3