Nov 14 2016 Monday, 8:00 am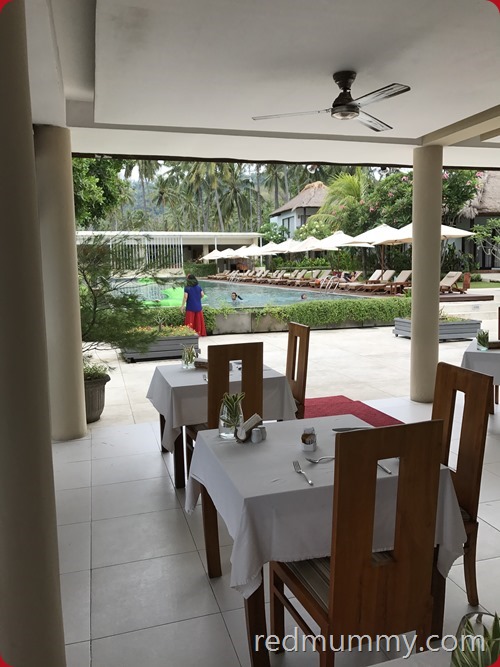 this is the final breakfast day, meaning final day untuk depa berendam lagi ngan air bagai. So this time around depa berendam dalam big pool kat resort. sebenarnya the kids yang keluar dulu to pool, aku datang kemudian (apaknya masih lagi last to siap), coz aku tak make up hapa pun, tu pasal melaju je.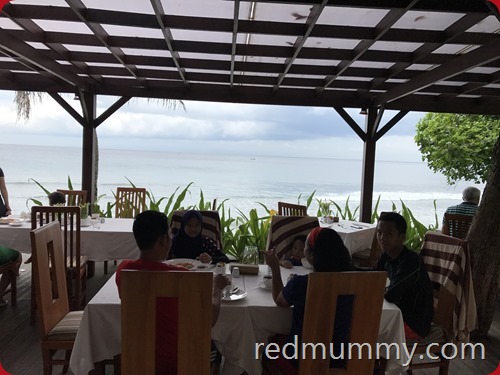 kalau datang Lombok lagi, yes we would love to stay this resort balik, berpuas hati sangat…..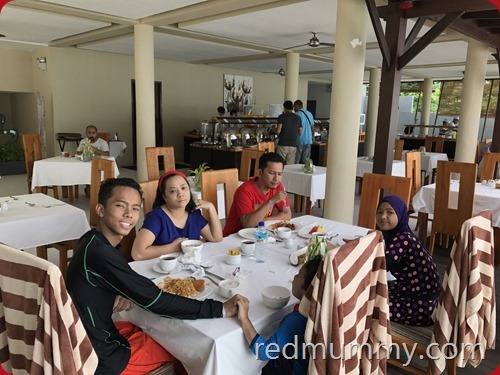 tetiga dengan baru pas mandi poolnya, pastuh nak tunggu lagi depa bermandian kat villa pulak…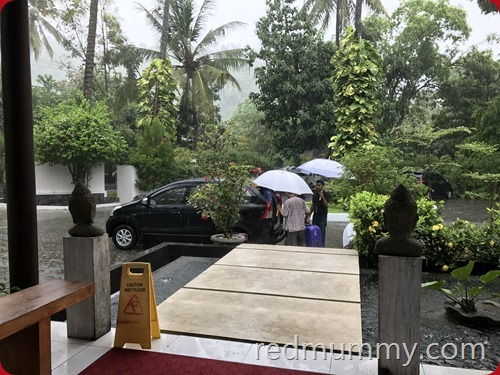 pagi ni tak pagi sangat gak lah, dalam 10 lebih, so kita check out untuk terus balik la petang tu nanti. But pagi tu hujan rerenyai.  dah nak hujung2 tahun memang ler manjang hujannya kan. Nasib baik ler our waterfall and island hopping takdak hujan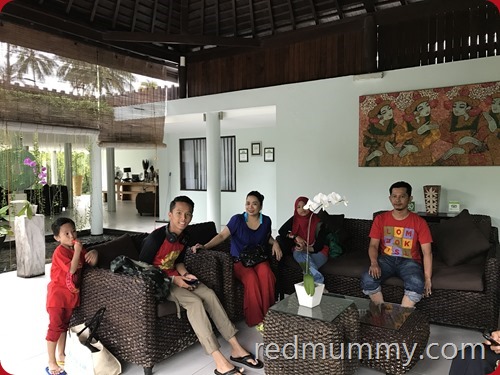 one last one for the Living Asia Resort, and all of them are wearing the Lombok's shirts (tak termasuk maknyalah).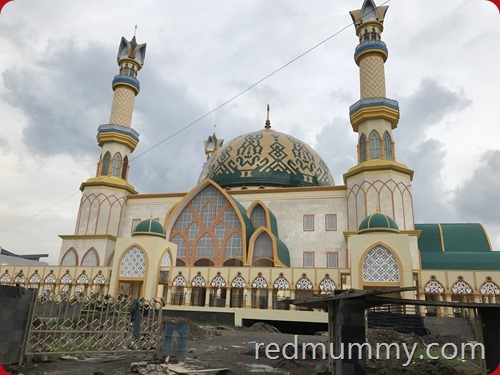 meniti jalan2 tu kita lalu sini, their new Pusat Islam also Masjid, dah macam 80% siap gak nih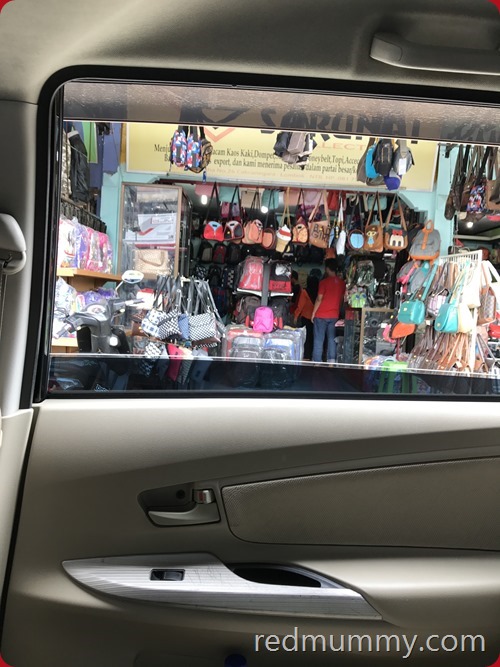 so dibawaknya kita pergi town, yang kita ada lalu2 sebelum ni but tak berenti sangat. Nak carik bagpack for Abang, masa kat Lombok ni lah gak dia dah menguzurrrrrrrrrrrrr yang sesangat. But not bad lah the bagpack askar abang tu ada makan 5,6 tahun gak served nya, went to so many places and countries gak. Aku tak ingat negara mana aku beli bagpack lama abang tu but memang sampai dah dalam nya koyak2 gak lah dipaakai. Nama je bagpack abang but segala mala 5 beranak punya stuff pun ada dalam tuh gak.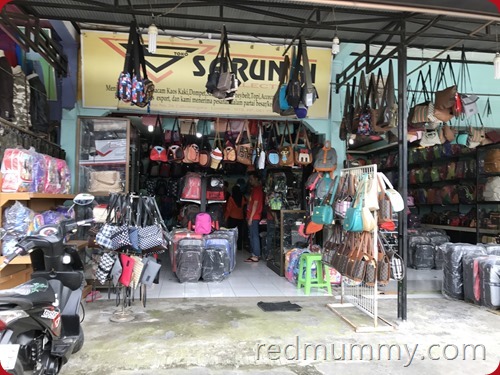 obviously aku tak keluar dari kereta, lepak ngan Zeeshan. Dia dah macam memamai2 nak mentidoq.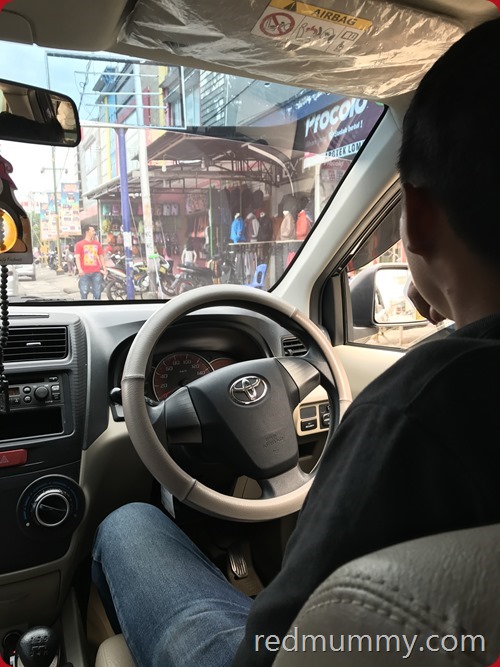 depan belakang apak and abang mencarik, pun takde yang sedap di mata. Specially qualitylah.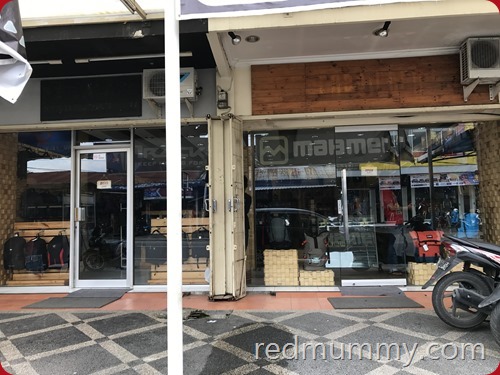 Jadi last one kita masuk kedai ni, macam canggih sket and very the classic gak dari luar kan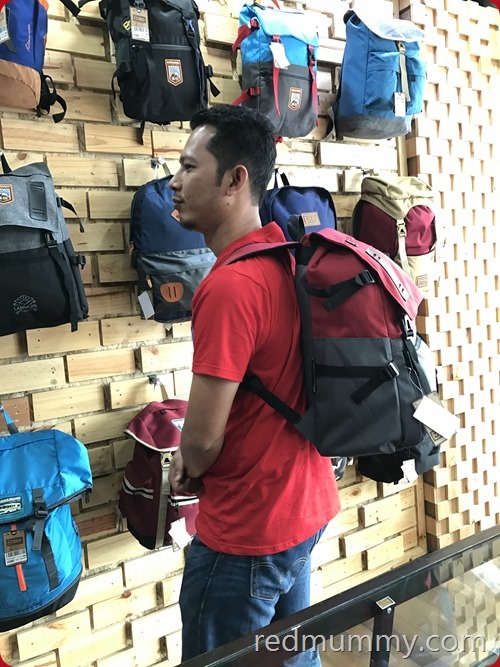 tak setuju hakak…the red is more to maroon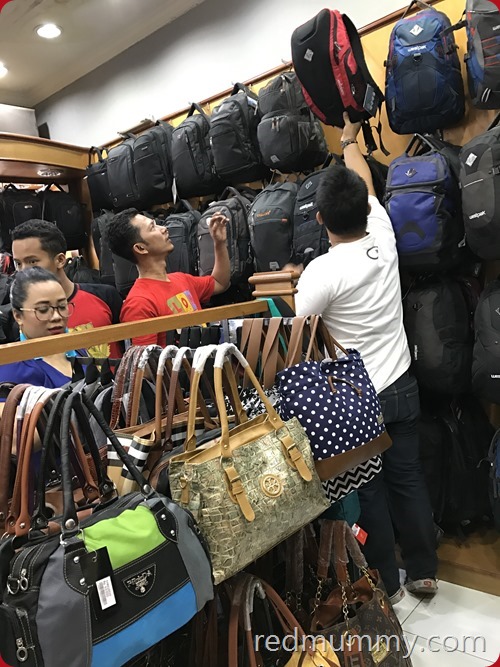 ini kedai sebelahnya…hok tu plak for cycling, tak sesuai heh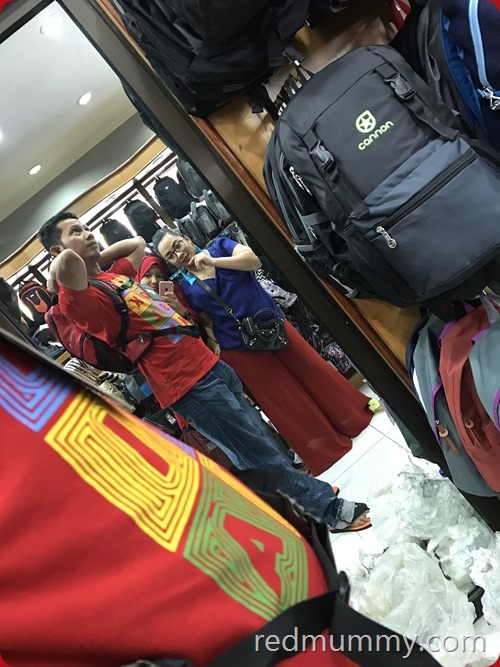 jadi 2 kedai side by side tuh, sini tak berapa bestlah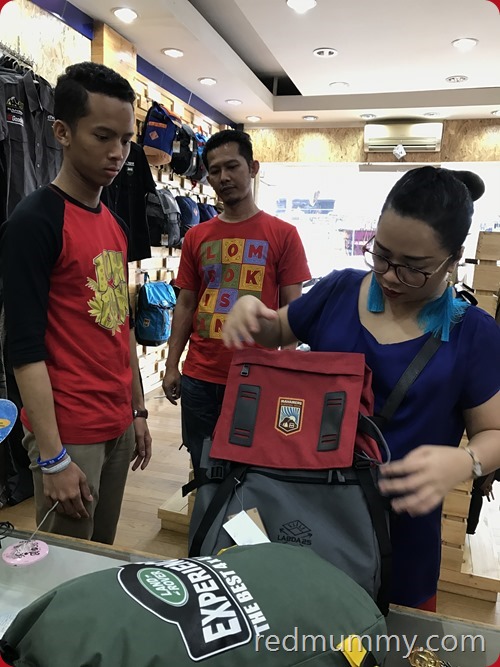 patah balik ke kedai asal, menerai lagik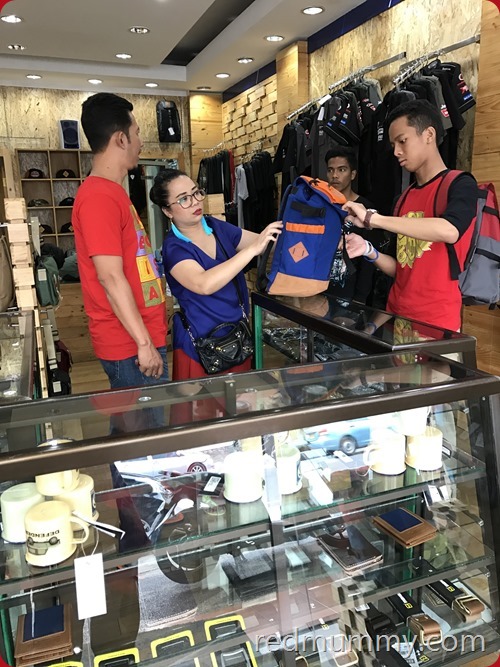 susah nak buat decision coz yang nak mengcarrynya si Abang and he ada preferences dia. Tak nak ni tak nak tuh bagai, padahal this bag for our travelling purposes (or jalan2 weekend)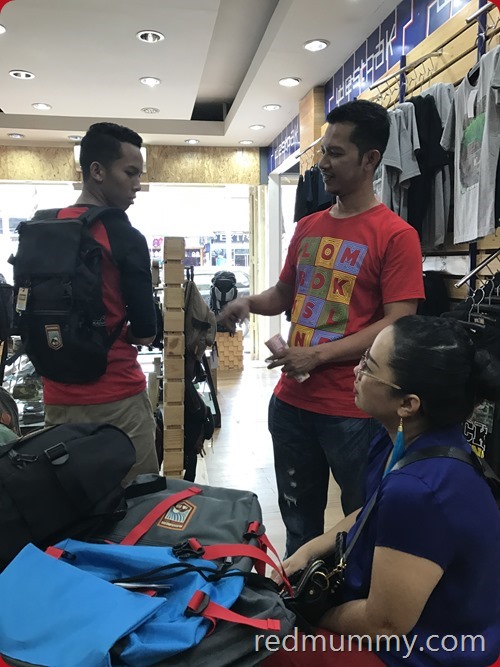 last2 tu hah, the black colour tu yang dia amik. kesal aku tengok colour tu, kot merah biru ke, maroon tu ke sedap le gakkan, ini itam gelap gak dia sebat. Coz he wants to bring this to school as well (kononnyalah katanya) jadi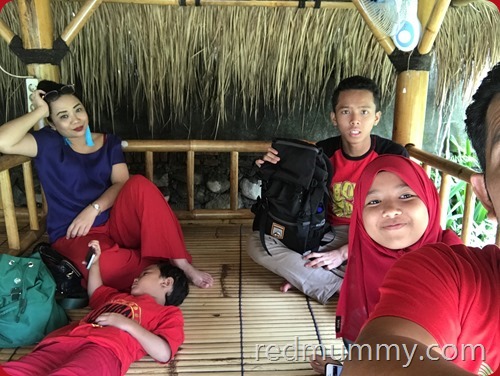 Close up lah bagpack baru abang. Hah ini kot barang paling mahal kat Lombok yang kita beli. Think this one lam 100++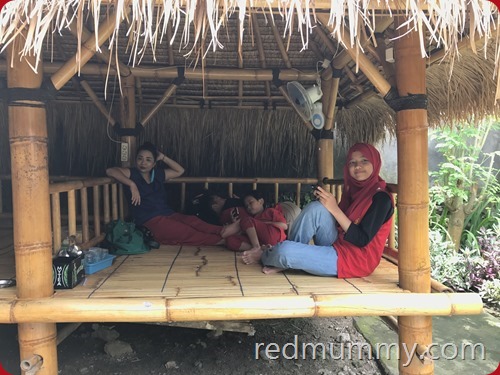 mengantuk sangat sume heh….longlai. ini restaurant yang kita lalu masa baru sampai and we had dinner kat sini. Tapi dok meja biasa kali ni dok dalam hemm apa ke namanya, gazebo?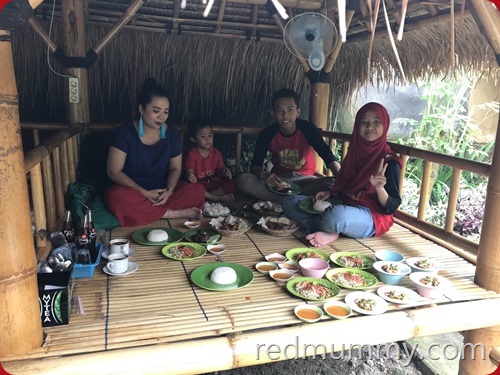 ayam tilawang dan wajibnya ikan nila. But perasankan yang ada kelopik lauk pauk depan2 tu, ha yang tu aku suh waiter tu tapau for our supir. Coz depa ni order ni set for us jadi ada banyak ler yang tak bermakan, so rezeki Azan. Oh nama kedai makan ni is RM Taliwang Nada Alam Nyaman. Most of the restaurants sini sume ada surau, so senang le berjamak.
Sedap makan sini, aku suka btullah ikan nila tu, goreng2, kalau buat sambal ada letak tepi or campur sekali, sepanjang 4 hari kat sini memang ikan nila wajib ada. Ayam tilawang tu wajib gak but aku tak fan sangat.
So kat sini kita abis makan, next gazebo ada orang Malaysia gak baru sampai, sian depa kena beli tix flight baru coz depa terlambat 5min, AA tak nak bukak pintu. Dahlah lost kat situ, kena pulak tidur kat hotel KLIA2 nun coz tak sanggup nak patah balik rumah. Burst lagi budget.  So rugi sehari.
Dengar depa satu family tertinggal flight, aku pun apa lagi cakap kat Azan, hah by 430pm kena sampai di airport, boleh dia cakap – jam 5 sahaja ibu.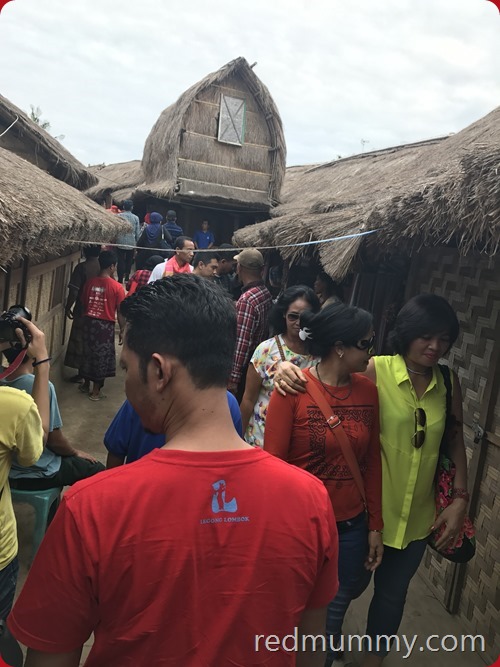 hah ini namanya Sasak Village Sade Lombok. Tempat untuk beli belah gak but so not tempting for me.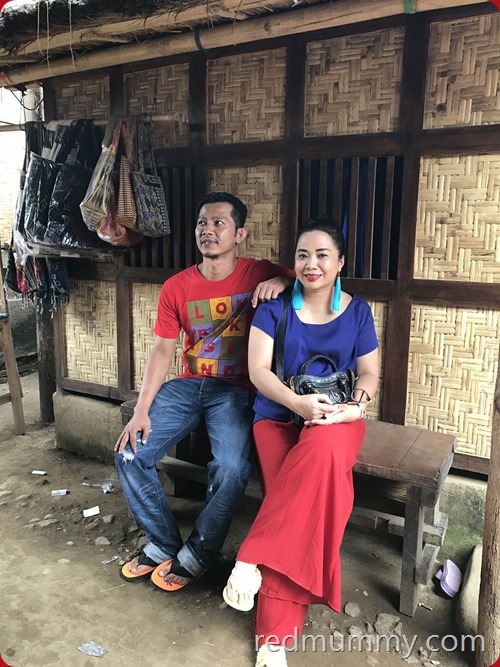 kita cuma hangout kejap sini amik gambar jer…lagipun our 3 kids tidur dalam kereta so tak leh lelama lah sini, tak minat pun datang sini but Azan dok cakap, harus singgah tengok2 sahaja ibu.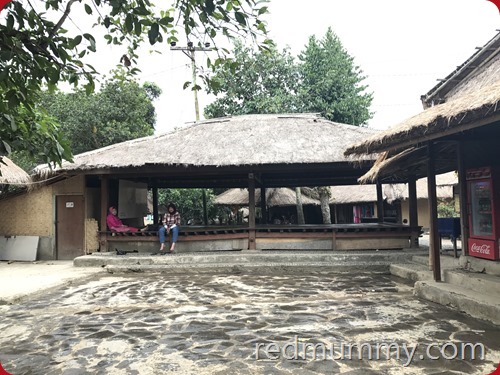 selain dari jualan dalam nih, situ gak depa berumahtangga. Ada yang aku lalu, mak nya  ni ngah menetek anak umur 6 tahun aku rasa, oh my dah bosar budak tu. Ada pulak tu duduk terkangkang2 sambil si anak ke sapa tah cabut uban pala. Diorang macam dah biasa takde perasaan betul tengok tourists lalu. So kami tak beli apa2pun di sini, pusing pun suku je, coz jalan laju and selain tak berminat maybe coz ingatkan anak2 yang tidur.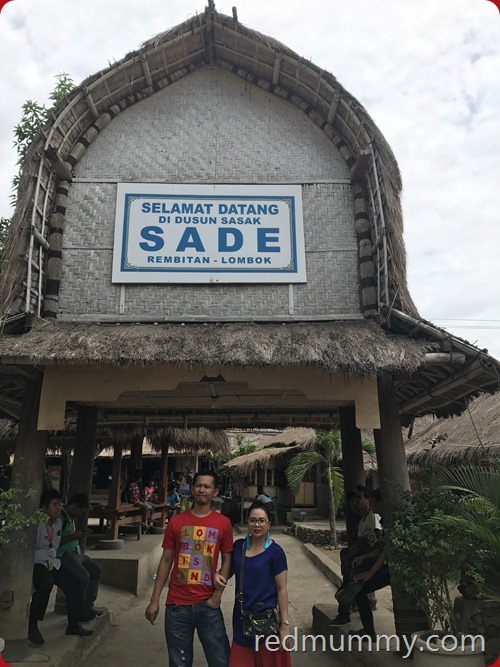 so if you guys, hem. tak sedap pulak kalau aku cakap toksah pergi sini, but dalam ni leh shopping gak. Kalau aku memang tak berapa minat kot tempat macam ni some more ada t/guide gak yang mengekor kita and bercerita. So tak bebas. Nak suh dia jangan cakap ke hapa, tak sampai hati pulak, kita tau dia nak tips sort of lah kan. So dengar je lah dia cecakap.
Tu yang supir aku cakap aku laki bin paling pantas keluar dari sini.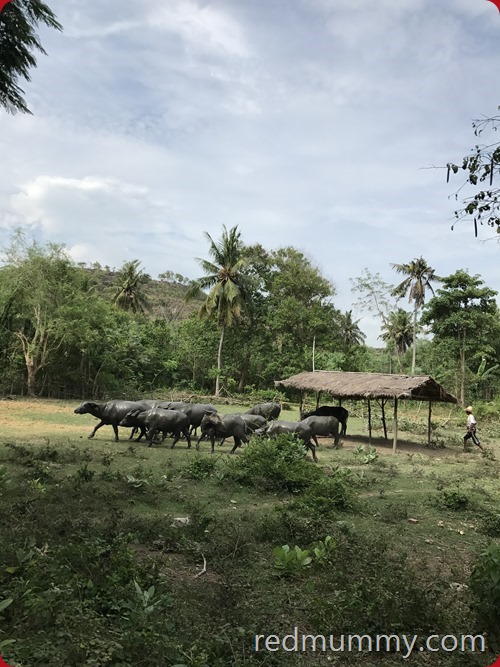 kita tinggalkan Sasak tu carik kerbau 🙂 . hehehe  nolah, ini dalam perjalanan, nampak sekawan kerbau so Zeeshan agak excited le tengok. I think dalam dekat 30-45min  gak nak ke Tanjung Ann, aku dah lupalah, but memang agak lama gak kot
Itu last destination and pastuh kita leh bungkus cerita Lombok.  Nama kedai makan atas nun, RM takde kena mengena ngan hakak pung 🙂
Comment:
1